This post may contain affiliate links where we earn from qualifying purchases. As an amazon associate, we earn from qualifying purchases. Find out more in our disclosure.
Kayaking with kids is one of the best ways to spend time on the water as a family. Whether you're looking to paddle across a calm lake or a river full or rapids, a kayak can take you where you want to go.
As a big paddling loving family, kids kayaks are something we've had since our older kids were toddlers and we've tested out so many in the last 16 years. As a kid, I started paddling with my family when I was just 10-years-old and some of my absolute best memories were made on the water. Our family spends A LOT of time on the water, and we use our kids kayaks on the lake, down whitewater rivers, and even little kayaks for kids in the ocean.
We've been thrilled to see a huge increase in the number of kids kayaks on the market over the last few years, but truthfully, it makes choosing the best kids kayak a little more difficult. While it's easy to assume that any small kayak is good for kids, it's really important to take into account the size of your child and the conditions they'll be paddling in.
Just like with adult kayaks, there are several types of child kayaks to choose from. These kayaks differ from their adult counterparts in that they're sized specifically for kids, and the sides are shorter to allow for easier paddling. Whether you need an inflatable, sit on top kayak, or want something to withstand whitewater, plenty of youth kayak options are available.
This guide will cover the most common choices for children's kayaks. We'll also show you some of the best kids' kayaks on the market.
Quick Picks For Best Kids Kayaks:
Best Kayak for Toddlers and Preschoolers: Tributary Tomcat + an Adult
Best Budget Kayak for Kids: Lifetime Wave
Best Kayak for a 5-year-old: Perception Hi-Five
Best Kayak for a 13-year-old: Lifetime Spitfire
Best Whitewater Kayak for Little Kids: Jackson Fun 1
Best Whitewater Kayak for Older Kids: Pyranha Rebel
Best Inflatable Kayak for Kids on Whitewater: Tributary Spud
Best Kids Inflatable Kayak for Lake Paddling: Decathlon Inflatable Kayak
Choosing the Right Type of Kayak for Kids
To maximize the fun when kayaking with kids, it's important to make sure you choose the right type of kayak for both your kids abilities and where you'll be paddling. While various designs and styles are available for children's kayaks, your most common choices will be sit on tops, sit insides, inflatable kayaks, and kids' whitewater kayaks.
Each type comes with its own benefits and drawbacks, and it's up to you to decide which style fits your family kayaking needs the most. Before we cover the best kids' kayaks, let's go over the different types of kayaks for kids
Sit on Top Kayaks
Sit on top kayaks are pretty self-explanatory and are easily the most common kids kayaks. Rather than sitting inside an opening on the boat, sit on top kayaks are generally flatter in design and you literally sit right on top. They're completely open, and your lower body is exposed rather than enclosed inside of the kayak. We often use our sit on top kayaks to paddle out to good snorkeling spots.
Kids sit on top kayaks are great starter options for families with kids who aren't used to kayaking. In case of an emergency, the child can easily slip off of the kayak into the water and they never have to worry about getting stuck inside the boat.
Sit on top kayaks are often wider than some other kayaks making them more stable for kids to paddle. With that said, you're far more likely to get wet on a sit-on-top kayak. For that reason, you should get into the water expecting that your swimsuit or clothing will likely get very wet, so we recommend wearing a wetsuit.
Hardshell Whitewater Kayaks
Finding a kid's whitewater kayak is important for family kayaking trips because they need something that fits their size to keep them safe on whitewater. If your child is paddling anything above a class 2 river, they should be in a hardshell whitewater kayak, wearing a spray skirt and a helmet. There are also a few different types of whitewater kayaks to choose from depending on fi you're wanting a play boat for surfing waves, or a creek boat for quick navigation in technical waters.
Inflatable Kayaks For Kids
Inflatable kayaks are ideal for families who don't have much storage space to keep their kayaks, or who want to be able to deflate and roll up their kayak to fit inside the car. This type of kayak is easy to inflate and deflate. While most people equate an inflatable kids kayak with a cheap rubber raft, today's inflatable kayaks are incredibly durable. We've had one inflatable kayaks in our family that have lasted for decades, even after lots of use and abuse on rocky whitewater rivers.
If you do choose to get a budget inflatable kayak, take note that they're typically only meant for lakes as the rocks in a river can pop them (we'll share the best inflatable kayaks below)
Things to Keep in Mind When Choosing a Kids Kayak
Aside from knowing the difference between different youth kayak styles, there are a few other stipulations to bear in mind when making your choice. Taking into account your child's size, the conditions of the water you plan to kayak in, and your overall budget are all important factors to consider.
Additionally, there are other features that some kayaks come with that can make the experience more enjoyable. From comfortable seating to specific paddles, choosing a kayak that comes with unique features will ensure your child has the best kayaking experience.
Child's Size
Some kayaks may work better than others, depending on your child's age, height, and weight. Longer kayaks are generally better as your child gets older and has more power to control the kayak. In essence, you want to choose a child's kayak proportionately appropriate to their size to help with balance and stability.
Your child's size is also important if you choose to get them a kayak with an enclosed cockpit. If they're bigger, you'll need to make sure they can comfortably sit inside the cockpit without feeling cramped. Higher quality kayaks will have adjustable foot pegs to help kids get more comfortable inside of their boat.
Water Conditions for Kayaking With Kids
The conditions of the water you want to kayak in also need to be taken into account to keep your kids safe while kayaking. Here are our general rules of thumb for what kayaks to use in what conditions.
Lake paddling: Any kayak
Flat Rivers, Class 1 moving water: Any kayak, though be careful of inflatable recreational kayaks if there are rocks protruding or just under the surface.
Class 2 moving water (mildly technical, or with medium sized rapids): Whitewater inflatable kayak, whitewater hardside kayak with a skirt and helmet. A sit on top kayak can also be used here, but there is a good chance of falling in, so be prepared for that.
Class 3-4 Whitewater (technical with large rapids, experienced kids kayakers only): Only take boats designed for whitewater here. This includes both hardsided and inflatable kayaks. These kayaking conditions are also great for adventurous teenagers.
Kids Kayak Paddles
One of the most important pieces of paddling gear you need to get for kayaking with kids is a kid sized paddle. Adult paddles are too long for most kids and only make paddling more challenging for them. Make sure to invest in a kids kayak paddle (many of the kayaks below come with a kids sized paddle). Here are our top recommended kids kayak paddles (listed in order of preference):
Perception Hi-Five Kids Kayak Paddle
Carlisle Kids Kayak Paddle
Pelican Kids kayak paddle
How Much Do Kids Kayaks Cost?
Another important factor to consider when shopping around for family kayaks is the price of the kayak. While you certainly want to go with a good quality boat, you don't necessarily need to spend a small fortune to get one. In fact, there are plenty of affordable sit on top kids kayaks on the market that can be purchased for just over $100.
A kids sit in kayak costs between $300-$500.
A kids inflatable kayak costs between $200-$700 (whitewater inflatables rae more durable and expensive)
A kids whitewater kayak costs $500-$1000.
Additional Features for Youth Kayaks
The final thing to take note of when shopping around for a junior kayak is what features the kayak comes with if any. Try to find options that come with paddles, which will greatly reduce your cost. Additionally, paddles that come with the kayak will be designed specifically for the use of children. Beyond that, seats, inclusion of floatation or spray skirts and other safety equipment also can make the deal even better.
Kayak Safety Guidelines for Kids
Once you've chosen the right kayak for your kids, you should make sure everyone is familiar with the safety guidelines that come with water recreation. Teach your kids how to kayak while you're with them in the water and can help them if any problems come up. First and foremost, an appropriately-sized lifejacket (coast guard approved type III or V paddling jacket) is a must, for all kayakers, regardless of swimming ability!
You should also make sure to have all of the essentials packed before you set out on the water. Here are some of the most important things to have with you on a kayaking adventure:
We also recommend attaching a whistle to every kids PFD for emergencies. If the weather turns bad, or you're in moving water, it can be very difficult to hear someone yelling, though the sound of a whistle travels better.
Best Budget Kids Kayak
Getting a kids kayak doesnt have to cost a fortune. We love this kayak and think it's a great place to start for getting little ones out on the water and kayaking affordably.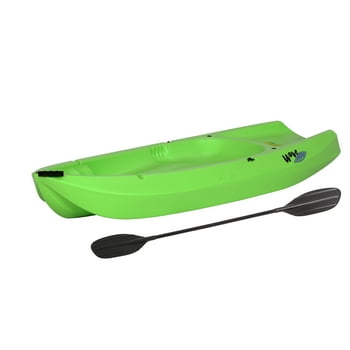 Length: 6 ft
Weight Limit: 130 lbs
Best for Ages: 5 years and above
MSRP: $104
The first kayak on our list is the Lifetime Wave youth kayak, which is easily the most popular kids kayak. We had one of these for YEARS, and it was the kayak we used to help get our kids introduced to the sport of kayaking and to help them figure out how to paddle. WE love the carry handle on the back, which also is a great place to attach a tow line to to help kids stay together while kayaking (or to give them a boost when they're tired)
This particular kayak comes with a paddle and can accommodate your youngest paddler up until they reach their teens. The kayak also has a swim-up deck in the back to help make re-entering the kayak easier if kids tip over and fall off.
While you'll commonly see this kayak at big box stores, we recommend buying online for the best color selection.
Best Sit on Top Kayaks For Kids
These sit on top kayaks are the most affordable type of kids kayaks and are great for recreational use. We recommend using them in lake or gentle rivers. If you take them on a more wild or technical river, be prepared to fall in!
Best Quality Kids Sit On Top Kayak
Length: 6 ft 6 in
Weight Limit: 120 lbs
Best for Ages: 5-14 years old
MSRP: $299
This sit on top kids kayak is an excellent choice for a variety of ages. It provides good stability for younger paddlers, but the weight limit allows even your teens to use the kayak. This kayak also comes with a child-appropriate paddle and can also be used as a SUP board, so it's got lots of versatility. Additionally, anchors and a tether allow you to attach it to your kayak for when your young paddler needs a break.
Length: 6 ft
Weight Limit: 120 lbs
Best for Ages: 5-14 years old
MSRP: $250
The Azul Kayak Junior sit on top kayak is built similarly to the previous kayak on our list and also comes with a child-sized paddle. We LOVE that this kayak comes with a padded backrest to maximize comfort while paddling and plenty of additional space to store any necessary gear, which many other kayaks for kids lack. Additionally, the Azul Junior also has rear wheels, and a front carrying handle to help make carrying it to and from the water easier.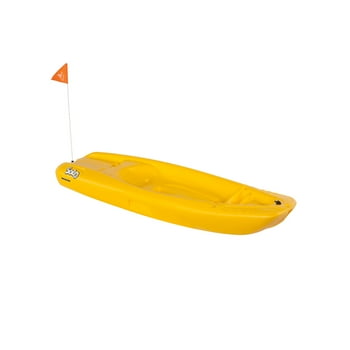 Length: 6 ft
Weight Limit: 100 lbs
Best for Ages: 4-10 years old
MSRP: $164.99
The Solo kids kayak comes with a child-sized paddle and is scaled down to accommodate younger paddlers. It's built on a twin huddle hull and has molded seats, a footrest, a water bottle holder, and a safety flag. The Solo Kids is also built to be self-bailing so kids don't have to worry about scooping water out if it floods and is built with sturdy materials to ensure a long-lasting product.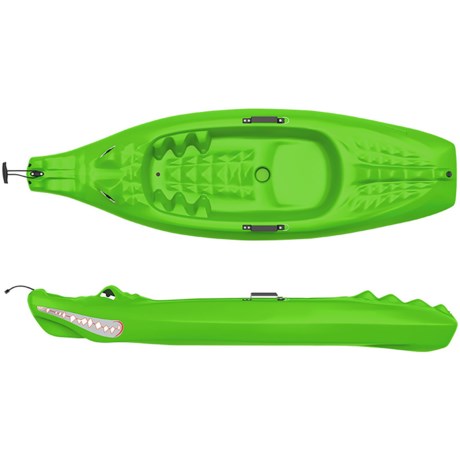 Length: 6 ft 7 in
Weight Limit: 121 lbs
Best for Ages: 3-14 years old
MSRP: $129.99
This adorable crocodile sit on top kayak is the perfect choice to get young paddlers excited about kayaking. With its whimsical crocodile design, kids as young as three can learn how to become expert kayakers with their families. The kayak itself is lightweight and easy to carry while also providing UV protection and a sturdy build. This is a great first kayak for kids.
Length: 8 ft
Weight Limit: 240 lbs
Best for Ages: 8 years and above
MSRP: $249
The Lifetime Spitfire 8 is an excellent single-person kayak for preteens that can grow with them into adulthood. The kayak's short build gives it a higher speed rating and the UV protected siding also provides excellent stability. There's also an integrated paddle rest as well as molded foot holds for additional stability.
Best Kids Hardshell Kayaks for Whitewater Kayaking Kids
If you have a kayaking child, you'll want to make sure that they get some special training before sending them down the rapids. At a bare minimum, they need to know how to do a wet exit if they flip over, and even better is having them learn how to do a kids kayak roll. Helmets are a necessity and you'll also need a kids kayak spray skirt.
Length: 7 ft
Weight Limit: 55-110 lbs
Best for Ages: 6-12 years old
MSRP: $752
The Pyranha Rebel Kids Kayak is a sit inside kayak that can accommodate children beginning at around six years old. While it's certainly on the pricier end of the spectrum, the Pyranha Rebel is easy to paddle and provides excellent stability while on the water. The hull of the kayak is lightweight and very responsive to the paddler while also providing an excellent vessel for learning new kayaking skills in.
Length: 5 ft 3 in
Weight Limit: 30-80 lbs
Best for Ages: 3-8 years old
MSRP: $849
The Jackson Kayak Kids Fun 1 is specifically designed for younger paddlers. Unlike other youth kayaks, this specific model can accommodate children as young as three years old. The size and weight of this model allow younger paddlers to maintain stability without causing a struggle when paddling. While it's designed to accommodate little children, the Fun 1 is an excellent choice for learning kayaking tricks and maneuvers.
Length: 5 ft 9 in
Weight Limit: 60-120 lbs
Best for Ages: 5-15 years old
MSRP: $849
The Jackson Kayak Kids Fun 1.5 is very similar to the Fun 1 in that it's designed to accommodate a younger crowd. However, the Fun 1.5 is geared more toward children beginning at age five rather than three. With that said, the Fun 1.5 is designed exactly like the Fun 1 but has a longer base to accommodate the heavier weight.
Best Inflatable Kayaks for Whitewater Kayaking
We love inflatable kayaks for kids because they take up less room in the garage, are easy to transport, and a good whitewater inflatable will last well over a decade. Most of these can also accomodate 2 kayaking kids (or even more).
Length: 7 ft 2 in
Weight Limit: 220 lbs
Best for Ages: 5 years and above
MSRP: $499
Although the Tributary Spud is designed for youths, this inflatable kayak for kids can accommodate up to 220 pounds so it can work for adults. This is a one person inflatable kayak, but you could easily squeeze in with your younger paddler to help them get the hang of things. The kayak is also very lightweight and provides excellent stability, although it has a shorter build. Additionally, the spud also has a self-bailing floor and sturdy handles for carrying in and out of the water. This is one of the best inflatable kayaks for kids!
Weight Limit: 450 lbs
Best for Ages: 5 years and above
MSRP: $1050
This is our all time favorite tandem inflatable kayak for kids. It's incredibly durable and has plenty of room to share with the family. We've had one of these for 10 years and the amount of abuse it's been put through is UNREAL!
Our kids have slammed it into sharp rocks, dragged it across hot asphalt and used it as a trampoline more times that I'd like to count. Amazingly, it's still in fantastic shape and has had no leaks or tears through all of our hard use. While this kayak is technically a tandem, we've been known to put 3-4 kids in it for flatter water, since it's big enough to easily fit 2 adults.
This is a great inflatable kayak to share with your kids so you can teach them the skills they need to paddle on their own, with you right behind them to teach them. It's a lot of money, but we've gotten so much use out if it, that it's been worth every penny!
Length: 9 ft 10 in
Weight Limit: unknown
Best for Ages: 8 years and above
MSRP: $995
The Star Raven I is a great single-person kayak for kids as it has a padded seat or added comfort and lower sidewalls for easy paddling. This is also a great multipurpose kayak and can withstand both whitewater conditions and calm waters. The Star Raven I has a self-bailing design to keep water from sinking the kayak as well as a folding seat for when you need more space. In addition to that, the seat also has extra hook and loop fasteners to keep the seat in place while paddling.
Best Inflatable Kayaks for Lake and Play Paddling
The following inflatable kayaks for kids are all designed for flat water paddling on a lake or a river. Do not take these down rapids or anywhere that you may encounter sharp rocks, as they're likely to pop.
Length: 11 ft 2 in
Weight Limit: 331 lbs
Best for Ages: 3 years and above
MSRP: $369
The Decathlon 2 Person Kayak is an excellent family kayak as it has a higher weight limit than others like it. This way, you can allow your youngest paddlers to join in on the fun without worrying about their safety. This inflatable kayak can inflate to full size in about seven minutes, and the bow shape makes the Decathlon an ideal boat for good glide performance.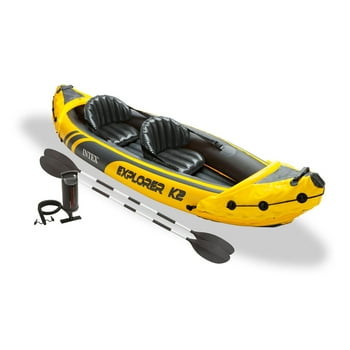 Length: 10 ft 3 in
Weight Limit: 400 lbs
Best for Ages: 8 years and above
MSRP: $159.99
This Intex kayak is a great option for families with multiple kids. With the ability to fit two people on the kayak, paired with a weight capacity of 400 lbs, you can guarantee good performance regardless of who is in the boat with you. The kayak is made of rugged 30 gauge vinyl, which is great for durability, and has beam flooring to maintain stability. The kayak is also coast guard approved and comes with repair patches and a convenient carrying bag for storage.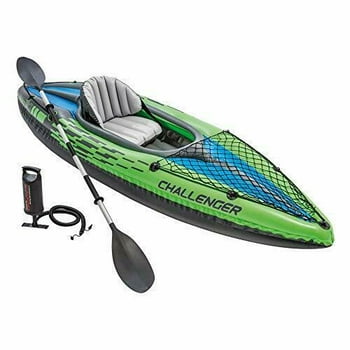 Length: 9 ft
Weight Limit: 220 lbs
Best for Ages: 6 years and above
MSRP: $139.10
The Intex Challenger kayak is built similarly to the Explorer. However, the Challenger is only built for single-person use. For that reason, kayakers should be at least six years of age or have good kayak control skills. The kayak is designed with comfort in mind, and the seat comes with an inflatable backrest for relaxing in calm waters. In addition to a repair patch, this kayak also comes with an oar.
Final Thoughts for Buying Kids Kayaks
Finding the best kid's kayaks doesn't need to be stressful. With our well-researched list of youth kayaks, you're sure to find the best fit for your family. Whether it's the Pyranha Rebel kids kayak for its sleek and easy-to-paddle design or the Lifetime Wave youth kayak for its budget-friendliness, you can't go wrong with any of the options on our list.
Regardless of your choice, we hope our guide has been helpful in the decision-making process.
What Age Can Kids Start Kayaking?
The age that a child can start kayaking at depends largely on where they'll be kayaking and the amount of experience the adult with them has. Kids can start kayaking on flat water around age 4-5, and some kids (like Dane Jackson), start kayaking rivers around age 6. It's important that kids are taught proper kayaking safety and that they're always under close adult supervision (preferably in a nearby boat).
Can Kids Paddle an Adult Sized Kayak?
Yes, kids can paddle an adult kayak, but it will be significantly harder for them. Larger kayaks are harder to maneuver, and in case of whitewater kayaks, the larger the kayak, the more difficult it is to roll back over. If kids paddle an adult kayak, they probably won't stay on the water as long because adult kayaks will require a lot more strength from them and they'll get tired more easily. Adult kayaks also weigh more and are difficult for kids to get into and an out of the water.
Can Teens Paddle a Kid Sized Kayak?
Kayak sizes and specifications are based on weight and height, not age. As long as they're within the weight and height limits for the kayaks. Small adults can even paddle a child sized kayak if they don't weigh too much.