This post may contain affiliate links where we earn from qualifying purchases. As an amazon associate, we earn from qualifying purchases. Find out more in our disclosure.
As the weather gets warmer and summer slowly approaches, the sound of water calling us gets stronger. The truth is that kids will jump into just about any body of water, but if you want them to stay warm and happy, they'll often need to wear more than just a swimming suit. With children, a wetsuit helps them maintain confidence in the water (since they add buoyancy) while also keeping their body at a comfortable temperature.
If you have kids who get cold in the water easily, a wetsuit can be a complete game changer. They keep them warm, insulated, and comfortable when they would otherwise be shivering and miserable.
Our family has been using wetsuits for our kids since our oldest was a toddler (he's now 15). We've found that some wetsuits are great for snorkeling on tropical waters, while others feel like a warm blanket for boating on our cold mountain lakes and rivers. Whatever type of wetsuit you're looking for, we're here to help you find the BEST kids wetsuits.
Our family just embarked on the most extensive wetsuit testing we've ever done, during our 3 months of winter travel along the Pacific in Central America. While the air temperatures were warm, the water was cold enough that we were wearing wetsuits nearly every day. We did extensive research, knowing exactly what each of our 5 kids needed for warmth and the conditions ahead of us. Some of them needed lightweight wetsuits while others needed thick winter wetsuits to keep kids warm.
To help make choosing the best kids wetsuit easier, we've compiled a list of the best wetsuits for kids ranging from infants and toddlers to adolescents and teens.
Jump ahead to the best kids wetsuits
Summer Wetsuits vs. Winter Wetsuits
Although most wetsuits will look identical at first glance, certain features separate them from each other. One of the most prominent features is whether it's designed for summer or winter use. Generally speaking, summer wetsuits are typically short and are made of thinner material to promote breathability and moisture wicking. A kids summer wetsuit thickness is usually 2-3mm and is designed for use in warmer water.
On the other hand, winter wetsuits are designed to provide warmth. Because of that, you'll find they're made to cover the full body and are usually made of thicker materials that are 4-5mm thick. Some winter wetsuits for kids may also come with an attached hood. While you don't necessarily have to wear a kids winter wetsuit in the winter, they're specifically designed for cold water.
Full Wetsuits vs. Short Wetsuits For Kids
For summer wetsuits, you have the option to choose between either a full wetsuit or a "shorty" suit. The two types can distinctively be told apart by the arms and legs of the suit. Full suits will have attached pant legs that reach the ankles and may have long or short sleeves. "Shorty" suits will have attached shorts and can be found with long, short, or tank sleeves for the arms.
If you're looking for something that does a great job at keeping kids warm, we always recommend opting for more coverage.
How Thick Should My Kid's Wetsuit Be?
Most wetsuits are a combination of several different thicknesses. The torso is usually a thicker material, and the arms and sides are thinner to improve flexibility and movement.
The thickness of your kid's wetsuit will depend on the temperature in the air and water where you're planning to use it. For tropical waters, or for kids that don't get super cold in the water, it's recommended to go with a 2mm thickness, or a 3/2. 3/2 is a shorter term for 3mm in the torso and 2mm in the arms and legs.
If the water temperature is cooler, or your child has a really hard time staying warm in the water, you'll want to go with a 3mm thickness or a 4/3 measurement. For scuba diving, we always have our kids wear full wetsuits that are at least 4mm. The warmest kids' wetsuits are 5mm thickness kid's wetsuits or a 5/4 wetsuit but they can run pretty stiff. If you choose to go with this option, you should be sure the fabric is 100% stretchable neoprene.
Getting the Right Wetsuit Fit For Kids
When a children's wetsuit fits properly, it will feel snug, but not too tight, around the neck, arms, and ankles. If the wetsuit has too much open space inside, water will flood in and the suit won't be able to provide the warmth it's supposed to. NEVER put your kids in a loose wetsuit or buy one that's just a little too big so they can grow into it. A wetsuit needs to fit snugly to work correctly, so make sure not to have too much space.
On the other hand, a kid's wetsuit that fits too snug won't offer the right range of flexibility for your child to remain comfortable, and often is too tight around the neck for kid's comfort. When doing a fit test, you should have your child squat and raise their arms above their head. They should also pretend to swim to see how it feels before getting into the water.
Biggest Mistakes Parents Make When Buying Kids Wetsuits
The biggest mistake I see parents making when buying a kids wetsuit is to size them up a bit so they last longer. When you have a wetsuit that doesn't fit properly, especially one that's too big, you're taking away most of the effectiveness of it.
While I absolutely understand the hassle of having to buy a new wetsuit for kids each year, consider it an investment in your time in the water. Kids who are cold will be miserable, so investing in a wetsuit so you can keep them warm while they're in the water is necessary. Whether it's so you can stay warm while swimming on a family vacation or if you live somewhere with cooler water, you may use a wetsuit all throughout the year.
A wetsuit is one of the few pieces of kids gear that I recommend NEVER buying a little bit too big! (The others are kids bike helmets and ski helmets).
I also absolutely understand that finding a good fitting wetsuit for kids can be HARD, but be persistent! One of my boys is very tall and thin and we had to try out 10 different wetsuits before finally finding one that fit properly (thank you Amazon Free Returns). Here are some common wetsuit fit problems when choosing the best kids wetsuit for your childs body shape.
Baggy in the torso, arms, and crotch
Back Zip vs. Front Zip Wetsuits
Many of the youth wetsuits you'll find are going to come with either a front or back zip. Neither option is necessarily better than the other, but they do function better in certain situations. For example, back zip wetsuits are great for younger kids as they can't reach the zipper to take off the suit when mom and dad aren't looking.
However, front zip wetsuits are better for older kids as they have more self-control. Kids who are surfing a lot often prefer back zipper wetsuits since the front zipper is uncomfortable while they lay on their board. If your child does get a wetsuit with a back zipper, make sure that it has a long cord attached to it so they can easily unzip it when they need to take it off.
Do Kids Need a Life Jacket While Wearing a Wetsuit?
Due to the way in which youth wetsuits are designed, they provide a little bit more buoyancy in the water. With that said, a wetsuit should never be substituted for a lifejacket, especially in open water. The buoyancy provided by the wetsuit is pretty small and won't provide adequate floatation in case of emergency. We recommend that all kids wear a type 3 or 5 PFD in open water.
Boys vs Girls Wetsuits
While many of the wetsuits listed below are differentiated by boys and girls wetsuits, they all basically fit the same. The biggest difference is that the girls wetsuits have more traditionally girly colors. Instead of focusing on girl vs boy wetsuits, focus on finding one that fits your childs body and your budget best. My daughter regularly wears boy wetsuits and until you get into mens and womens sizes, there is really no difference in the cut.
Best Wetsuit For Baby
Wetsuits for baby are difficult to find. If you're looking for an alternative to a baby wetsuit, we highly recommend the Frog Orange neoprene baby carrier. It does an incredible job of keeping baby warm by keeping them close to mom or dad and also surrounded in Neoprene. We used it for about the first 6-8 months with our babies.
Wetsuit Thickness: 2 mm
Closure: Wrap-around velcro
Length: Infant-adapted (no sleeves or pant legs)
Sizes: 0-30 months
Babies can get incredibly cold, even in mild water, so a baby wetsuit can be really helpful, even if you just use it as a pool wetsuit. In order to accommodate notoriously chunky baby legs, this wetsuit is designed only to keep the baby's core warm while leaving their legs free to kick. The infant wetsuit is designed with UPF 50+ protection from the sun's UV rays and has multiple adjustable velcro seals. This helps in accommodating a big variety in baby sizes.
Best Toddler and Little Kids Wetsuits
Wetsuit Thickness: 2 mm
Closure: Back-zip
Length: Shorty
Sizes: 1-6
The back-zip design of this shorty toddler wetsuit helps keep busy hands calm while also eliminating the possibility of neck irritation. This youth wetsuit is best suited for kids with slim and slender builds. If your toddler is still in diapers, you should be sure to accommodate extra room for a swim diaper when determining which size to get.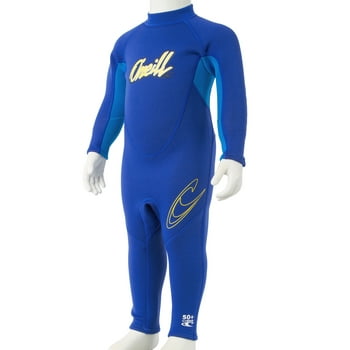 /a>
Wetsuit Thickness: 2 mm
Closure: Back-zip
Length: Full-length
Sizes: 1-6
This O'Neill toddler full body wetsuit is designed specifically for toddlers and young kids who need full coverage. The suit is designed to easily slip on and off while also maintaining a snug fit to your child. Beyond that, the suit is designed with flatlock seams, which eliminates any possibility of irritation inside of the suit.
Best Little Boys 4/3 Wetsuit
Wetsuit Thickness: 4/3 mm
Closure: Back-Zip
Length: Full-length
Size: 2-6
Our youngest son gets SUPER COLD in water, so this is the wetsuit he loves and wears almost all the time. The quality is fantastic and the fit is great for his slim body. In addition to the warmth, our favorite feature of this wetsuit for toddlers is the zippers at the ankles that make it easy to get on and off.
This boys wetsuit provides optimal warmth, comfort, and functionality for any water occasion. Whether it's a simple trip to the beach or a youth surfing tourney, you can rest assured that the construction and design of this wetsuit will keep your child dry and warm. This wetsuit uses two different types of neoprene called FreeMax and StretchFlight.
A note on sizing for the Quicksilver Prologue wetsuit: This suit runs a bit large with extra length in the arms and legs. Our son is average size height and slender and we got him a size 4 when he was 5 years old. As a 6-year-old the wetsuit still fits him well thanks to the longer arms and legs (and the ankle cuffs that make it so much easier to get on and off).
Best Little Girls 4/3 Wetsuit
Wetsuit Thickness: 4/3 mm
Closure: Back-zip
Length: Full-length
Sizes: 2-8
This girls wetsuit is designed for sizes 2-8 and offers full-body protection while out in the water. The Freemax neoprene used to design this wetsuit is perfect for providing warmth and sun protection at the same time. Beyond that, the thickness of the wetsuit still allows for optimal flexibility for playing in the sea. This is the warmest girls wetsuit for little girls. This is the girls version of the Quicksilver Prologue that we've shared above have used extensively and absolutely LOVE!
Best Summer Wetsuits For Kids
3/2 Wetsuits
3/2 mm options are wetsuits best for the summer time due to the protection they provide without compromising your child's flexibility. The additional mm of thickness on the torso works to keep the body warm while the 2 mm thickness in the arms and legs allow for optimal flexibility while in the water.
Wetsuit Thickness: 3/2 mm
Closure: Back-zip
Length: Full-length
Sizes: 8-16
This girls wetsuit is best for kids who need full protection and maximum flexibility for sport or play. With four different color options available and the fuss-free back-zip, this is certainly among the wetsuits best for girls who want to arrive at the beach in style.
Wetsuit Thickness: 3/2 mm
Closure: Back-zip
Length: Full-length
Sizes: 8-16
If you're looking for the best wetsuit for skinny kids, this is THE BEST! In addition to being available in the 4/3 version mentioned above, the Prologue wetsuit for kids is also available in a 3/2 thickness. We own both the 4/3 model and the 3/2 model and think they're both fantastic. All of the great things about the toddler prologue wetsuit apply to the versions for older kids with the exception that there is no ankle zipper.
Wetsuit Thickness: 3/2 mm
Closure: Back-zip
Length: Full-length
Sizes: 8-16
This wetsuit is fantastic. My oldest has been putting this through the ringer the last year and it still looks amazing. He's taken it swimming, wakeboarding, surfing, and canyoneering and it has handled all of those fantastically. We were shocked it did so well canyoneering since those Utah slot canyons have a history of destroying wetsuits. Best of all, the teen sizes, vit better than mens sizes do. My son is currently 5'9″, 130 lbs and the size 16 fits him better than any other kids or mens wetsuit that we tried.

Wetsuit Thickness: 3/2 mm
Closure: Back-zip
Length: Full-length
Sizes: 4-12
These back-zip wetsuits work well for boys or girls as they comes in two different designs: floral and solid black. This wetsuit is also best for kids who want full mobility with its glideskin cuffs, neck resist flushing, and super stretchy neoprene fabric. Along with that, you can rest assured you aren't harming the ecosystem with this suit as it's made with eco-friendly materials that are soft and fade resistant.
Wetsuit Thickness: 3/2 mm
Closure: Back-zip
Length: Full-length
Sizes: 8-16
This boys wetsuit is ideal for summer use as its thickness provides optimal insulation and mobility. This suit is also ideal for bigger kids as there are upper sizes ranging from 8-16 and the ability to choose between solid blue or solid black. The StretchFlight neoprene used in this wetsuit is made with 24% less CO2 production during manufacturing and is derived from the scrap of rubber tires. In addition to that, the wetsuit is fleece-lined, which is perfect for hanging out on the water in the evenings when the sun isn't as high in the sky.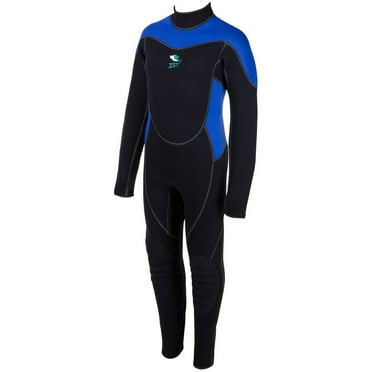 Wetsuit Thickness: 3 mm
Closure: Back-zip
Length: Full-length
Sizes: 4-14
This option is among the wetsuits best for kids, specifically because of the handy built-in knee pads. The knee pads are great for providing extra protection while out on a board or on rocky shores or around sharp shell fragments. Along with that, the suit also comes with additional velcro closures to further protect from water seepage. There are three color choices available as well as a variety of sizes.
Warmest Wetsuits For Kids and Teens
5/4/3 and 4/3 Wetsuits
When you need a little extra warmth, it's typically best to go with a 5/4/3 mm wetsuit or a 4/3 mm wetsuit. While we already know 4/3 mm means 4 mm thick in the torso and 3 mm thick in the arms and legs, we haven't covered what 5/4/3 mm means.
5/4/3 mm wetsuits are a more customized option. In this case, 5/4/3 refers to 5 mm in the torso, 4 mm in the legs, and 3 mm in the arms. This type of wetsuit thickness is ideal for cold temperatures as it offers insulation at a sliding scale from the most and least necessary points of the body. For example, our bodies hold most of our warmth in our torso, so it makes sense to have the most thickness in that area. As our legs are in the water more than our arms, the thickness for arms and legs also makes sense here.
Winter Wetsuits For Girls Long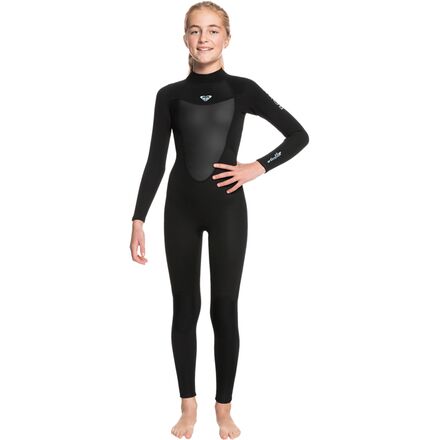 Wetsuit Thickness: 5/4/3 mm
Closure: Back-zip
Length: Full-length
Sizes: 8-16
This winter-designed wetsuit is suited well for adolescents who want full-body coverage. The suit is ideally designed for water temperatures that range between 49 and 55 degrees Fahrenheit and uses HyperStretch neoprene for optimal mobility. This is a great kids suit for cold mountain water or for winter surf kids.
Wetsuit Thickness: 4/3 mm
Closure: Back-Zip
Length: Full-length
Sizes: 4-16
This youth wetsuit comes in a plethora of colors and designs as well as a healthy variety of sizes ranging from 4-16. Like other O'Neill wetsuits, this option is also equipped with a handy back-zip that gives a snug feeling without neck irritation as well as the wind-resistant Fluidflex Firewall panels for additional insulation and comfort. The neoprene used is also incredibly soft to maximize comfort without compromising any flexibility.
Boys Long Winter Wetsuit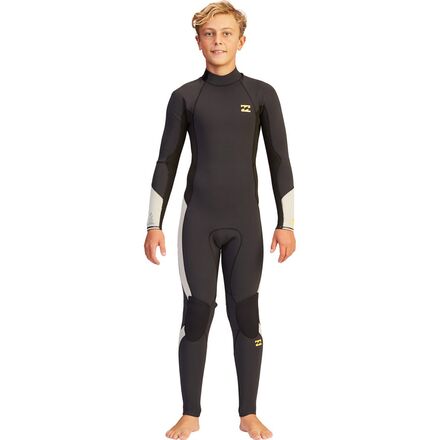 Wetsuit Thickness: 4/3 mm
Closure: Back-Zip
Length: Full-Length
Sizes: 12-16
This is hands down our favorite cold water wetsuit for kids. While it is classified as a boys winter wetsuit, it's pretty gender neutral and is the wetsuit that fit our daughter the best. She gets' really cold easily, so this is the wetsuit that she uses all of the time. It's fantastic for surfing and never inhibiterd her range of motion, yet it's also worked great for just playing in the water too.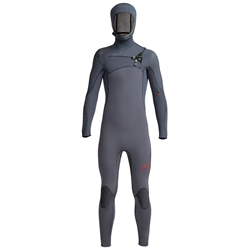 Wetsuit Thickness: 5/4/3 mm
Closure: Chest-Zip
Length: Full-Length + Hood
Sizes: 10-16
This chest zip wetsuit sets itself apart from others largely thanks to the additional attached hood. Having a hood is ideal for really cold temperatures as well as protecting ears from water-related injuries. The suit is made from 100% super stretchy Japanese neoprene and has a warm thermal lining to aid in insulation. Additionally, the chest-zip design is ideal for older kids who have good self-control and want an easier way to get the suit on and off.
Wetsuit Thickness: 4/3 mm
Closure: Back-zip
Length: Full-length
Sizes: 4-16
This kids wetsuit is best for kids in sizes 4-16 and provides full sun and heat protection while wearing it. The stitching in this wetsuit is blind-stitched and triple glued. This method ensures no water can seep into the wetsuit while being worn. Along with that, the boys wetsuit also has wind-resistant Fluidflex Firewall panels to give extra insulation in colder temperatures. This is the warmest boys wetsuit for little boys.
Gender Neutral Warmest Kids Wetsuits
Most of the boys wetuits listed above also work well for gender neutral wetsuits (as witnessed by our daughter wearing a boys wetsuit).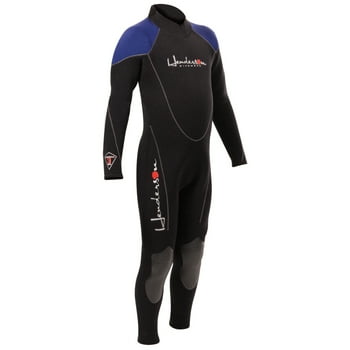 /a>
Wetsuit Thickness: 5 mm
Closure: Back-Zip
Length: Full-length
Sizes: 10-16
The uniform thickness of this wetsuit makes it the ideal gender neutral option for older kids that need something for really cold temperatures. The suit is mainly designed to fit those at the pre-teen to teen level in age and comes in a black and blue design. Despite the thickness of this wetsuit, the suit actually provides a 180% super stretch that allows for optimal mobility in cold temperatures. In addition to that, the suit also has lycra lined sleeve cuffs, Freedom Flex knee pads, and an adjustable neck to provide the best comfort.
Best Budget Winter Wetsuit For Kids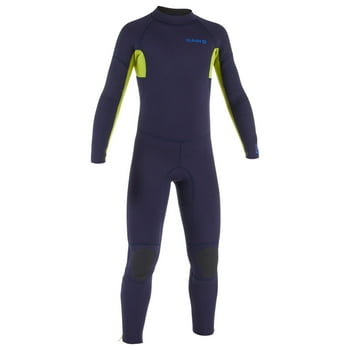 Wetsuit Thickness: 4/3 mm
Closure: Back-Zip
Length: Full-Length
Size: 6-14
If you're looking for a more budget-friendly option, this full-body wetsuit provides much of the same amenities as others on our list without costing you too much. The navy blue wetsuit provides great stretch, easy to zip ankle and back zippers, and a smooth inside collar to prevent neck irritation. In addition to that, there are no seams under the arms and the knees are reinforced to allow for great movement and stability in the water.
Best Shortie Wetsuits For Kids
Wetsuit Thickness: 5 mm
Closure: Back-Zip
Length: Shorty
Size: 3-12
The Team Magnus neoprene shorty wetsuit is ideal for a family with multiple young kids due to its incredible affordability. You can purchase this suit for a fraction of the price of one of the other suits listed in our guide here. Although this suit is certainly one of the most affordable options on our list, it doesn't skimp on any of the benefits a good wetsuit should have.
With maximum comfort seams and a thick neoprene build, you can rest assured your toddler or young child will be able to retain their body heat for maximum playtime. The only downside is that on some of the smaller sizes, there is excess material in the armpit (making it uncomfortable to rest arms to the side), so we recommend this wetsuit for bigger kids.
Wetsuit Thickness: 2.5 mm
Closure: Back-Zip
Length: Shorty
Size: 4-12
This kids wetsuit comes in a plethora of colors and is ideal for use during the summer. The suit also comes in five different sizes, so you could continue to buy a new suit as your child outgrows their previous size. The stretchy neoprene offers UV UPF 50+ sun protection and the back zipper has a zip fastener to prevent the zipper from sliding down while using it. The shoulders have a shark-skin-like neoprene fabric that is meant to aid in buoyancy and reducing water-resistance.
Parting Thoughts to Help Choose Kids Wetsuits
Finding the best wetsuit for your child can be difficult if you can't physically try on the item. Because the fit of the wetsuit is integral to the functionality and comfort of the suit, you may want to consider purchasing two sizes of your desired suit. This way, you can return whichever one doesn't fit right and you won't feel like you wasted time or money.
With that said, you can usually make a good educated guess of the right suit by paying attention to the reason your child needs it, the temperatures they'll be wearing it in, and their body length and weight for scale.
We hope this guide helps in making the right decision on the wetsuit best for your child.