This post may contain affiliate links where we earn from qualifying purchases. As an amazon associate, we earn from qualifying purchases. Find out more in our disclosure.
Stand Up Paddleboarding is the newest water sport to sweep the world and it's quickly becoming one of the best water sports for kids. Stand up paddleboards for kids allow kids the freedom to explore on the water and to learn how to paddle independently. Summer is the perfect time to introduce kids to paddleboarding so you can spend more time on the water at the lake and river this summer.
We love to paddleboard with our kids and as our own kids range from 5-15, we've had experience all across the board to help determine what makes the best kids SUPS. We love letting kids paddleboard because it gives them freedom to explore on the water with a board that's easy enough for them to maneuver and get where they want to go.
Thankfully, in the last couple of years, brands have started to make stand up paddleboards for kids, making the sport SO MUCH EASIER for kids to learn and to do on their own, than with an adult paddleboard. Stand up paddle boards for kids have some of the same benefits and fun of a kids sized kayak, but with the added fun of balance thrown in.
Instead of letting your kid clumsily try to maneuver an adult sized board, get a kid sized SUP to make paddling easier and more fun for everyone! Trust me, it makes a WORLD of difference!
Unsure about which paddle board for kids to buy? There are lots of great stand up paddleboards for kids on the market right now that are perfect for paddling kids. Keep reading the guide below to find out the best kids' SUPS.
Tips for Paddle Boarding With Kids
Always Wear A Life Jacket
This is non-negotiable – kids must ALWAYS wear a life jacket when they're paddleboarding. The best option is a coast guard approved type 3 or 5 paddling jacket (not a puddle jumper swimmer). In most areas, life jacket use is mandatory for children 12 and under by law. While not all areas require a life jacket to be worn by an adult (but they must have one on board), we always recommend modeling proper safety behavior and have adults wear them as well. It could literally save your life, so make sure that life jacket use is a priority.
Set Realistic Expectations
It's important to keep in mind that the goal of paddle boarding with kids is to have fun. Start the day with realistic expectations. Kids might only last for 30 minutes, or they might want to paddle all day. Kids who are younger might have a difficult time on a SUP and will likely need some help from an older child or adult, so remember to help with patience. We teach our younger kids to paddle by having an adult on the board with them to help them balance and learn how to paddle. The adult sits on the board and helps to stabilize the younger child paddling the stand up paddleboard.
Go Paddleboarding When The Weather Is Good
One of the hardest things for kids learning to stand up paddleboard is trying to SUP in bad weather. Wind and rain can make it really hard for kids to maneuver their boards. Not only can this be discouraging and frustrating for kids, but it can also be incredibly dangerous. Make sure to only SUP with children if the weather is good.
Start On Flat Water
The easiest place to teach kids to SUP is on flat water. Areas like a lake or a pond are ideal, especially if there's a shallow area that parents can walk along their side (this is especially helpful for young or timid kids). Even if you're planning on doing a family SUP trip on moving water like a river, flat water is the best place to learn how to paddle and maneuver a SUP built for children.
Get Your Children Comfortable In The Water First BEFORE Paddleboarding
Getting kids comfortable around water is very important before introducing them to paddle boarding. Anticipate your child falling into the water and make sure they're okay with that. If you're on cold water, we recommend having kids wear a wetsuit so that the cold water isn't as shocking for them. Feeling comfortable on a stand-up paddleboard and in water is essential.
One thing we do to help with this is to ALWAYS take this kids out on a SUP with an adult BEFORE letting them go off on their own. This makes the experience more comfortable and predictable for everyone.
Choosing the Best Equipment for Paddleboarding Kids
Kid Sized Paddle Board
A kid's paddleboard is small and simple to control. Make sure to get one suited to your kid's ability, height, and weight. We're sharing our best kids SUP recommendations below.
Kid Sized Paddle for Paddleboarding
Get a good kid-sized paddle. Many paddles intended for adults are far too big for kids and make learning to paddle really awkward and uncomfortable. To determine the best length for a kids' SUP paddle, have the child stand beside the paddle and raise their arm above their head. The proper paddle should be about at wrist height (most paddleboard paddles for kids are easily adjustable).
Teaching Kids To Stand Up Paddleboard
Some kids will learn to paddleboard very easily and other kids will struggle more. Out of my own 5 kids, I've had both types of kids. That along with all the friends we bring with us to the lake, and we've taught dozens of kids to stand up paddleboard. Here are our best tips to teach kids to paddleboard.
Start by sitting or kneeling.
It's usually easier if your child kneels or sits down for a while before attempting to stand on their stand-up paddle board. This will get them used to the motion of the boat and how it moves on the water. It will also give kids a chance to practice paddling right away.
Learn To Stand Near Shore
Standing while maintaining balance is difficult, especially for children on a SUP. Have them practice standing on a SUP near shore, and without paddling at first. It's helpful to have them start from standing, move to kneeling and then to standing. If they're struggling with balance, have someone hold onto their board a bit to stabilize them at first. We find that having kids wear a good pair of water shoes or outdoor sandals helps give them more traction on the board.
Teach Children How To Stand On A Kids Paddleboard
Kids can easily get confused on how and where to stand on a paddleboard. We've found that the best way is to spread feet shoulder width apart and face the front of the board. The closer kids are to the middle of the board the more stable they'll be and the easier it will be for them to maneuver the boat.
Teach Them to Paddle Correctly
All SUP paddles have a T-grip at the end. After making sure that your kids paddle is the proper size, show them to always hold the paddle with their top hand covering the T-grip. To paddle, they should reach far forward and pull the paddle alongside them. A paddleboard with fins should track fairly straight all on it's own, but occasionally kids will need to take a stroke back or switch sides to keep the boat straight (or to make a sharp turn).
Before sending kids out into open water, make sure they know how to paddle forward and backwards, switch paddle sides, and how to turn their paddleboard in both directions.
Review Of The Best Kids Paddleboards
If you're going to start paddleboarding as a family, don't just go for the cheapest board you can find at your local big box store. Getting a good kids board will make such a major difference in how much your kids enjoy the sport, so it's an investment that's worth the money!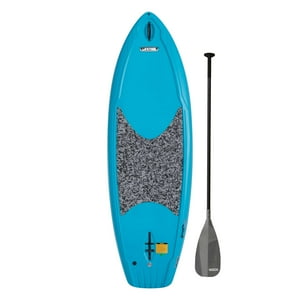 Length: 8′
Width: 29″
Weight: 29 lbs
Weight Capacity: 130 lbs
If you want a paddleboard that can take a serious beating and just keep going, consider the Lifetime rigid paddleboard for kids. This paddleboard is almost indestructible, so if you plan to store your kids paddleboard outside or leave it out at the lake, this would be our top pick. These also are some of the most stable paddleboards for kids, so they're great beginner paddleboards.
PROS:
Durable rigid design
Incredibly stable paddle boards for kids
Easy to paddle kids board
Perfect for smaller children ages 5 and up
CONS:
Difficult to transport
Length: 10′
Width: 32″
Weight: 19 lbs
Weight Capacity: 260 lbs
We absolutely LOVE this paddleboard for teens, and it's the one our own teens always want to take out (of the 5 we currently own). In fact, this older kid paddle board also works well as an adult paddleboard. We chose it as our top paddleboard for teens because it's extra durable, packs down easily for transport and has a big enough weight capacity that teens can bring a friend along. We've taken this teen paddleboard to several backcountry locations and the bag works surprisingly well for hiking with a paddleboard.
PROS
Double fold for easy packing
Tethered fins so you don't ever lose one
Paddles straight really well and tracks well in the water
More rigid than most kids paddleboards so it's more stable
The paddle folds up super small and can fit in a backpack
The electric pump is incredible and makes inflation and deflation super fast.
CONS
On the more expensive side for a kids paddleboards, but it is a great price for a high-quality paddleboard that will last them into adulthood.
Length: 7' 6"
Width: 30"
Weight: 19 lbs
Weight Capacity: Up to 80 lbs
The Prodigy Junior SUP is made specifically for younger children, yet it's constructed to similarly high standards of safety as an adult paddleboard. Its form is significantly more agile and stable and secure enough for newbies. It's the ideal transition into freedom on the ocean for children aged 5 and above, with a paddle that fits.
The paddleboard's tail is curved for simple maneuverability and joy to ride, with a super-wide midsection for the steadiness that novice paddlers require. It is convenient to handle and comes with a custom paddle.
PROS
3-piece youth sized carbon blend paddle.
Backpack for storage and transportation
Thruster rapid locking fin kit, which is detachable.
8 ft. dual revolving coiled leash.
CONS
It doesn't come with a pump (though it can be purchased from the company)
Length: 8'
Width: 29
Weight:
Weight Capacity:
Designed for paddlers under 5' 3"
We love the versatility of the Cruiser Junior SUP. It's designed with smaller kids in mind, with a paddle that can even go short enough for a 3 year old to use. There are plenty of features on this kids SUP that will have your family loving it including the easy transport handles and action camera mount.
Perhaps the feature that makes this SUP for kids the most versatile is that there is a conversion kit to turn this SUP into a kid sized kayak with a padded seat and the option to turn the SUP paddle into a double-bladed kayak paddle.
It is small enough for people under 5 feet 3 and lighter. They have crafted the Cruise Junior to be durable. You won't find a more rigid, sturdy inflatable kids SUP anywhere else (it's constructed tough enough that you can pump the paddleboard up to 28 psi).
PROS
Easy to pack, prep and paddle
Easier to transport than many other SUPS
Stable and comfortable.
Manufactured from recyclable materials and the company plants a tree for every purchase
CONS
Not a lot of choices when it comes to colors and graphics
Length: 9'
Width: 32"
Weight: 17.2 lbs
Weight Capacity: 220 lbs (though we don't recommend over 150 lbs)
We've loved paddling the Nautical around with our kids and the easy-to-maneuver design is great for introducing kids to stand up paddleboarding at a pretty great price. The paddle packs down super small, the bag is easy to transport, and we think it's a great SUP for teaching kids to paddle.
This kids' paddleboard is great for introducing them to paddle boarding. It is a great option and we think it's a fantastic paddleboard for kids from ages 8-14.
PROS
Great bungee system so you can easily attach gear or snacks to take with you as you paddle
The storage bag can also be used as a backpack so it's easier for kids to move around and transport
Easy to mount a GoPro
CONS
While the weight capacity is rated at 220 pounds, we found that stability was much less after we put about 150 pounds on this paddleboard.
Length: 9'
Width: 30"
Weight: 21 lbs
Weight Capacity: 315 lbs
This SUP for kids is one of the more expensive models, but it's built to be incredibly durable. This 9-foot paddle board was created just for kids, and is a smaller version of the popular 11ft Atoll stand up board. These paddleboards include a heavier-strength backpack traveling case that comes with a front zipper, 15 strengthened D-rings, and an upgraded carbon fiberglass paddle.
It also includes nylon blades that match your board's colors. No expenses were spared during the inflatable SUP's construction. The modern, streamlined style has long been a favorite of outdoor lovers.
PROS
The stand-up paddleboard is created using the toughest and most lightweight iSUP materials.
The Atoll iSUP uses Drop Stitch equipment to make the seams extra durable
One of the lighter kids paddleboards at just 21 pounds
A dual-function high-intensity hand pump makes inflation simple
CONS
Most expensive kids SUP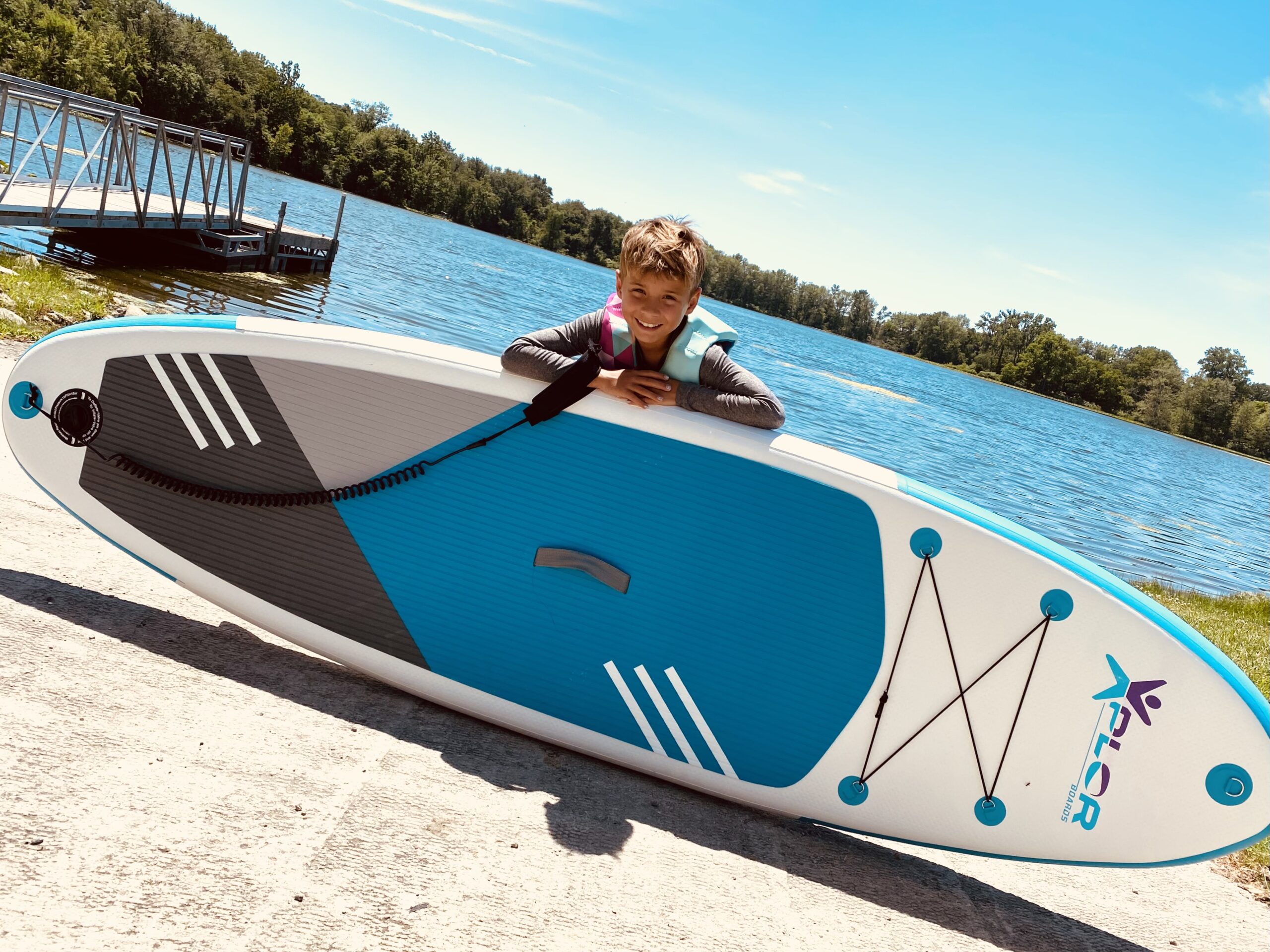 Length: 9'
Width: 29"
Weight: 24 lbs
Weight Capacity: 150 lbs
This is a pretty basic stand up paddleboard and is one of the cheapest stand up paddleboards for kids. While it does weigh more than most kids SUPs it's still a very durable board. The two fixed fins make it simpler for beginners and there is an additional third fin that can be added when kids need extra help going straight.
PROS
The paddle disassembles into two portions. The blades are made of durable nylon that is reinforced with a middle rib to keep it from twisting under stress
Two fixed fins and a singular detachable fin make this board track well and steer straight
CONS
Lower quality than many other SUPs for kids
Length: 8'6"
Width: 27″
Weight: 11.9 lbs
Weight Capacity: 40-70 Kg
The Airlie is a top-notch paddle board for kids. It's a complete paddle board that works best for flat water sailing, minor waves, and racing. It is extremely lightweight and made to help you build confidence and expertise in the ocean. Airlie is the best SUP available in the marketplace. Its design, build, and shape result in a paddleboard that is simple to control.
PROS
The Airlie features a tail rocker that helps it handle waves and maintain stability in turbulent water.
The versatility of its performance in many environments will boost confidence and help enhance inherent skills.
The best SUP materials are used in Airlie's construction. This material's structure differs from a typical dual-fused board, producing the best SUP in the market.
CONS
The pump isn't that great
Features To Look For When Buying Kids SUP
Kids SUP Length
Your kids' SUP length will influence how quickly and easily you can go across the water. For younger kids, shorter lengths are easier to manage, while teens could easily maneuver a paddleboard that's close to adult size.
Kids SUP Width
Your speed and stability will be impacted by the width of your inflatable stand-up paddle board. Wider boards are more stable and ideal for amateurs or shared by families. Although speedier, a narrower paddleboard also has less stability.
Kids Fin Configuration
More adaptable and maneuverable in wave conditions is the three-fin thrust arrangement. Ideal for paddling in calmer waters is a single-center fin. Several paddleboards for kids have multiple fins to you can change the number of fins based on your child's skill and where they'll be paddling.
Inflatable or rigid SUP for kids?
Inflatable SUPs for kids
Inflatable SUPS are easy to store, transport and are great for backcountry travel. Most inflatable SUPS need to be pumped to a PSI of 10-12 (don't underinflate a SUP for kids – it will make it very difficult to paddle) so that the paddleboard for kids is very solid and stable.
Rigid SUPs for kids
Sturdy and firm, but also heftier, which assists in navigating through windy circumstances. A rigid SUP for kids is often the most stable option, though it does have the disadvantage of being harder to transport and store.
What To Consider When Getting A Kids SUP
Durability
When operating a kids' paddleboard, you can safely assume that at some point, your kids will be HARD on their paddleboard. A high quality inflatable SUP for kids is our top recommendation for durability (like the boards we're mentioning below).
Stability
Your child will learn the fundamentals more quickly if they have a sturdy paddleboard. The board's width and the fin arrangement all contribute to stability. Often overlooked, inflatable paddleboards for kids would always be fully inflated as well. Most kids paddleboards recommend being inflated between 10-12 PSI, which is a lot more air than you would fill other inflatables with. The end goal is that an inflatable SUP should feel really solid when fully inflated to provide maximum stability.
Paddleboard Weight
A child won't be capable of carrying a hefty paddleboard by themselves, and this is one of the big reasons not to get kids an adult sized paddleboard. Choose lighter boards so that kids can carry and transport them more on their own.
Final Thoughts About Kids Paddle boards
Remember that paddleboarding with kids is all about the fun. Find suitable equipment and a quiet location for them to practice their paddle boarding skills. We recommend getting out on the water with them in your own adult board so that they can be more comfortable and for safety reasons.
SUP for kids is a great way to introduce kids to watersports and it's so easy to transport and bring boards with you thanks to all the inflatable paddle boards on the market today. So grab a kids paddle board, a life jacket, and a sunny day, and have a great time on the water together!
What size paddleboard is best for kids?
Smaller paddle boards for kids are easier for them to maneuver than adult boards. For younger kids, paddle boards around 8′ are ideal, though for older kids and teens a paddle board length of 9′-10′ usually works well.
What age can kids learn to paddleboard?
Kids can technically start paddle boarding around age 3, though they would need close supervision. Generally, we recommend that kids be at least 5 years old before learning to paddle board since they are stronger and can maneuver the boat better.
What paddleboards are the most stable for Kids?
The most stable paddle boards are rigid paddleboards, not inflatable paddleboards. A rigid board for kids allows kids to navigate choppy water better and is less likely to tip over. If you are choosing inflatable paddle boards for kids, always make sure to pump it to the required PSI so that it will be the most stable.
Why is my paddleboard so unstable?
The biggest reason that most inflatable paddle boards are unstable is because they are not inflated to the proper PSI. Most paddleboards need between 10-20 PSI (it's typically written on the valve). This is A LOT more pressure than most people think their paddleboard needs. IT should have almost no give when you push on it. To make sure that your board has the proper pressure, a paddle board pump with a pressure gauge is absolutely necessary.