This post may contain affiliate links where we earn from qualifying purchases. As an amazon associate, we earn from qualifying purchases. Find out more in our disclosure.
Let's face it – summer is just better when accompanied by water. Whether you're going to the lake, the beach, or just hanging out by the backyard stream, water shoes just make life easier. They dry quick, keep kid's feet protected, and work wonders for preventing slips and falls. We're going to share with you some of the best kid's water shoes to help make your summer play a whole lot better!
In our family, water shoes are a purchase I take pretty seriously, since I need them to not just last the summer, but to be able to pass down to younger siblings. In our family of 5 kids, we've tried SO MANY different water shoes through the years. Some we've loved enough to pass them through all the kids and others only make it a few weeks before we toss them. Here you can learn from all of our experience and just get GREAT kids water shoes from the start!
When shopping for water shoes for kids, look for shoes with great flexibility, breathability, and durability. Because keeping the shoes on is important (no one wants their shoe to go floating down the river), choosing a shoe that won't fall off when your kid wants to play is also necessary. Traction is also incredibly important when choosing kids water shoes since this helps them not to slip, but also lets your kids play and explore on lots of slippery rocks and other fun obstacles.
There are tons of water shoes out there, but we've rounded up the ones that meet the essential criteria. Here are the best water shoes for kids. 
Best Water Shoes for Kids Features
Before you go out and buy the cutest pair of kids water shoes, remember that in order for a kids water shoe to be GREAT, they need to have certain features so that the water shoes function the way that they need to.
Water Shoe Traction
Traction for kdis water shoes is one of the most important features. since nearly everything they'll be stepping on is wet, good traction is absolutely essential. We look for soles that are grippy when wet, but also not too chunky to weigh kids down when they're in the water.
Water Shoe Comfort for Kids
If your kids won't wear their water shoes, then what's the point in having them? Gettin water shoes that are comfortable enough to wear all day is really important, otherwise, you're likely just wasting your money. Depending on your kids feet, some shoes may rub more than others, so if you notice signs of rubbing or reddness when you're trying shoes on, get another pair.
Ease of Getting the Water Shoes for Kids On and Off
As a mom of 5, I know that getting kids shoes that they can get on and off independently is SO IMPORTANT! Going to the beach is going to be so much smoother if the kids can get their shoes on and off alone.
Water Shoe Security for Kids
Finally, one of the most important features to look for in kids water shoes is security so that they'll STAY ON! You don't want kids water shoes that are constatly slipping off or that your kids feet come out of too easily. Imagine how horrible it would be to have your kids shoes come off in some murky water and never being able to find them?!?! Get water shoes that stay on your kids feet well (this will be easier to find for some kids than others, so try several different pairs).
Sandals vs Water Shoes for Kids
Should kids wear water shoes or sandals? Truthfully, we love and own both for most of our kids. In fact, we have a full review of the best kids sandals that you should also check out. Some of it comes down to your kidspersonal preference, but there are a few things to consider:
If you're going to be somewhere with lots of small pebbles or gravel, water shoes keep those out better!
Do you need shoes that can be worn all the time, or just for water play? Sandals have more versatility!
Do your kids need full foot protection? Kids water shoes are better for this!
The Best Kids Shoes For Water and Summer Adventures
In our house, our kids LIVE in their outdoor sandals, water shoes, and lots of quick dry clothes. Whether you're looking for water shoes for the beach, or water shoes that can handle a hike, we've got plenty of fantastic options for you to choose from!
All of these water shoes for kids offer full foot protection. If you don't need something with that much coverage, check out our full review of the best kids sandals that your kids can wear on just about any watery adventure you can imagine.
MSRP: $50
Sizes: Little Kid 10 – Youth size 6
These are hands down our favorite water shoes for kids. We've had these for years and years and they hold up better than any other water shoes that we've found. We first got a pair when Chaco came out with this model YEARS AGO and have passed them down through several kids, and they're still in GREAT SHAPE! If you're looking for the most durable kids water shoe, this is it! They work great for hiking, outdoor play, and just about anything that our kids have thrown at them. While this is technically a water shoe, my kids often wear them with socks year round so we've gotten a lot of use out of them. WHile they do cost more than most other water shoes, they're easily worth the money.
The traction is incredible! The soles are rugged and durable, and the mesh uppers protect feet while still letting water in and out and keeping feet cool. Our kids love that they feel more like a shoe than just a water shoe so they all act more confident in their adventures when they're wearing these than with most other water shoes for kids. The only downside is that they're hard for littler, little kids to get on. My son just barely could fit into these at age 4, but needed help getting them on. By age 5, when the shoes actually fit better, he could get them on and off with no problem! All in all, a fantastic water shoe that is a great investment that will last for years.
Best Features of the Chaco Water Shoes for Kids:
Excellent traction
Very secure on kid's feet
Works for water play and regular use
Mesh is perfect for draining water and breathability
MSRP: $30
Sizes: Toddler size 5 – Youth size 5
The Sketchers Foamies are some of our favorite water shoes for kids. They're super easy to get on and off and are some of the best kids water shoes for keeping rocks out. Anywhere you go to have fun, these Sketchers water shoes will support and protect your kids' feet. Made for free movement, the shoes have a soft sole and the flexible back lets kids just slide the shoes on. The traction is surprisingly good and they are much more secure than most other kids water shoes.
The footbed of the water shoes has cushions, making them really comfortable and our kids usually end up wearing them all day. Your kiddo will love these water shoes not only because they're adorable and look like Crocs (but perform better) and because her feet will feel comfy all day in them. The shoes are sold in different colors that'll match just about any outfot your kid has, and they're affordable enough that you just might want to grab a different pairs.
Best Features of the Sketchers Foamies Water Shoes for Kids:
Water-friendly and breathable design
Light sole and upper part
Flexible traction outsole
Cushioned footbed for toddlers
Made with elastic Nano Lite soft plastic foam
MSRP: $40
Sizes: Little Kids size 4-10
If you want to get the best water shoes for toddlers, these are our top pick! They're lightweight, super esay to get on and off, and keep kids feet protected in the water. These toddler water shoes are designed to make your kids feel like they've got bare feet. These minimalist toddler water shoes are perfect for letting their feet feel the ground and terrain while still protecting their feet.
The soles are soft and flexible without comprising traction which can be hard to find. They are the best toddler water shoes and are perfect for lots of active water play.
Parents appreciate the breathable design and the alternative closure that makes wearing and taking them off easy. Unlike slides, flip flops, or some sandals, these shoes won't drop off your kids' feet all day. It doesn't matter if they're boating or playing on a splash pad; the shoes are just going to stay on. We also love that with the Velcro closure, it's super easy for little kids to learn to put them on and take them off independently!
Best Features of the Merrell Bare Steps Kids Water Shoes:
Lightweight minimalist toddler water shoe
Rubber sole
Leather material with bare steps design
Extra-wide toe box
Round edges outsole
MSRP: $50
Sizes: Toddler 8 – Youth 6
We have owned some of these kids shoes for year and they're absolutely amazing. IT's basically a cross between a hiking shoe and a water shoe, so it's super versatile. Th shoes have mesh sides and a bottom drain so kids feet are protected and stable and water can just drain right out. They're a bit more expensive than other kids water shoes, but for the versatility, we think they're absolutely worth the price.
Available in multiple colors, these Columbia kids' water shoes made our list because they drain water fast and get dry quickly. Their cushioned midsole offers kids great comfort, keeping their feet happy all day. The shoes' quick lace toggle system makes wearing them easy. Kids (including toddlers) can wear these water shoes without help. They are also super light considering they're basically a full hiking shoe, and the upper mesh will keep your kids feet comfortable. If you live in an areas with lots of water, these could make a great kids hiking shoe for wet conditions (at least if you're embracing the water instead of avoiding it.
Best Features of the Columbia Drainmaker Water Shoes for Kids:
Hybrid versatility
Lightweight and supportive
Cupsole construction for adaptive response
Rubber sole
Textile and synthetic upper part
MSRP: $39.95
Sizes: Kids 13 – Youth 6.5
Looking for a great pair of lightweight water shoes that will keep your kid feets protected? These kids water shoes from Reima are easy to get on and off, and still give great protection for the toes. They're stylish enough that when your kids want to wear them around town, no one will know that they're just wearing their water shoes. These are basically my dream barefoot sandals for kids and are an excellent choice for water play. Its simple velcro design makes it easy to wear, and your kid can move easily with its elastic sole that prevents slipping. The insole is comfortable and the whole thing is machine washable!
We also love that these shoes have extra room in the toes just in case your kid has an unexpected growth spurt! Available in 4 fun colors, these are excellent water shoes for kids.
Best Features of the Reima Rantaan Kids Water Shoes:
Flexible Sandals' soles
Zero shoes heel drop
Removable insoles with Happy Fit print
Textile upper part and lining
Velcro construction fastening system
MSRP: $60
Sizes: Toddler size 4 – Youth size 7
Keen offers one of the best deals for kids in the water shoes market. This lightweight water shoe is cute yet sturdy enough for your active kids to climb rocks. Witht he toe protection that Keen shoes are known for but without the extra weight, these lightweight shoes for kids water play are really great for all ages. The flexible sole makes them great for toddlers learning how to walk or for older kids who are running around all day at the lake. We love these shoes for beach days!
When it comes to permeability, these keen kids' water shoes are the best. They have an Eco Anti-Odor design that dries water quickly and keeps the stink away (YES!!!).
Best Features of the Keen Stingray Kisd Water Shoe for Boys and Girls:
Natural odor control
Adjustable strap
Durable Keen Fusion rubber
EVA insole and arch support
MSRP: $39.95
Sizes: Kids 13 – Youth 6.5
These water shoes are loved not only because they are cute but also because they're flexible shoes perfect for kids' water play, and that's why they're one of the top picks for kids. Wearing these water shoes is easy and comfortable for kids. And they can easily remove or adjust the insoles to find a perfect fit. What's more, the thermoplastic rubber of the shoes keeps them on kiddos' feet on the beach and the playground.
With its firm grip and an attractive textile upper part that drys quickly, your little kid can wear the shoe confidently for swimming lessons. The shoes are also great for active kids who love splashing water. Although the shoe has no strap, the stretch material and elasti top helps to keep them secure.
Best Features of the Reima Lean Water Shoes for Girls and Boys:
Detachable insole with Happy Fit print
Elastic and sturdy sole
Sturdy, lightweight, and breathable
Thermoplastic rubber outsole with good grip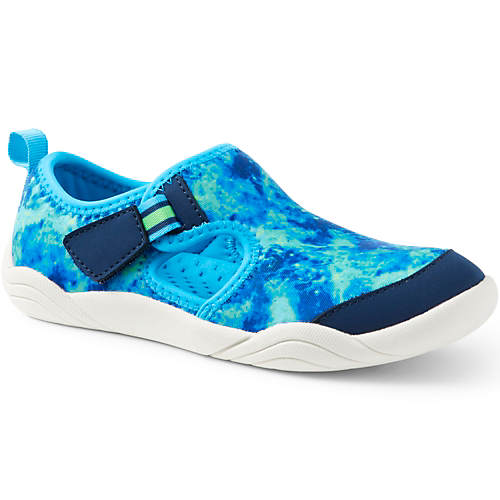 MSRP: $49.95 (regularly on sale though for $25-$30)
Sizes: Little Kid 9 – Youth 7
If you want a lightweight water shoe that's fun and protective, you can't go wrong with these kids water shoes from Lands End. The shoe has a unique OpenWIDE technology that opens the water shoe wide for putting it on and off which makes it great for kids with chunky feet! At the same time the rip and grip closure also ensures a secure fit. We like the shoe's breathable mesh that drains water fast so kids aren't sloshing around in their water shoes.
Playing with sand at the beach won't be an issue for kids with the shoe's comfortable textured rubber soles. They also have a reinforced toe and a removable footbed for easy cleaning and sand removal.
Best Features of the Lands End Open Wide Kids Water Shoe:
Textured rubber soles
Hand-made textile upper part
Removable insole
OpenWIDE rip and grip closures
Fast-draining footbed with textile lining
MSRP: $40.00
Sizes: Toddler (4-10), Little Kid (1-11), Big Kid (1-6)
For breathable kids' water shoes that are super cute, these Native Jeffersons shoes are outstanding options. The shoe is light, and its slip-on style is comfy and unique. This is one of our favorite kids' water shoes because the shoe's perforated upper is odor resistant and is really comfortable for kids. They're not as easy to put on as the Sketcher Foamies but to offer a bit more heel support. This means you can confidently allow your kids to play in the water or at a splash pad or at the beach since their feet won't hurt all day.
Unsurprisingly, the quality and durability of these water shoes are impressive. They're basically a rubber shoe for kids with an insole so they can stand up to a lot of abuse from kids. Although the sole is rubber, the grip is great and we haven't had any problems with kids slipping on wet surfaces while wearing them.
Best Features of the Native Jefferson Kids Water Shoes:
Elastic upper part
Durable sole
All-over perforations
Ultralight and shock absorbent
MSRP: $35
Sizes: Toddler 7.5 – Youth 7
This UBFEN water shoe is one of the best value water shoes. Not only is this shoe packed with fun colors, but it also offers superb support, traction, and protection for kids. If you prefer a covered water shoe to a flip-flop or sandals for your kid, this is an ideal shoe for your child. The grippy rubbers sole are sturdy and grip will so you don't have to worry about slipping. Plus, the upgraded rubber soles won't make rocks, sand, or sharp objects hurt your kids feet.
While the sole of this shoe is sturdy, the upper part is soft, and its mesh offers significant breathability and cross ventilation, drying the shoe fast when it gets wet. Perfect for the beach or summer water sports like paddleboarding with kids or a family kayak trip.
Best Features of the UBFEN Water Shoes for Kids:
Lightweight and portable
Thick, rugged, and soft insole
Quick-drying and flowing water design
Elastic sole and upper material
MSRP: $24.99
Sizes: Toddler 4 – Kids size 2
If you're looking for a classic water shoe, look no further!Speedo is a reputable brand that makes adorable and quality water shoes, and these shoes prove that. These kids' water shoes have a four-way stretch upper for putting them on and off easily and quickly. They're built like athletic shoes with grippy rubber soles.
The traction of the shoes' soft soles won't make your kid slip when walking on slippery ground. This water shoe is a good choice if you need a little kids' shoe that's great for the beach and other summer activities. The shoe's air mesh panel drains water from the shoe rapidly and the shoes are comfortable to wear for hours. The price is budget-friendly, and your toddler or older kid will love it.
Best Features of the Speedeo Kids Water Shoes:
Adjustable strap closure
Slip-on closure
Fabric lining
Breathable air mesh
Thermoplastic rubber outsole
MSRP: $26
Sizes: Infant size 1 – Little Kid size 12
These Nautica kids' athletic sandals with open panels will keep your kids' feet comfy and protected throughout their adventure. These toddler water shoes have a bump toe guard that protects their toes and does a great job of keeping rocks out as well.
Does your kid or toddler love to have fun with water? You should consider these shoes. The shoe has a slip-resistant soft sole, meaning your kid won't slip at the beach or anywhere else that kids splash water.
The upper mesh offers impressive airflow, and the side mesh drains water out fast. It comes in different sizes; your infant or toddler can definitely get a pair. The price is reasonable for the size — buying this shoe at that price is one of the best water shoe deals online.
Best Features of the Nautica Toddler Water Shoes:
Breathable mesh material
Flexible rubber sole
Anti-collision toe design
Athletic sandals design
Bump Toe Guard for protection
Water Shoes For Kids we Don't Like
There are so many water shoes for kids that you can buy, but don't think they're all great. In fact, some are horrible. We really hate anything that doesn't float or stay on well. Flip flops are nice for walking on the sand, but when it comes to running and playing, they're horrible. We also don't love water shoes for kids that aren't easily adjustable.
Best Water Shoes for Kids: Final Thoughts
Whether you're living on the beach this summer, spending your days at the river, or just obsessed with water parks and plash pads, having good kids water shoes will make your life easier. They protect your kids feet, give them better traction, and make it possible for them to stay out on adventures LONGER each day.