This post may contain affiliate links where we earn from qualifying purchases. As an amazon associate, we earn from qualifying purchases. Find out more in our disclosure.
Getting the right sleeping bag for your baby is one of the best things that you can do to help them sleep well while camping. A warm, comfortable baby will sleep much better than a baby who is uncomfortable and cold, so getting the best camping sleeping bag for babies and toddlers is a great investment.
We all know that a good night's sleep can be a game changer, both for baby and for mom and dad.
When our oldest son was a baby, we were gifted a really great little sleeping bag for him. Honestly, I thought that it was a bit of overkill. Why did a baby need an expensive, specialized sleeping bag? Couldn't we just use lots of layers until he was old enough to justify the cost of a full size sleeping bag?
Well fast forward to a freezing night of camping when my husband and I were both shivering through the night and our little guy slept through the night and woke up warm and giggling. It was at that point that we decided that we would always invest in really good camping sleeping bags for kids, and it's been a game changer.
I'm not even exaggerating, that none of our kids have ever been cold at night while camping, and I know it's because we invested in really good sleeping bags for them (yes, I regularly ask them if they were cold at night).
The truth is, that there really aren't many camping sleeping bags that are designed for babies and toddlers. Babies and toddlers have different sleeping bag needs than older kids do, and often baby sleeping bags aren't designed for cooler nights while camping.
Have older kids? Read our review of the best kids sleeping bags (for ages 4 and older).
Also read: Best Baby And Toddler Camping Chairs and Highchairs and Best Beach Tents for Baby
Safety For Baby Camping Sleeping Bags
The American Academy of Pediatrics recommends that all babies under the age of 12 months sleep on their back on a solid bed that's free of loose bedding, pillows, or anything that could create a suffocation or entrapment danger. That immediately eliminates standard sleeping bags as being suitable for babies. Below we're sharing our top recommendations for the best camping sleeping bags for babies and the best camping sleeping bags for toddlers. If you're unsure about the safety of a sleeping bag, consult your pediatrician.
How To Get Babies And Toddlers To Sleep While Camping
Previously, I shared all our secrets to getting a baby and toddler to sleep while camping. Here are the basics (read the full article for all our tips and details):
READ: The best camping beds for infants and toddlers
How To Keep Babies and Toddlers Warm While Camping
Keeping babies warm while camping goes beyond the nighttime sleeping bag. A lot of what you need to keep your baby or toddler warm while camping depends on the clothing that they wear. When we're baby camping in the cold, we always have our kids wear high quality merino wool base layers. Iksplor Merino Wool is our favorite brand, since they're specifically designed for kids (use code bringthekids for 20% off your order).
On top of that, we layer our kids and babies with other clothing to keep them warm. At night, we have our toddler wear merino wool base layers, these wool socks, and then if it's going to be SUPER COLD, we also have them wear fleece pajamas. When camping with babies and toddlers, I recommend always having them sleep with a warm hat on for an extra layer of warmth, unless you're camping somewhere that's extra hot.
Baby Camping Sleeping Bag vs Baby Sleep Sacks
Sleep sacks have become the norm for most sleeping babies. They keep babies contained, are easy for diaper changes and many often help swaddle a babies arms. A camping sleeping bag for a baby is different. It's actually designed to take on a family camping trip and to keep little kids warm when they're sleeping outside in a tent.
A sleep sack alone is not sufficient for tent camping with a baby, since they'll get too cold at night. We've suggested several alternatives that are similar to a baby sleep sack that are more suitable for camping with an infant or young baby.
Best Baby Sleeping Bags for Camping
Baby sleeping bags have become common in everyday use at home, but don't confuse those with baby camping sleeping bags. Baby camping sleeping bags are designed to keep baby warm while sleeping outside AND to keep them safe from the dangers of suffocation.
Best For Ages 6 months – 24 months
Temperature Rating: 20 degree and 40 degree models
This is one of those baby camping products that will actually blow your mind! We have fallen completely in love with the Morrison Outdoor camping sleeping bags for baby, and think they're the best baby sleeping bags ever! The Little Mo is designed with the highest safety standards from the AAP in mind so that parents don't have to worry about their baby sleeping safely while camping. The sleeping bag for baby keeps baby warm with a draft tube to keep warm air in, closable hand cuffs to keep hands warm, and a generous amount of insulation. These sleeping bags for camping are also incredibly comfortable with a generous foot box and a soft collar.
As a mom, I especially love that the zipper opens from the bottom for easy diaper changes and the entire baby sleeping bag is machine washable. The Little Mo Camping sleeping bag for babies is available in a 20 degree down model for really cold nights while camping, or a 40 degree synthetic sleeping bag.
Cons: Higher cost, though Morrison Outdoors does have a fantastic program where you can trade in your used baby sleeping bag and get cash back!
Use code 10BTK21 for 10% off any Morrison Outdoors baby sleeping bag
Best For Ages 0-12 months
Temperature Rating: Warm to 15 F for active play, so probably around freezing for sleeping
We absolutely LOVE Reima for all things outdoors and kids. Their winter gear is fantastic and super warm, so it comes as no surprise that we love their baby sleeping bag as well. The Reima Moomin Dalin is a convertible baby sleeping bag for baby that can easily switch between being a snowsuit and a sleeping bag for camping with a quick zipper change. I also love that there are 2 zippers for easy nighttime diaper access. This baby sleeping bag is rated warm down to -5 F for outdoor play, so I think that it would keep a baby warm while sleeping until about freezing.
We also love that this baby sleeping bag for camping has fold over hand covers to keep little hands warm all night long.
Cons: The biggest con about the Reima Moonin Dalin is that the hood may not be safe for sleeping babies.
Use code BRINGKIDS15 for 15% off at Reima
Best For Ages 3 months to 6 years
Temperature Rating: Warm to 57 degrees
The ErgoPouch 3.5 is an affordable sleeping bag for baby that's suitable for camping in warmer weather. It's a wearable sleeping bag that also converts to a baby sleep suit with legs (a great option for toddlers who want to walk around in their sleeping bag). The shoulder and arm panels have some stretch for extra comfort during the night (a huge plus for wiggly sleepers). I also love that this toddler sleeping bag is car seat friendly and can be used with a 5-point-harness when not camping.
Cons:  The biggest con to this baby sleeping bag is that it's all cotton.  That means that if it gets wet during the night on a camping trip, it will stay wet and keep your baby cold.  This could be a major problem if bad weather or rain rolls in when you're camping with baby.  This baby camping sleeping bag is also only suitable for warm weather camping with kids.
Best Sleeping Bags For Toddlers
Best For Ages 2-4
Temperature Rating: 20 degree and 40 degree models
The Big Mo toddler sleeping bag for camping is very similar to the Little Mo version that I just talked about, and yes, it's the best toddler sleeping bag, especially for wiggly kids. We've tried it out with our toddler and absolutely LOVE IT and think it's the best sleeping bag for toddlers to take on a camping trip! Yes, it is more expensive than other toddler sleeping bags, but honestly, with all the amazing features, we think it's absolutely worth the price. Here are some things that make this camping sleeping bag for toddlers so amazing:
We consider this the best toddler sleeping bag on the market.
Use code 10BTK21 for 10% off any Morrison Outdoors baby sleeping bag
Best for Ages 3-10
Temperature Rating: 25 degrees
The REI Kindercone is an absolutely AMAZING kids sleeping bag. We love that the end of it can be adjusted to fit the size of your child and that it will last much longer than most other toddler sleeping bags. The advantage of this over a full size kids sleeping bag is that by shortening the sleeping bag length into a toddler size sleeping bag, it's actually warmer for little kids. It's brilliant. We love that it comes with an attached stuff sack so you don't have to worry about losing that and that it's incredibly affordable as well (the best budget sleeping bag for kids!)
Best For Ages 3-10
Temperature Rating: 15 degrees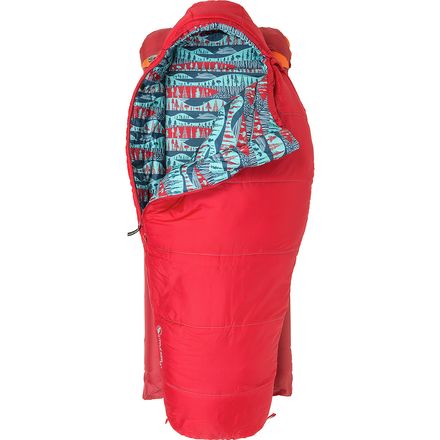 The Big Agnes Little Red camping sleeping bag for toddlers is a great camping trip bag if you want a sleeping bag that will last your child for several years. It can fit kids up until they are are 4'5", so it should last for several years of family camping. It's a 15 degree toddler camping sleeping bag that's a mummy bag style. I also love that it has an integrated pad sleeve since toddlers often wiggle off of their sleeping pad, making them both uncomfortable and colder while camping. To help keep your kids warm while camping it also includes a draft tube to help trap warm air, as well as a contoured hood to help keep their head warm.
Cons: If you have a child who wiggles a lot while sleeping, they may slip out the top. Also, the size may be a little large for some toddlers, so they may not stay as warm in this sleeping bag.
Camping Sleeping Pads for Babies And Toddlers
The cold ground below you is one of the fastest way to lose body heat and can really make babies and toddlers cold while camping. To eliminate that, make sure that your kid are always sleeping on an insulated camping pad. We reviewed all of the best camping pads for kids, and I think that this foam sleeping pad is the best one for younger kids.