This post may contain affiliate links where we earn from qualifying purchases. As an amazon associate, we earn from qualifying purchases. Find out more in our disclosure.
Do you have a messy eater, or are just looking to contain your baby for a bit to keep them safe while camping? Then a baby camping chair just might save your sanity!
A baby camping high chair is one of my top baby camping necessities (the #1 being a tie between a baby camping bed and baby sleeping bag).  All of my kids were incredibly messy eaters, so I've never been one to just hold them while they sit on my lap unless it's absolutely necessary.  Combine that with the fact that camping with a baby can be simply exhausting, and it's a nice reprieve to have baby in a camping chair with a tray so mom and dad can get a little bit of a break at mealtime.   
13 years ago when we started camping with our oldest son as an infant, there were no fancy camping chairs for baby, and camping gear for baby was hard to find in general. However, as we've taken each of our 5 kids camping as a baby, we've found more and more baby camping gear and we're absolutely thrilled about it. Now you can even find baby bouncers for camping and camping activity centers for baby as well (I'm sharing my favorites below).
Tip: If you want to make sure that your little one eats well while camping (one of the best things to ensure happiness), plan your meals well. If you need inspiration, check out our top kid friendly camping meals.
If you're looking for the best camping chairs for older kids, check out our article on The Best Kids Camping Chairs.
Where To Put A Baby Camping High Chair?
The most important thing to consider when deciding where to set up your baby chair for camping is safety. Make sure that your baby seat is on level ground, so it won't tip over easily. It's also important to keep the baby chair far away from the fire.
While it may seem convenient to put your baby high chair on the picnic table, this is really only safe if there's an adult with them at all times (to reduce to risk of falling off the table). If you know you'll have a picnic table always, available, I highly recommend the Chicco QuickSeat baby chair. If you're looking for other ways to help contain your active baby at camp, consider a baby tent that they can play in.
What to look for in the Best Baby Camping Chairs and Camping High Chairs
When looking for the best camping chairs for your baby or toddler, you will want to consider a few factors.
First, you will need to decide what type of baby camping chair you need. Generally, there are three categories of camp chairs for baby.
First is a portable booster seat with a plastic tray. These are easy because they can be used almost anywhere and don't require a picnic table to attach to. Most camping booster seats can be used for eating, or play (just put toys onto the tray) and they usually fold up quite small.
Second is a camping high chair that clamps onto a picnic table. These are the smallest baby camp chairs and are also the most compact. These work well if you know you'll always have a picnic table to use (but they don't work at all without a table to clamp onto).
Third is a play camping chair that's designed for babies to play in while they're camping, but isn't a high chair for eating.
Since we love to have maximum flexibility, for most people, a camping booster seat with a tray is the most versatile option. These baby portable baby high chairs are relatively inexpensive and can even be used at home if you want to get the most use out of it.
Here are a few features we always look for in the best camping baby chair:
Best Camping Chairs For Baby and Toddlers
A good baby high chair for camping has a few features that we think are absolutely essential. First of all, it needs to fold down small so you can pack it easily on your camping trip with baby. Second, it needs to be easy to clean. With our kids, we usually use all plastic baby camping highchairs since they're so easy to clean, but I'm falling in love with some of these other options for camping high chairs as well.
We also love when we find kids camping chairs with cup holds to prevent sippy cups from falling into the dirt.
This is hands down the best camping high chair we've ever seen. Not only does it fold down small and have a plastic tray, but it also can grow with your child once they're past the highchair phase. Truly, this baby camping chair hasn't missed a thing!
It comes fully equipped with a hard plastic eating tray, a sunshade canopy, and a five-point buckle belt. Its soft seat makes it comfortable for babies to sit in for long periods of time. The best part is that everything is removable and adjustable. This makes cleaning super easy. Not only that, but as your babies grow you can open leg flaps into a seat for supported standing, or remove the harness and tray to transform it into a "big kid" seat. And of course, the whole thing can fold down and fit inside an easy-to-carry bag. This makes it one of the best camping chairs for toddlers and best camping chairs for kids for multiple ages.
Best Features
If you're looking for the best baby camping chairs, this is a top contender!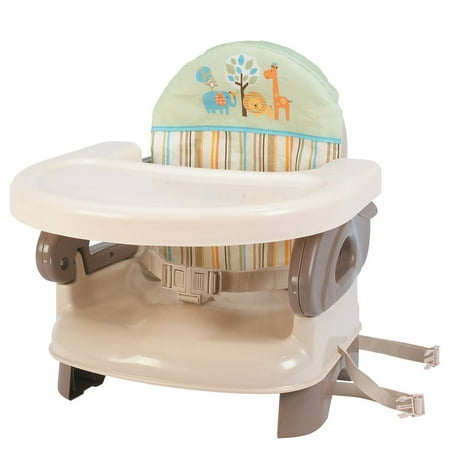 This is the booster seat that we used most when our kids were little and we were camping with them. We love that it's super small and incredibly easy to clean. We even put it in our carry-on when we travel with baby which is easy because it's incredibly lightweight!
This booster will work for babies and toddlers using the two height level options, so it can grow with your baby. While there is soft fabric on it, it can be easily removed for cleaning (or just removed altogether like we did). The rest of the baby camping chair with tray is made from hard plastic, which is lightweight, durable, and easy to wipe clean. You can even put the eating tray in the dishwasher when you're at home. Your baby will be kept secure in place by strapping the chair to a seat or bench and buckling in the three-point harness system. The whole booster compacts down and stores easily in the car or waiting for the next camping trip! This is one of our personal favorite baby camping chairs.
Best Features
A lightweight and durable necessity for when you bring your baby camping. This is a portable high chair for camping is free standing and requires no assembly. It simply folds open like an adult chair, but with all the added features needed to keep your baby safe and comfortable. This portable baby high chair is equipped with a five-point buckle belt and a wrap around tray. Your baby will be secure with a convenient place to eat in this high chair, making mealtime less stressful for mom and dad. The high chair is made using strong canvas, and the tray has an extra layer of clear vinyl for an easy wipe clean. The downside to this design is that when cleaning, the tray, water often gets onto the canvas which takes longer to dry.
There is also a built-in cup holder (perfect for keeping sippy cups out of the dirt), pouch, and leg rest. The whole thing will fold down and fit in a carry bag that's perfect for camping trips and beach days.
Best Features
As a baby portable high chair at the table or a floor seat on a blanket or tent, this is a great little addition that will help your young one join the fun. The seat of this portable high chair is designed using durable fabric and comes with a removable hard plastic tray for eating and activities. You can easily remove the machine-washable fabric cover and the dishwasher-safe tray for the quickest clean-up. Removing the tray can also help transition between eating time and playtime. The simple pop-and-fold will make this a no-brainer to bring along as a camping high chair for your baby! This is also a great camping chair for toddlers.
Best Features
This camping high chair for babies will cinch securely onto most picnic tables using a one-pull tightener. Since there aren't any legs, it's easy to pack this chair in your car. Plus, the entire seat folds down and comes with a carry strap. An ideal solution for road trips and camping adventures!
Keeping your baby close by will make it easier for you to get things done, whether preparing for dinner or playing cards. After messy dinners, you can snap the eating tray off for a quick clean. And the seat covers are snap-on, too. Another easy way to wipe clean!
Note: This hook on camping chair will not work with most RV tables or portable camping tables. If you will always be camping somewhere with a wooden picnic table, this is a great baby camping chair option, otherwise, we recommend getting a different baby high chair for camping.
Best Features
Portable Activity Centres for Camping Babies
If you're looking for the perfect place to put your baby down while camping so they can play (and not just in the dirt), then take a portable activity center camping with baby next time. These baby chairs are a great place to put baby down where they can stay safe and clean on your next family camping trip. If you have room to pack one, then I highly recommend these camping play centers for baby, especially for kids from 6 months-18 months (the dirtiest ages to camp with a baby).
This is the baby actvity center that I WISH had been around when my kids were younger. We first saw this when camping with friends and I fell in love with it. There's plenty to keep a baby occupied and happy and it's also surprisingly sturdy for a baby camping chair!
Portable activity centers help keep babies content around the campsite. It's a convenient way to keep them safe and secure, so you can tend to campsite needs or simply take in the beautiful surroundings. This brightly colored activity center comes with a sunshade and floor mat so your baby will stay protected from the outdoors. Don't forget the toy attachments that are sure to bring a smile to your baby's face! The three adjustable heights will grow with your baby, and the removable and machine-washable seat makes this a breeze to clean. In seconds, it'll fold down into the carry bag, ready for your baby's next adventure! A perfect solution for camping with a young baby!
Best Features
It's no wonder that we love the KidCo GoPod, after completely falling in love with the PeaPod camping bed for baby!
A lightweight and durable activity set that's ready to go when you are! This set includes a mesh snack and drink holder and space for toy attachments, so everything your baby could want is within arm's reach. They've included a floor mat that will keep little feet clean. The seat is made from nylon and the frames are steel, which makes it sturdy and easily wipeable. With four convenient height adjustments, this will be your go-to foldable activity set for your baby's first year camping. This is a great baby camping chair with tray that's perfect for playing!
Best Features