This post may contain affiliate links where we earn from qualifying purchases. As an amazon associate, we earn from qualifying purchases. Find out more in our disclosure.
Looking for a way to get your kids even more in love with camping? Camping toys are one of the best ways to go. Whether you're looking for toys to take on your camping trip, or camping-themed toys to play with at home between family camping trips, we've hunted down the best camping toys for kids! We're including all ages in our camping toys list (both toys we've loved, plus some that my kids are begging for) and lots of great camping games for kids too.
Camping Toys for Babies
There are so many great camping toys out there to buy. While there is lots of actual camping gear for babies and even baby tents, these baby camping toys are great for getting babies engaged in and excited about camping themes and ideas.
This lantern for young kids is guaranteed to keep your child occupied during your entire trip (even if the songs might make you a little nuts). It plays music and colors for the younger and phrases about counting, animals, and nature for the toddlers. It also has a study candle so your child can carry it if they're a little bit older. This is a great camping toy for babies ages 6 months and older.
With over 100 songs, phrases, and sounds they can listen to while pushing the walker, your toddler will never get bored with this baby camping toy. The walker also has more than 15 pieces that can be combined for "pretend" camping activities. This is a great camping toy for babies 9 months and older who are starting to kneel, stand up, and walk.
Even the tiniest babies can be occupied with this soothing teething baby camping toy. These s'mores-themed baby toys can be clipped on to hang high or also played with and used as a teether. This is a great buy if you've got a baby who will be teething while camping or an extra young one on their first camping trip!
We absolutely ADORE this camping-themed baby gym. It's perfect for using at home for the camping-loving baby or bringing on your next campout. They'll get to bond with you while being surrounded by animal toys they can interact with. We especially love that there is a camping-themed panel overhead, which could also be used to keep the sun off of baby when you use it outside.
Camping Toys for Toddlers
Toddler camping toys just might be my all time favorite. Toddler ages are seriously SO MUCH FUN to go camping with since they're so inquisitive and love to explore new things. When our kids were toddlers, they love to play while camping just as much as they loved to pretend camp at home, so you'll get lots of use out of these toddler camping toys.
In addition to the toys we've listed below, we also recommend shovels, buckets and bug catching jars accompany you on every camping trip (and are an active part of every toddler backyard play setup).
For camping toys for toddlers, it doesn't get better than this. This truck set is perfect for toddlers who like to play construction games and is one of the best toys to take camping. It includes an excavator, a dump truck, and a wheel loader – all made from sturdy materials so the child can really dig in and play with them.
With its clear lens and 4x magnifying capacity, this toddler camping toy will allow your child to explore your campsite or backyard more closely. They can use it to look at insects, plants, or anything else they might find interesting and learn more about nature. These toys for camping toddlers are great for inquisitive minds.
I was a skeptic when it comes to toddler binoculars, but after getting my daughter a pair at age 3, I'm a believer for life. We really like this kid's binoculars set because there's just one place for kids to put their eyes, so it's easier for them to focus their vision and less confusing than sets with 2 separate eyepieces. The small size of these kids' binoculars is fantastic for toddlers.
This collapsible bucket set is perfect for camping at the beach and is great for camping trips with kids when you just don't have much extra room for toys. It doesn't take as much space as regular buckets and is available in three different colors. Each comes with a matching shovel and the lid so your child can preserve what they've collected. While a traditional plastic bucket is usually easier for kids to use since the sides are rigid, this is a great toddler bucket when that's not an option.
We are HUGE lovers of headlamps for kids, but we know that many toddlers don't like the thin elastic band. Not only is this toddler headlamp for camping super cute, but it's also really comfortable. This comfy headband with a lamp will ensure your child feels safe even after dark when camping. The adorable fleece bear hides two cell batteries that come with the toy and work for three different lighting modes.
If you have a dinosaur lover, you absolutely MUST get them this kid's headlamp. We love that the headlamp is a little bit thicker and that there's a top strap to prevent it from falling down the heads of toddlers. This headband provides easy operation with a simple squeeze of the toy's head. Plus, if your child gets scared of something, all they need to do is unleash the dinosaur's roar with the same motions, and it'll chase away anything they were afraid of.


Not only are these kids' camping lanterns CUTE, but they're super affordable! After a full charge, this lightweight lantern can illuminate your young campers' path for up to 16 hours. It comes with a super bright LED light guaranteed to last as long as your child uses the toy on camping trips.
Camping Toys for Older Kids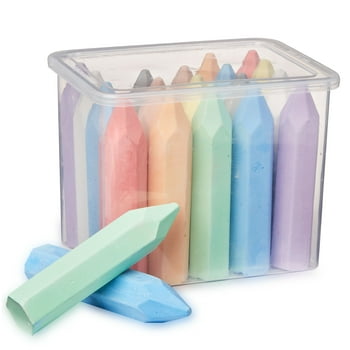 Get your child to draw anything they might find interesting on their camping trip with this chalk set. They can also use it to create games like tic tac toe or hopscotch so they can entertain themselves with a fun activity. It's one of the best toys to take camping for creative minds.
You can teach your child the basics of using a slack line with this nature-friendly set. It includes ridges at head height, brightly colored ratches, and a safety line so the children can enjoy their activities safely and have a full-body workout.
For fun camping toys, look no further. Take advantage of the trees you're camping nearby and save space on swings with this swing line kit. It's not only for swinging either – it comes with two colorful traditional swing seats, two rings, and a bar for all the acrobatics children can try.
When it comes to toys to take camping, a Frisbee is always a good option. Since this disc flies twice as far as conventional frisbees, it will definitely encourage children to play with it. They can use it to develop their own style, work on their throwing accuracy, and compete against adults.
With this walkie-talkie kids play camping set, your kids can communicate with each other or with you as they retell everything they see around them or play inventive games. And when they are done playing for the day, they can put the devices to charge overnight.
If your kids like to observe insects more closely, they can do it safely with this bug catcher. After catching them with the container, they can place the bugs into the mesh case to see how they move. When they are done observing, the children can release their little friends into nature. It's one of the more unique toys to bring camping.
Another unique toy to bring camping is a butterfly fishing net. For children that enjoy the thrill of chasing and catching bugs, using this butterfly net will definitely be a fun experience. It comes in three fun colors so they can share the joy with their friends that are joining them on the camping trip.
If you are camping near water, kids can explore its inhabitants with this child-sized fishing net. It has a retractable handle, which makes storing it just as easy as using it. Made from durable materials so the kids can enjoy it for a long time.
Educational Camping Activities
This set brings the most common wildflowers your child may come across when exploring their campsite. With lifelike colors and shapes, children can learn to identify these plants in no time.
Turn your child into a bird lover with this incredibly detailed card set. It features realistic illustrations of birds, intriguing facts about them, trivia, and much more to help the children learn more about these creatures.
This book can get any child interested in exploring the outdoors. It includes educational activities like pressing flowers or making bird feeders or sundials to keep them busy and let their creativity and love for nature develop from an early age.
Another way to help your child learn more about nature is to get them to record their experiences. In this journal, they'll get a guide on navigating themselves through the natural world. Plus, they can write down everything they have learned during their explorations.
Camping Themed Toy Sets
Whether you're camping or not, your child can play camping with this camper playset. It includes a vehicle that runs on a motor on a push-and-go momentum, a camper, a rear bench seat, a removable awning, a figurine, and two chairs.
This camping adventure case set will definitely get your child excited about sleeping under the stars, catching fish in a river, and other camping activities. It can be a great tool for preparing your child for their first camping trip and is one of the most camping fun toys out there. 
While you are setting up your tent and sleeping bags, preparing meals, and fun activities for the children, they can do the same with the little figurines and the other elements included in this detailed camping toy set.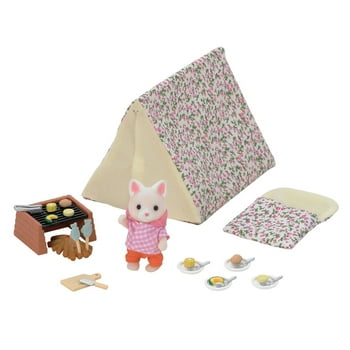 Children can help the silky toy cat that's included in this camping set prepare breakfast and grill some veggies. At night, children can tuck her in bed so can she can sleep safely under the stars just before they go to bed themselves.
This bundle is designed for children who love glamping. After learning about the wild animals at their campsite, they can take Kira to her plush tent and pamper her with the pretend toiletries at her vanity set.
Camping Pretend Play Toys
Children can experience all the wonders of making meals at a campsite with this BBQ grill set. It comes with a stove that lights up and sizzles, utensils, toy food, condiments, and much more- all in a very convenient storage box.
Get your child's mind curious about camping with this set that they can use indoors and outdoors. They for sure will love to roast some marshmallows at this toy bonfire that mimics the real thing. When the fire is out, they can use the lantern.
Even bad weather can't prevent your child from having an adventure with this camping cookout set. They can fish in the pond, cook fish, eggs, and bacon on the cooktop, and drink their coffee while resting after their exciting day.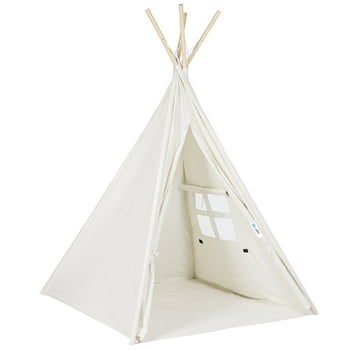 Whether they're indoors or outdoors, your children will love to play in this Indian-themed tent. Its made from a durable canvas has teepee lights and comes in a convenient carry case – so you can take it with you on real camping trips.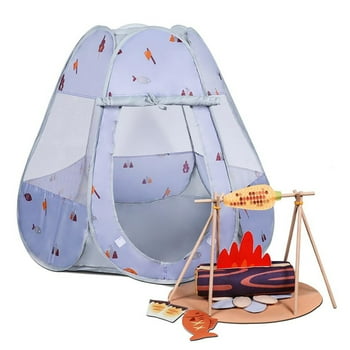 This camping set comes with a closable tent and a comfy inside so children can even take a nap after their adventures. It also includes a practical campfire and toy meals which the children can easily put away after they are done playing.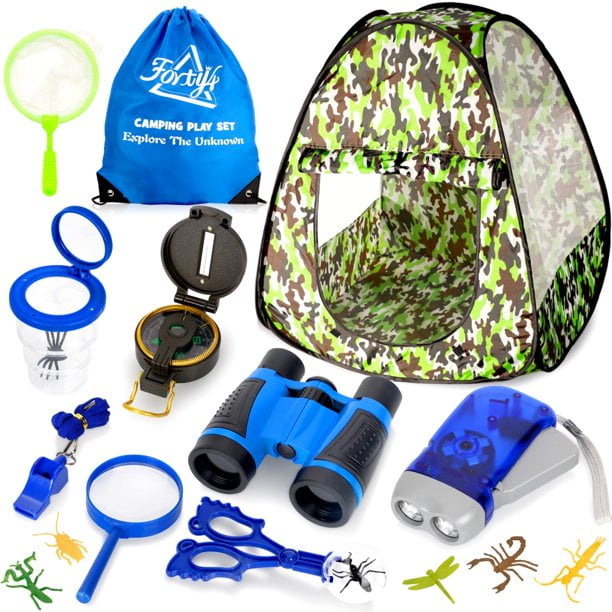 Little adventurers who love to play with pretend bugs will love this set. It comes with closable tents, toy bugs, and several tools children can use to "inspect" these creatures more closely.
Camping Themed Lego Sets
Get your child's imagination running as they play out their toys adventures with this kit. In it, they can set up a tent, cook their meals, ride a bike, hike at the nearest mountain, and take awesome selfies during all their activities.
Little architects can choose to build an entire camping cabin, camping boat, or lighthouse using the 305 pieces of this kit to their liking. This toy camping Lego encourages creativity and develops their fine motor skills.

Let your kids travel wherever their imagination takes them with this toy camping holiday camper van. It has realistic features that inspire fun activities through building objects, role-playing games, and much more. This would be a great RV camping toy.
This forest-themed kids play camping set is designed to help smaller toddlers learn about different camping activities with the help of their parents. The parents, in turn, get to share significant developmental milestones with their little ones.
Encourage your child to learn about the benefits of camping with this glamping set. Apart from building precious trees and spending time outdoors, they'll also get the chance to have their figurines cycle through the woods and meet the animals living there.

Camping Board Games and Card Games
When it comes to kids camping toys, board games are always a win. Nothing will get kids more excited about going on a camping trip than knowing they'll get to go on a scavenger hunt. This kit also includes a card game through which children can learn more about animals and nature.
Raise your child's competitive spirit with this fast-paced game in which they need to outsmart their opponents and keep their nuts from getting stolen by other squirrels. It helps develop their critical thinking and decision-making skills.
Children can explore national parks through this Monopoly game. They can learn about all the iconic natural locations across the country while having fun times with their family and friends.
Designed to develop children's offensive and defensive skills, this game can provide entertainment for the whole family. Players need to defend their part of the campsite while racing to be the first one to roast marshmallows.
With this award-winning family board game, children can become natural park enthusiasts in no time. They can plan where they want to travel, share their memories of past adventures, and much more.
This card game comes with a card that has one matching symbol in common with the other in the deck. As players look to spot matches, they can develop crucial skills, such as focus, fine motor skills, and perception. It will be a great addition to your next family camping trip.