This post may contain affiliate links where we earn from qualifying purchases. As an amazon associate, we earn from qualifying purchases. Find out more in our disclosure.
The first snowfall is just around the corner and while it's one of the most exciting days for any kid, it can easily leave parents in a frenzy. Trust me, I've been there – frantically trying to dig out snow gear from last season and praying that my kids haven't grown out of ALL of it (which they usually have).
So this year, get a jump on things and get your kids all the winter gear they're going to need before winter's totally here. Easily the most used piece of winter gear is kids winter coats, so we're here to show you how to choose the best winter jackets for kids.
SPOILER: Click here if you want to save 35% on one of our favorite winter coats for kids.
Having a good winter jacket, ensures that your kids will be warm and protected all through the season and that they'll be able to stay outside having fun longer every day.
To help you choose the best coat, we're sharing some personal experiences with great winter coats for kids as well as some that other outdoor families swear by.

Jump right to the 17 Best Winter Coats and Jackets for Kids
Why Do Kids Need Good Coats?
If you want your kids to be active and spend time outside, they have to actually enjoy what they're doing. And I've never met a kid who was wet and cold in the winter, tell me that they're having a great time.
Now more than ever, our kids need our help to motivate them to get outside, with the average child spending 7 hours a day in front of a screen. In winter, it's just EASIER to let our kids stay inside, but easier doesn't always mean better.
Buying good winter gear for our kids is an area that I never skimp on…
Okay, that's a lie – I bought my son a cheap boys winter coat from Target when he was 3 and he always came inside wet and complaining in the winter – HUGE MISTAKE! NOW, I always make sure that our kids have high quality coats, boots, snow pants and gloves every winter (and if you can't afford to buy new, make sure to waterproof old gear with this waterproofing spray). So do your kids a favor and buy them the best winter jacket that you possibly can.
If you don't have a big budget, we've shared some of our favorite closeout and high quality brands that you can get at a discount below.

What type of coat do my kids need for winter?
The winter coats for kids that we're recommending below are all great quality and will last ALL DAY outside. A good kids winter coat does a lot more than just keep kids warm and dry on the playground for 30 minutes.

Remember, there is no bad weather, only bad clothing!

If you want your kids to be warm and dry this winter, choose the best kid coat for skiing or the best kids jacket for snowboarding. Ski coats for kids are meant to withstand cold temperatures, wet conditions, windy, and lots of ice.
If you live somewhere with really mild winters, or extra cold winters where you need to wear more layers, you'll absolutely need to get a kids puffy jacket!
"But what if we don't ski?"
Don't worry if you don't ski. Your goal as a parent is to choose the best possible coat for your kids and when it comes to kids outerwear, kids ski coats are almost always the best made coats.
Our kids wear their ski coats EVERYWHERE in the winter, and I never worry that they'll be cold or wet because I know that we bought great quality gear to start with. If they take a walk around the block that turns into 2 hours of playing in the snow with the neighbor kids, I know that they'll be JUST FINE! Also, keep in mind that most winter coats are not safe for wearing in the car, especially in a car seat. Read all about how to keep kids warm in the car without a bulky coat.
Check out our favorite ski specific coats for kids. If your kids don't like the snow pants and coat combo, check out our review of the best kids snowsuits.

Kids Winter Coat CHECKLIST
If you want to determine whether a kids ski coat is good or not, see if it meets these 5 criteria! A good coat for kids is waterproof, breathable, keeps snow out, fits well, and has a hood.
Waterproof
Don't be tricked into buying a coat that's just water resistant. Your kids winter jackets get put to the test, so make sure that they can handle whatever the weather throws at them.
Good winter jackets for kids are always waterproof!
Not all kids waterproof coats are created equal though – a waterproof rating of 1,500mm can only withstand light rain, a 5,000mm rating can withstand moderate rain, and a 10,000mm waterproof rating can withstand extreme rain, so make sure your kids waterproof winter coat has a high waterproof rating (some of the best below have a rating of 20,000mm). Hint: If a coat doesn't specify the waterproof rating, it's likely not very good!
Check out our favorite waterproof snow pants for kids.
Breathable
Making sure that you have a winter jacket for kids that is breathable is incredibly important for helping your kids regulate their body temperatures. If your kids are skiing down the mountain and getting super hot, as soon as they get on the chairlift, that sweat will cool down and they'll freeze. If they are wearing a more breathable coat, they won't get as hot to begin with.
Keeps Snow Out
I know that this might seem obvious, but there are actually a lot of kids winter jackets that don't keep snow out. The most important areas to keep snow out are at the wrists and at the waist on kids warm coats.
A good kids coat will have elastic around the wrists to keep snow out, and either a drawstring or a powder skirt to prevent snow from going up from the waist. Always buy a kids coat with elastic wrists, or better yet get a coat without elastic wrists that has an inner elastic cuff, which I'm convinced is the best feature ever for kids coats (Boulder Gear Youth coats and a few others below have these and a thumbhole and we are so obsessed with this feature).
Fits Well – Not too loose, not too tight
It's tempting to order your warm kids coats a size or two up so that you can get some extra wear out of it, but if your kids coat is too big, they'll just freeze since their bodies can't keep all that extra air warm. While that can sometimes work with a lot of extra layering, I recommend looking for a brand that fits well that has grow-cuffs in the sleeves which can actually extend the sleeves, making it fit correctly for 2 years in a row.
Hooded
Good winter coats should always have a hood in my opinion (even if it's detachable). I can't tell you the number of times that having a hood on our kids coats have saved us. You never know when the wind or snow are going to pick up and having a hood on your coat will be well worth it when the weather turns bad.
How warm does a kids winter coat need to be?
The warmth of a kids warm jackets, depends a lot on where you live (or will be vacationing). If you live in Alaska or Canada, you'll the warmest winter jackets for kids, but if you live in Tennessee, a waterproof kids overcoat with an insulating layer might work well.
We live in the mountains of Utah, where it's often in the single digits and we ski a lot. On super cold days, we have our kids layer more underneath their coat with good baselayers, and on super cold days, a kids puffy coat. We don't find that we need anything extraordinarily thick or bulky and our kids actually prefer regular sized coats over bulky ones (bulky coats inhibit movement too much and give them that marshmallow look and feel. While it's tempting to just buy the warmest winter jacket for kids, if your kids are going to be active during the winter, they'll likely want a kids winter coat that's more of a midweight coat. Remember it's important to buy winter coats kids will actually wear, not just what looks best in photos or in the specs.
Discount Winter Coats For Kids
Below we've listed what we belive are the best winter coats for kids. The quality is fantastic, and most of these coats will last for years and years (especially the coats from Shred Dog or Reima). The tradeoff is that most of these cost more than at big box xotres (which is why we have negotiated discounts for our readers on Shred Dog and Reima, because we think they're the best). WHile we absolutely think that all the coats we mention are worth the price, we also acknowledge that sometimess, your budget can't always afford the top of the line. Here are some of our favorites:
Shred Dog Duke Hardshell – Sale Price $75 after using code BTK25
Shred Dog Xena Hardshell – Sale Price $75 after using code BTK 25
Shred Dog Pup Hardshell – Sale Price $63 after using code BTK 25
Reima Galtby Ski Jacket Sale Price $69
Columbia Tolt 3-in-1 jacket for toddlers – Sale Price $73
Boulder Gear Zesty Little Girls Jacket – Sale Price $54
Boulder Gear Prankster Little Boys Jacket – Sale Price $59
Columbia Girls Ava Jacket – Sale Price Starting At $70
Obermeyer Boys Nebula – Sale Price $62
Obermeyer Teen Boys Gage Jacket – Sale Price $72
Obermeyer Boys Jacket – Sale Price $99
Reima Saltvik Girls Jacket – Sale Price $79
Reima Dragsvik Kids Jacket – Sale Price $74
Obermeyer Landon Kids Jacket – Sale Price $69
17 Best Winter Coats and Winter Jackets for Kids
The coats that we're sharing with you below all pass our test of approval. We want to share the best waterproof coats for kids as well as the warmest winter coats for kids. All of these coats below are of the highest quality and are winter jackets kids will love wearing.
This year, you'll see all 5 of our kids wearing coats from Shred Dog. After years of scrambling all over and shopping like a crazy person for coats for our big family, we've found one brand that works for all of our kids.
Since we spend so much time outside during the winter, I was pretty picking when choosing kids ski jackets this season. Here's what you'll see our kids wearing this year, as well as the best winter coats for kids 2021 and the best 2022 winter coats for kids.
While your getting ready for winter, don't forget to check out our other winter gear reviews for kids:
Best Waterproof Gloves and Mittens for Kids
Best Kids Base Layers
Best Snow Boots for Kids
Best Kids Face Masks
Best Ski Harnesses for Kids
Best Kids Ski Socks

Use code BTK25 for 25% off any Shred Dog order or
BTK 35 for 35% off orders over $400.
Shred Dog is a pretty new company, so you may not have heard of it before, but it's AMAZING!! All of their gear is designed specifically for kids (instead of just smaller versions of adult gear), and it's THE BEST!
Last fall, we got our oldest son a full set of Shred Dog ski gear and base layers. Honestly, we loved it so much and were so impressed with the quality that we had fully upgraded and outfitted all 5 of our kids in Shred Dog ski coats and snow pants.
We've looked at a lot of winter coats for kids, and these are the most technical, and have the best features of any that we've seen. In fact, this kids coat is nicer than any coat that I've worn as an adult, and that says A LOT since we are pretty active adventurers!
They also have a 20,000 waterproof rating, which is the highest we've ever seen. What does that mean? These jackets are basically BULLETPROOF. The taped seams and rubberized wrist gaskets help keep all extra water out, so this can easily double as a rain jacket year round. The Elevated Hardshell is designed to be worn with the Shred Dog Element insulator inside, so you're really getting 3 jackets in one with this system. Our kids literally use pieces of this kids winter layering system ALL YEAR ROUND.
This is the winter jacket that my kids wear when they're going to have a FULL DAY outside in the snow and doesn't want to be bothered to come in. It's warm, keeps them super dry, and thankfully, never has that annoying crinkle sound that a lot of waterproof kids jackets have. The quality is incredible and I fully intend to pass these jackets all down through several kids (and I have little doubt that it will LAST that long!).
Shred Dog comes in a full range of bright and fun colors making it the perfect boys or girls waterproof winter coat.
We love it so much that we have a whole article dedicated to all our favorite Shred Dog Gear.
Shred Dog is currently offering Bring The Kids readers some BIG DISCOUNTS. Take 25% off any order by using discount code BTK25 at checkout OR take 35% off any order of $400 or more (discount code BTK35).
Use code BRINGKIDS15 for 15% off all gear at Reima.
The days of snowsuits being just for babies and toddlers are long gone. The Reima Stavenger snowsuit for kids is one of the best winter coats you'll find (and as a bonus, you don't need to buy snow pants too). We absolutely LOVE this snowsuit, and not just because it's adoreable…even though it is.
The Reima Stavenger is designed with kids in mind so that kids can be kids and just PLAY HARD. It's warm, waterproof, and incredibly comfortable. I love that it's roomy and a cinch to put on with a silky smooth lining, so even our 4-year-old can put it on alone, even with all his layers on. We also love that it has non-slip foot loops so it stays tucked inside your snow boots, and that it's incredibly durable so kids can play rough and you don't have to worry about them ruining their new kids snowsuit.
If you have kids who get cold easily, or who spend a lot of time outside in cold weather, this is the warmest kids coat you'll find. This kids snowsuit has been winning awards left and right for years, so it's no surprise that we recommend it as one of the best coats for younger kids (even if it's a snowsuit). This kids snowsuit is available in size 2T up to a size 10, though sizes do run a bit large.
Use code BRINGKIDS15 for 15% off all gear at Reima.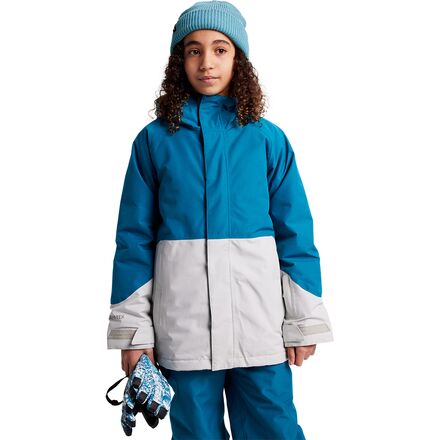 The Burton Stark is an incredibly high quality ski and snowboard jacket for kids. It's got a 20,000mm waterproof rating (just like Shred Dog above) so your kids are sure to stay dry. Of course, to go along with that very durable outerwear material is fully taped seams and fantastic breathability. Best of all, it has body mapped insulation so that kids stay warm without overheating in this warm ski coat for kids.
Top that off with great underarm zippers for ventilation and a great powder skirt to keep snow from coming inside while sledding, skiing or snowboarding. The styling of this winter coat for boys make it the perfect kids coat for snowboarding or a great kids ski coat for kids who are looking for a freestyle look. If you're looking for a high end waterproof winter jacket for kids, this is a great option.
Use code BRINGKIDS15 for 15% off all gear at Reima.
We love all things Reima for outdoor kids, and their winter coats are one area where this Finnish children's brand shines. Reima makes clothing specifically designed for kids, to allow them to just play and be kids. We love the Kulkija jacket because not only is is amazing quality, but it's also eco-friendly and fully recyclable. Yes, there's a high quality eco friendly kids winter coat that's recyclable!
Not only can you feel good about helping the enviroment in this kids coat, but it's also waterproof, warm, and breathable. This is the coat that our 9-year-old is wearing this year for his everyay activities like biking to school, building snow forts with friends, and sledding. The coat has a waterproof rating of 10,000, and is designed to keep kids warm down to -5 degrees F.
A few other features we love about this winter coat for kids in the detachable hood, adjustable cuffs, detachable powder skirt, and zippered pockets.
Use code BRINGKIDS15 for 15% off all gear at Reima.
Our youngest 2 boys are wearing the boys Liam boys winter coats from Boulder Gear. While these two boys winter jackets have different colors, they are the exact same high quality kids coat. Both are waterproof rated to 10,000mm, have a detachable hood, adjustable elastic cuffs, and a soft fleece collar (which is a big deal for one of my boys who is very sensitive about what material touches him).
These childrens winter coats have a bit of a powder skirt, but it doesn't cinch tight, so it's mostly as a little extra protection from snow coming up from the bottom (I always put my younger kids in these amazing bib snow pants as well to keep the snow out). These go from sizes 2T-6, and are our favorite toddler winter coats. (My boys here are 3 and 6 and wearing a 3T and 6T, so these toddler winter jackets run true to size in our experience.)
This year, we've really put these jackets to the test with skiing and think they're some of the best ski jackets for little boys (especially for the price!)
My older two boys are wearing the Boulder Gear Youth Madcap Jackets this season. Honestly, the quality of these coats is really good and the details and features that have been added to these coats are better than some adult winter coats which is why we rank them as some of the best winter coats for kids. Both have a waterproof rating of 10,000mm, have a detachable hood, adjustable grow cuffs, a snapping powder skirt, and a cinching hem.
My favorite features are the lycra wrist cuffs with the thumb loop (so it's almost impossible for snow to get up their sleeves), the sealed seams for extra waterproofing, and the armpit zips (boy moms REJOICE!!). My boys were probably the most excited about all the pockets and the hole for their headphones to come out.
Note: in the smaller sizes, we noticed that the youth styles ran large. Our average sized 8-year-old is wearing a size 8 and it's quite big on him and it may even fit him for 2 more seasons with the grow cuffs extended. For the larger sizes (medium and large), the sizing seemed more true to actual size in these kids winter parkas.
Our daughter is wearing the Boulder Gear Youth Girls Dreamer Jacket this season, and we absolutely LOVE IT. As with all the other Boulder Gear coats our kids are wearing, it has a superior waterproofing of 10,000mm, a snapping powder skirt, sealed seams, and good core ventilation. It has all of the best features that we look for in great girls winter jackets.
The girls Dreamer Jacket has the same lycra wrist cuffs with thumb loops that the youth boys jackets have and I absolutely love it. If you're looking for winter coats for kids girls will love the combination of quality and style from Boulder Gear is hard to beat.
The fur trim is possibly the best feature of this coat, since not only does it look really stylish, but it helps to keep snow off of kids faces when the hood is pulled up. Personally, our daughter also loves that the girls Dreamer coat has plenty of pockets to stash her snacks, chap stick, and of course a few spare scrunchies!
If you're looking for a warm boys winter coat with maximum warmth and waterproofing, this is a great choice for you. Think of the Rochester Jacket winter coat for kids as a combination between a down jacket and a waterproof shell. With 700 fill down and 10,000mm waterproofing, your this kids ski coat will keep your kids happy and comfortable this winter. This kid winter coat also features both ski pass and goggle pass pockets as well as velcro adjustable wrist cuffs to keep the snow out.
Probably the best thing about this boys winter coat is that it has a lifetime warranty (though you probably won't need it). With 10,000mm waterproofing your this is a great option for a boys waterproof coat, also making it one of the best boys ski jackets. Another great feature the Spyder Ambush jacket has is that not only is the hood removable, but it's also helmet compatable, adding not only coverage, but also warmth on really cold days. If you're looking to buy one of the top boys ski jackets, this is one to highly consider!
This girls ski coat is great for kids who are really going to be pushing the limits and spending a lot of time outside (whether skiing or not). Its 15,000mm waterproof rating is spectacular, and it features a full length wind guard to really protect kids when the weather is at its worth.
One really neat feature of these girls winter coats is that the material is a bit stretchy which allows kids to really move around freely and quickly without feeling like their clothing is restricting them. The Obermeyer Leia jacket also features stretchy wrist guards with thumb holes (like the Boulder Gear Youth Jackets), which is one of the best ways to keep hands and wrists warm and dry. If you want warm winter jackets girls will love, Obermeyer is a great choice!
A couple of seasons ago, we got an older version of this coat second hand and it had already been used by a couple of kids. Honestly, I was skeptical that this kids Columbia coat would perform well, but I was pleasantly surprised and it turned out being one of the best children's winter jackets. My son never complained about being cold, and even though it was a used kids coat, it still retained its waterproofing and my son never got wet (even on those days where he was outside digging and rolling in the snow for hours and hours). This coat also features Columbia's Omni-heat reflective technology to help keep kids warm (read Does Columbia's Omni-Heat really work?)
I also like that this boys waterproof winter coat has a powder skirt, adjustable wrist cuffs, and plenty of pockets (so we could designate one just for his ski pass and never worry about it). If you're looking for warm kids jackets, this is our favorite kids jacket from Columbia, who is know for making some of the best kids coats.
While we haven't tried out the Duke Jacket from Shred Dog, after my friend Tami kept raving about it, I knew that this was going to be an amazing jacket. After our experiences with the Elevated Hardshell, we knew that this jacket would have the same quality as all the other Shred Dog Gear we've tried out. It's perfect if you're in the market for boys warm coats for winter.
He got a lot of additional wear with the Malamute ski jackets for kids last Spring, and pretty much refused to take it off (even in his school classroom). He says it's his warmest jacket. But it must be highly breathable, or else he'd be overheating!
I think the absolute best feature of Shred Dog jackets and pants is their patented Adjust-A-Fit™ System. You can use it to lengthen or shorten the sleeves or pant legs, which really gives you more bang for your buck. We expect to get a second winter season out of my son's Shred Dog jacket. If your child skis or snowboards, I recommend the Shred Dog convertible bib pants, too. They are the nicest snow pants he's ever owned, and even kept out snow in deep drift conditions.
You can use the same discount as above for GREAT DEALS on Shred Dog Gear! Take 25% off any order by using discount code BTK25 at checkout OR take 35% off any order of $400 or more (discount code BTK35).
Submitted by Tami from Colorado Mountain Mom

This is a girls ski jacket that is for girls who are going to be spending lots of time outside this winter in the snow and the cold. It's Gore-Tex laminated to protect against wind and snow, and all of the seams are sealed for high performance. The hood is contoured to provide good protection from the elements and the powder skirt on the bottom keeps snow from entering below on those really snowy days. The wrist cuffs don't have any elastic so make sure to teach your kids how to adjust the velcro every time so that their arms and wrists don't get covered in snow.
Check Prices HERE
14. Reima Frost Jacket
Reima is a kids outerwear company from Finland that has a longstanding reputation for making some of the best kids outerwear on the market, and especially good winter coats for kids. The Frost jacket is a winter coat for girls that's designed for snowsports, but works great doing just about anything you can throw at it. It's got a 12,000mm waterproof rating and the insulation actually still retains heat even if it gets wet, so kids will stay dryer and warmer as long as possible.
This girls winter coat also has stretchy wrist guards with thumb holes (one of the best features for kids outerwear – just like the Boulder Gear Youth coats). It's also compatible with the ReimaGo kids activity tracker. Reima is a fairly new brand to the US, but overall, they are one of the best winter jacket brands on the market, so definitely consider them as you're on the search for a great kids waterproof coat.
The Columbia Whirlibird Jacket for kids goes back to Columbia's roots with a 3-in-1 system for kids. This girls winter coat is perfect for getting 3 seasons of use out of one coat, or if you live somewhere warmer, but occasionally travel to cold destinations in the winter. This girls coat for skiing features Columbia's Omni-Tech Waterproofing which has a LIFETIME GUARANTEE, so it's a perfect warm girls winter coat (or warm boys winter coat) to pass down to younger siblings.

This girls Columbia winter coat for kids also features grow cuffs, so that you can get two seasons of use out of one coat. The liner of this warm children's coat features Columbia's reflective Omni-Heat technology (make sure to read Does Columbia's Omni Heat Really Work?) and is one of the best kids winter jackets. If you want a youth winter coat that's really versatile, this is a great option.
These snow suits are LEGIT! Tobe outerwear is designed to withstand snow with a 20,000 mm waterproof outer layer you do NOT have to worry about snow or rain in this, making them some of the best kids ski jackets. I LOVE them for my kids, but they are SOOOO expensive so invest now and be ready to hand them down to get your money's worth. These high quality super snow suits will protect arms, legs and body from all the elements. They're reinforced in the knees and backside, have wrist and ankle fasteners, an outer gaiter to cover boots, and weatherproof zippers. This is one of the best winter jackets for extreme cold and a great kids waterproof winter coat.
Submitted by Susan from Mountain Mom and Tots

This is our favorite puffy coat for kids simply because it is super durable and can be used as an outer layer without worrying about destroying it as kids play hard. The 650 fill power Downtek™also means that it's protected if the kids get wet (which they often do) and also makes it one of the warmest kids coats. Note: This coat is not waterproof, but it's a great kids down coat.
We love the zippered pockets, the form-fitting hood (which often replaces hats for my kids) and the fact that it is long enough to keep the snow out.
Our kids wear the Ice House as an outer layer and as a mid layer from fall through spring.

The best part? It's not bulky or heavy and works fine if you size up to grow into it, making it one of the best childrens down jackets on the market.
Submitted by Amelia from Tales of Mountain Mama
I hope that this article has helped you decide on what is the best kids winter coat for your kids this winter.
We've covered toddlers winter coats, best winter coats for extreme cold, boys winter coats, girls winter coats, and all the best waterproof winter coats for kids.
How long should kids winter coats last?
A good kids winter coat should be designed to last for years and be passed down to multiple kids. All the coats we've reviewed are high quality and should easily last for more than 5 years of constant winter use.
Do kids need waterproof winter coats?
Unless you live somewhere that doesn't rain or snow during the winter, your kids coats should all be waterproof. Even in dry snow, kids outerwear will still get wet, so plan on only buy waterproof winter clothing.
Are there any snow coats that stay dry all day?
Yes, there are. For general snow play, we recommend that kids wear a coat with at least a 10,000 waterproof rating. However, if you live in an area with wet conditions or your kids stay outside for long periods of time, get a coat with 20,000 waterproof rating. Our favorite waterproof coats for kids are made by Shred Dog.
Are Costco winter coats good?
Coats from Costco or other big box stores are only okay for winter use. They are moderately warm, but they won't give the performance you need for winter sports like skiing, snowboarding, or snowshoeing. If you want a winter coat that will last, buy one from a specialty retailer. So many people buy cheap boys winter coats and then can't understand why their kids don't like spending time outside in the winter. Trust me – the quality of the gear you buy DOES MATTER!
How much do kids winter coats cost?
To get a high quality winter coat for kids, plan on spending at least $100. For even better waterproofing and durability, you will likely spend closer to $200.