This post may contain affiliate links where we earn from qualifying purchases. As an amazon associate, we earn from qualifying purchases. Find out more in our disclosure.

If you're reading this, you probably value exploration and adventure.  It's one thing to be adventurous on our own.  It's a completely different challenge teaching our kids to be adventurous.  Sure, they may be great sports and are willing to tag along on all of our adventures, but how much of this do they know how to do on their own?

What it really comes down to is whether they know how to explore.  

Here are a few great tips for helping your kids develop the talent of exploration:
Start Simple – The easiest way to teach your kids to explore is in your own backyard.  Look under rocks, in trees, and behind bushes to see what you can see.  Test limits to see what you can create (a swing, treehouse, or maybe a slingshot).  Once your creative juices are flowing, exploring comes naturally.
Involve them in the planning process – When planning a trip, it's natural to do a lot of research.  You find out the best adventures around, coolest places to stay, and tastiest places to grab a bite to eat.  This is actually one of our favorite parts of adventuring – seeing all the cool places we could go and things we could do.  Teach your kids to be great explorers by walking through the process with them.  Get them some books and let them create their own adventures.  Learn about the National Parks together and feed off of each others excitement!
Get down on their level – It's amazing what you can see when you are actually looking.  Kids have an amazing ability to see wonder in the details that are often overlooked by adults.  Spend some time down on their level pointing out a few things to them, and watch their curiosity take off.  Although you may have to lead out here, you'll probably end up being the one who is taught (by your amazing kids, or course).
Talk to the pros – One of the most valuable skills that any explorer can have is the ability to talk to other people.  Often, one of the best ways to learn about something is to ask someone who's "been there, done that".  Strike up a conversation with a ranger about the best hiking trails, a ski bum about powder stashes, or a kayaker about water conditions.  Make sure that your kids are by your side when you're doing this so they will be able to learn from you.  As they get older, encourage them to think of questions they want to know answers to and bring them into your conversations.  Before you know it, your kids will be asking exploration questions like pros!
Walk the Walk – If you want them to explore, set the example.  A child who sees their parents excitement for adventure will want to join in and explore things out for themselves.  Likewise, a kid who sees their parents always lounging in front of the TV will be tempted to do the same.  You set the tone!

Teach Safety – When you are teaching your children to be explorers, there's a fine line between adventurous and dangerous.  The key to staying away from danger is skill and experience.  Help your kids define what their limits are and how far they can push them.  If you teach your kids to explore safely, it will be much easier to cut the ties and let them go off on their own once they have enough skill!
Recommended Products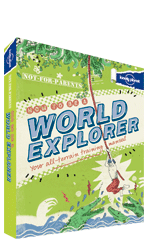 Not For Parents: How to be a World Explorer by Lonely Planet – Well the title practically says it all.  Well, except the part about not being for parents, because I LOVED IT!  It's just one of those books that's written for kids that's so cool everyone should own a copy.  It's broken up in to areas (jungle, desert, polar, mountain, water, air) and each section has tons of useful (and random) advice for exploring there.  Want to know how to ride an elephant?  DONE!  Survive an avalanche?  CHECK!  Navigate by the stars?  OF COURSE!  Not only does this book give great exploration advice, but the safety tips are top-notch!  Probably best for ages 8 and up, although it's a fun one to read together with younger adventurers.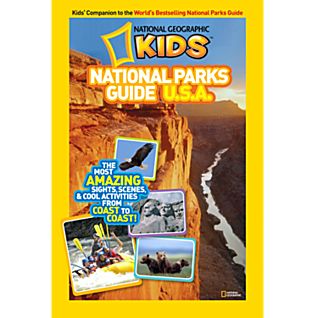 National Geographic Kids National Parks Guide USA – Living here in the United States, we are so fortunate to have an amazing National Parks system.  These parks show some of the most beautiful and unique parts of our country, so it's no wonder they are so popular with families.  This book is an amazing way to introduce your kids to exploring the National Parks and planning adventures there.  Each park has a summary, map, ranger tips, extreme adventures, simple adventures, animal tips, and a checklist of great sights to see.  This book does an amazing job of picking the family highlights from each park and presenting them in a format that makes it easy for kids to sort through.  This book would be an excellent choice to introduce kids to planning big adventures!
Nature Activity Books by Waterford Press – These books are an excellent, simple resource for teaching kids about different ecosystems.  Each book has several activities and games to teach kids about the plants and animals that they can find there.  This fall, we were able to use a few of these to prepare for trips to Rocky Mountain and Canyonlands National Parks.  The kids enjoyed doing them at home, but while we were out on our adventures, it all clicked and they
were so excited about exploring.  Mason especially loved to origami and games that each book had.  These books come in two different sets, one for grades K-2 and one set for 3-5.  This was incredibly helpful because Mason could do these books pretty independently and feel good about it because it was right around his level (which is often hard to find for the early elementary grades).  These books would be great to pick up and take along on any trip (car entertainment anyone?).
Giveaway
One Lucky winner is going to win an awesome set of books to excite their young explorer: Not For Parents: How to Be a World Explorer, Kids National Parks Guide USA, and a set of Nature Activity books.
Thanks to Lonely Planet, National Geographic, and Waterford Press for supplying products for this review.