This post may contain affiliate links where we earn from qualifying purchases. As an amazon associate, we earn from qualifying purchases. Find out more in our disclosure.
Many parents worry about their child's safety while riding a bike. Thankfully, the science and technology that are put into bike helmets have skyrocketed in recent years. Scientists understand the causes of head injuries so much better now, and our kids bike helmets are drastically improved because of that. Kids bike helmets are not fancy accessories; they are safety gear that provides essential protection for kids. We're sharing with your our top picks for the safest kids bike helmets that all have MIPS protection technology.
To help you find the perfect safe kids bike helmet, we will dive into some of the science behind modern kids bike helmets, and then explore the safest kids bike helmets on the market. Before reading this article, you first might want to check your state laws when it comes to kids bike helmets.
What is MIPS?
MIPS is an acronym for Multi-directional Impact Protection System, which is a leading technology in helmets designed to protect against head, brain and neck injury in a bicycle crash. MIPS is the standard in helmet safety. The technology was born out of neuroscience and taken to market to help protect people from injury, from cycling to equestrian.
An industry leader in helmet safety technology, MIPS safety system is based on 20 years of research and development to implement top-of-the-line safety into bike helmets across a variety of sports and disciplines. The underlying feature is the same, though. MIPS uses a patented safety system that uses a low friction layer founded in science.
Do I Need MIPS Kids Bike Helmet?
Accidents happen all the time. It doesn't matter if you are an adult or a kid. It can happen to anyone. Although you can never guarantee the outcome of a crash, you can minimize the potential damage – and this is exactly why MIPS is worth investing in. And while a helmet does you all the insurance you might need, the first thing to do is to teach your kids to avoid crashes altogether.
MIPS understands that cycling helmets have specific requirements due to the possible injuries involved. Their designers bring together outer protection, rotational motion management, and secure retention straps to minimize the impact of accidents.
How Does MIPS Work?
The rotational motion management system is the low friction layer that slides internally when the helmet undergoes an impact. The helmet will slide 10-15mm in multiple possible directions based on the angle of impact. This helps to significantly reduce harmful rotational forces to the head, which often lead to serious damage and injury to the soft tissues of the brain.
So, when you're purchasing a kids bike helmet, it's important that you find one with MIPS technology. Accidents can happen and kids are only growing. Preventing any serious injury is made easy, thanks to these high-function helmet systems.
Why is it Important that Kids Bike Helmets are MIPS Helmets?
As mentioned, MIPS integrates a few features that help protect heads upon impact. One of their defining features is the rotational motion management system. This helps prevent serious rotational motion from occurring.
Rotational motion is essentially the stretching or moving of the brain when an angled impact forces an unnatural rotation of the head. The brain tissue is soft and sits in a gel-like substance. When the head is hit and rotated abruptly, it can cause that soft tissue and gel to expand and pull. The result can be serious brain damage.
Science has improved our understanding of head injuries so much more than ever before. You know what so many options for bike helmets that provide a new tier of safety. Your kids will remain incredibly safe when wearing these bike helmets. So, it's important that you select a MIPS bicycle kids bike helmets.
Interested in learning more about MIPS? Go Here!
How Do You Know When Your Kids Bike Helmets Fit Properly?
While it's great to see your kids wearing a helmet, if the helmet doesn't fit properly, then your child isn't going to receive the protection that they should have. If your kid's helmet is too big or too small, moves side to side, or tilts back too far, that's as good as wearing no helmets at all.
So, how do you know when your kids bike helmet fits properly? One way we recommend is by using the steps defined below!
How To Fit a Kids Bike Helmet
STEP 1: Measure your child's head circumference
Use a string or soft tape measurer to find the circumference of your child's head. This will help you decide whether certain brands or models will work best for your child. This is the most important measurement you will take, so make sure it's accurate. It will not only help with added bike helmet safety but also comfort.
STEP 2: Make sure the helmet is resting in the correct position
When you're measuring the circumference of your child's head, be aware of where exactly you are measuring. Your goal is to measure around the part where the helmet's brim will rest.
This means that the measuring tape or string is running along the mid-forehead, touching the tops of the ears, and then running behind the head just below the skull bone.
When you're trying helmets on, remember that this the band area that the helmet should be evenly placed on . Too far back or forwards will defeat the value of the safety features and potentially cause issues.
STEP 3: Create a Snug Fit
Your tape measurer should be running snug around your child's head. This is just how the helmet should fit, too. Most helmets come with a specially designed adjustment strap that can create a tighter or looser fit, depends on each child's needs.
The helmet shouldn't be uncomfortable or too tight, and it shouldn't be able to easily wiggle when your child moves their head or touches the helmet.
STEP 4: Evenly Adjust Both Straps
Just as the helmet should be fitting snug, the chin straps should be comfortably snug, too. This will keep the helmet form popping up and off the head if your child happens to fall.
The straps should be close to the chin while still allowing your child to easily open and close their mouth.
A helpful trick tightens the strap until you fit just one finger between chin and strap.
Remember to keep both straps even in length.
Step 5: Check Your Child's Helmet Fit Regularly!
Your kids are growing so quickly! Not only that, but helmets can easily lose their property fitting through regular use. It's important that you regularly check their helmet fit so that it functions as effectively as possible.
List Of The Best MIPS Bike Helmets for kids:
| Product Name | Size(") | Features | MSRP($) |
| --- | --- | --- | --- |
| 1. Giro Tremor MIPS Bike Helmet | 19.7-22.4 | Best for mountain biking | $65 |
| 2. Bern Niro 2.0 MIPS Cycling Helmet | 20.5-23.2 | Removable flip visor that helps keep the sun out of your kids eyes | $65 |
| 3. Nutcase MIPS Helmet | 52-56 cm | Great for multi-sport use, many styles have a removable visor | $79 |
| 4. Giro Scamp MIPS Helmet | 17.75-21 | Ponytail compatible– Good for girls | $60 |
| 5. Lazer Gekko MIPS Helmet | 20-21 | Autofit retention that ensures secure fit without needing to adjust a dial | $59 |
| 6. Bell Sidetrack II MIPS Helmet | 18.5-22.4 | Ergo Fit design that allows for a one hand fit dialed in to perfection | $69 |
| 7. Lazer Lil Gekko MIPS Helmet | 18-20 | Automatic retention system that adjusts to a custom fit | $59 |
| 8. Troy Lee Designs A1 MIPS Helmet | 19-20.9 | Made for serious riders & older kids | $100 |
| 9. Giro Hale MIPS Youth Visor Helmet | 19.7-22.4 | Removable Visor and good coverage | $59 |
| 10. Nutcase Baby Nutty MIPS Helmets | 48-52cm | Baby-specific Crumple zone EPS protective foam– Good for infants | $60 |

Giro Tremor MIPS Bike Helmet — Kids'
By Giro
Size: 19.7-22.4 inches
Features: Best used for mountain biking. Giro makes safe bike helmets for kids from an in-mold design that's sturdy and offers the safety features your kids need while they bike the trails. They make these kids bike helmets with MIPS in 5 colors that your kids will really love! They might actually be excited to wear their cool helmet, and this could be a great biking themed gift.
MSRP: $65.00
Bern Niro 2.0 MIPS Cycling Helmet — Kids'
By Bern
Size: S: 20.5-21.85 inches; M: 21.85-23.2 inches
Features: These MIPS bike helmets for kids will provide hours of comfort and safety due to the EZ-fit strap and compression-molded pads. The helmet's base sits lower on the back of the head for added protection. There is also a removable flip visor that will help keep the sun out of eyes while kids are cruising on their bikes. These kids bike helmets look pretty cool and come in 5 funky colors.
MSRP: $65.00
Nutcase MIPS Helmet for Adults and Kids
By Nutcase
Size: Youth/Adult Small 52-56 cm Adult Medium 56-60cm
Features: This safe bike helmet for kids has a fantastic design that we absolutely love. It's perfect for kids who are looking for a multisport MIPS helmet since the styling makes it great for the skate park or city cruising as well as any other biking your kids will do. The ventilation in the Nutcase MIPS helmets is fantastic and works wonders for my sweaty headed son. Perhaps the best feature of these kids bike helmets is the magnetic closure that can be latched and undone with one hand AND prevents chin pinching! When shopping for this Nutcase kids bike helmet, make sure to check out the selection both for the kids and adult styling since the adult small is the same as the youth size and will give you TONS of color options.
Giro Scamp MIPS Bike Helmet — Kids'
By Giro
Size: XS: 17.75-19.25 inches; S: 19.25-21 inches
Features: These kids bike helmets have a sturdy design due to the in-mold polycarbonate shell that bonds the outer shell to the EPS foam liner. This also has a built-in visor and is specifically ponytail compatible. So, girls will be able to easily wear their hair however they'd like and still comfortable wear their helmet. Giro makes this bicycle helmet with MIPS. It comes in 5 bright colors, a pinch-guard strap for an easy-on, and all-around leading industry bike helmet safety technology.
MSRP: $60.00
Lazer Gekko MIPS Helmet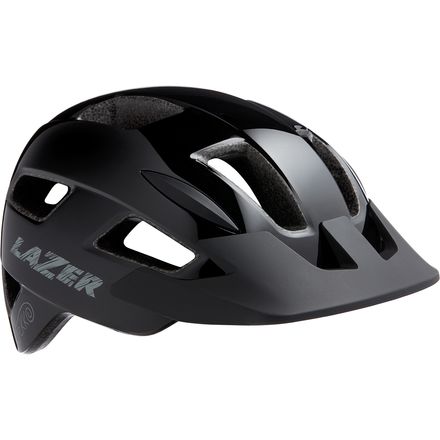 By Lazer
Size: 20-21 inches
Features: These MIPS bike helmets for kids were made for your kids to hit the trails. The helmet has an AutoFit retention feature that ensures an even and secure fit without needing to adjust a dial. The chin strap is easy to snap together without pinching, so kids can easily put their helmet on by themselves.
MSRP: $59.99
Bell Sidetrack II MIPS Helmet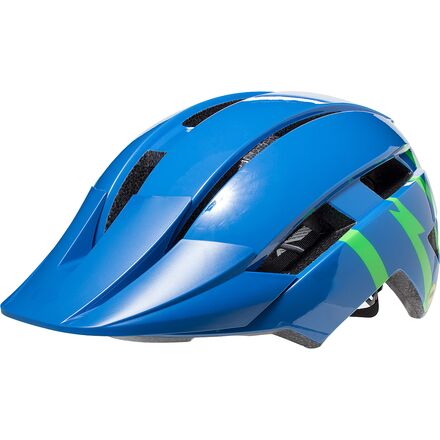 By Bell
Size: Child: 18.5-21.3 inches; Youth: 19.7-22.4 inches
Features: Your kids can safely enjoy all-mountain riding with this helmet. The helmet's outer shell is bonded to the EPS foam liner using a Fushion In-Mold technique. The helmet provides a lot of coverage around the sides of the head, near temples and around the back of the head. Finding the perfect fit is also made easy due to the Ergo Fit design that allows for a one-hand fit dialed in to perfection.
MSRP: $69.95
Lazer Lil Gekko MIPS Helmet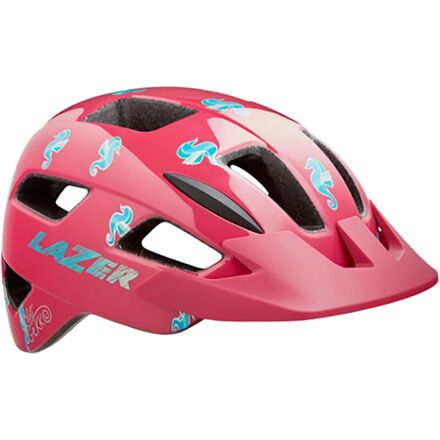 Lazer
Size: 18-20 inches
Features: You'll appreciate the automatic retention system that adjusts to a custom fit to your child's head without needing to dial anything in. There's nothing stopping them from hopping on their bikes now! This helmet also offers more coverage at the sides and back for that extra bit of protection and peace of mind. The helmet is topped off with a visor that will help your kids see through those super sunny days!
MSRP: $59.99
Troy Lee Designs A1 MIPS Helmet – Kids'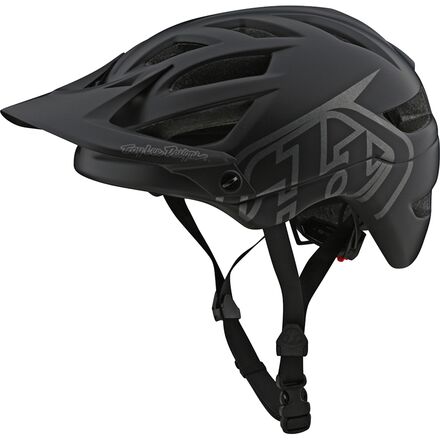 By Troy Lee
Size: Youth: 19-20.9 inches
Features: These kids bike helmets with MIPS are made for serious riders in the older youth age category. Your kids will have long-lasting comfort from the quick-drying comfort liner and 16 large air vents. The safety features integrate the leading edge of technology and can be dialed into a perfect fit using the easy adjustment strap. The EPS linger will absorb liner and help to significantly prevent injuries from impacts.
MSRP: $100.00
Giro Hale MIPS Youth Visor Bike Helmet
By Giro
Size: 19.7-22.4 inches
Features: These MIPS bike helmets for kids have a rugged in-mold build that offers a sturdy level of protection. There are 22 vents and quick drying passing, which is ideal for kids living in hot climates or who are often working up a sweat while biking. The helmet has a removable visor and good coverage to ensure your kids stay comfortable, safe, and happy while riding their bikes!
MSRP: $59.95
Nutcase Baby Nutty MIPS Helmet — Best Infant Bike Helmet for Safety
Nutcase
Size: 48-52 centimeters
Features: Bring your infants along for the ride using this specially designed and lightweight helmet. The helmet is engineered with a baby-specific "Crumple Zone EPS" protective foam. The designers have paid close attention to the areas of the head that babies need extra protection. The helmet is tested and CPSC-certified for infants 1 year and older.
MSRP: $60.00
Now you know how to fit your kids bike helmets and our recommended MIPS kids bike helmets, now go make your choice.
Read Also: see our other reviews and recommendations
What brand of bike helmets do you love for your kids? Do you think MIPS bike helmet for kids are worth it? Let's discus in the comment section!