This post may contain affiliate links where we earn from qualifying purchases. As an amazon associate, we earn from qualifying purchases. Find out more in our disclosure.
Dubbed La París de Centroamérica (The Paris of Central America), Granada is the oldest colonial city in Central America and is widely popular for its colorful colonial homes and streets. If you want to pamper yourself, stay in one of these luxury stays in Granada, most of which are shockingly affordable.
Besides its colorful houses, this city is home to charming architecture, great restaurants, and postcard cathedrals. Granada also boasts various tourist attractions like island hopping, horse carriage rides, and volcano hiking.
With all the tourist centers and things to do in Granada, you need a nice place to rest after all-day adventures. So, here are some luxury accommodations you can choose from, including the best vacation rentals in Granada, Nicaragua.
A colonial mansion transformed into one of the best hotels in Granada, Casa Del Consulado is much more than a place to spend the night after exploring the city. This luxury hotel in Granada, Nicaragua, is a stunning and mansion-like hotel just a few minutes' walk from Central Park and Guadalupe Church. Many other tourist attractions are nearby this hotel if you're feeling adventurous. The hotel also helps guests with day trips to Leon and Managua, as well as tours to Las Isletas and Masaya Volcano.
The main highlights of this hotel include its fountain and pool in a courtyard, where you can have a doze or read a book. When you need some pampering, head to the Granada boutique hotel's spa center. Made for great relaxation, the spa features designs that'll make you feel at peace. You can also easily keep up with your workout routines at the fitness center. And there's free WiFi and parking spaces for all guests.
The breakfast at the hotel is either a continental and Nicaraguan dish alongside fantastic courtyard views. You can visit the hotel's restaurant for dinner and sip your favorite cocktail at the bar before heading to your room for a restful sleep. You'll find an air conditioner, a fan, a private bathroom, and a wardrobe in the room. A room at this hotel costs at least $84 per night.
Sitting in a beautiful spot at the heart of the town, this luxury hotel in Granada, Nicaragua, is close to Granada's fun sites. You'll love the hotel location's thrilling nightlife and restaurants. The hotel is on the Calle La Calzada for pedestrians, a 5-minute stroll from the Parque Central and the Immaculate Conception Cathedral. Masaya Volcano National Park is also not far away.
Book a luxury room at this Granada luxury hotel, and you'll enjoy swimming in a pool, soaking in a hot tub, and working out at the gym. Guests can relax on the balcony that overlooks its stunning garden. The staffs are super friendly and polite too.
Housed in one of the Granada colonial houses that's been masterfully restored and updated, this accommodation has a lovely restaurant and a chocolate Café where you can view Calle La Calzada. The restaurant serves Caribbean and Nicaraguan dishes, including bacon and shrimp El Tranvia, chicken cordon bleu, and filet mignon with mushroom sauce.
Each room at this Granada, Nicaragua luxury hotel has a TV, an air conditioner, a fridge, WiFi, a spacious bathroom, and a ceiling fan. The lowest price for a room at Hotel Dario is $88, and children aged three and under can stay for free.
This property is one of the Granada colonial houses transformed into an adorable accommodation. Situated in the center of the city, this Granada boutique hotel is a magnificent place to lodge if you want to stay near the restaurants, cafés, and bars of Calle La Calzada. Lodge here and relish boat trips and kayaking at the city's Isletas.
Hotel con Corazón offers tourists in Granada, Nicaragua, luxury amenities and exceptional ambiance. After a stressful day of exploration, you can de-stress at the hotel's spa or pool. So you can stay on top of your fitness routine, you'll have access to a fitness center with basic equipment.
This luxury hotel in Granada, Nicaragua, boasts 15 large air-conditioned rooms with a TV, a fan, comfy beds with patchwork gingham covers, and a private bathroom. There's also free WiFi and laundry services for guests. When it's time to eat, you can pre-order dishes from the restaurants nearby. The hotel's bar, Bar de Corazón, is where you'll find creatively mixed cocktails, such as the Nicaraguan Espresso Martini. Kids under the age of 5 can stay free, and rooms are available for at least $71.
Perched on a hill that offers amazing views of Mombacho Volcano and Lake Nicaragua, El Respiro Ecolodge is a great place to stay if you love modern, classy hotels with enough space. But, this Granada luxury hotel is a 10-minute drive from the attractions in Granada, offering peace and convenience in a beautiful environment. This accommodation looks and feels different from the Granada colonial houses converted to hotels. Plus, you'll be up close to nature and Nicaragua wildlife.
You'll love the hotel's outdoor pool, porch, and patio, which offers scenic views. Featuring an open kitchen with an island and bar chairs, the hotel has a lovely setting for outdoor wine sipping. On cold nights, the hotel's stone fireplace keeps guests warm. However, the eco-lodge runs on solar power, so the power supply might not be regular. Still, El Respiro Ecolodge is one of the best hotels in Granada.
Each room is contemporary, stylish, and furnished with wooden four-poster beds and a walk-in closet. The accommodation options at the luxury hotel in Granada, Nicaragua, include deluxe double rooms, suites, and a one-bedroom villa. Whichever option you choose, you'll have access to a private bathroom, WiFi, a safe, and a fan. But there's no air conditioner in the rooms, and you'll need to request a hairdryer when you need one.
A tasty breakfast is served every morning, preparing you for daily adventures. The lodge offers fresh and delicious meals with produce from the on-site organic farm. Lodging here costs at least $94.
Hotel Plaza Colon is one of Granada's most extravagant and attractive hotels. And it's just steps away from Parque Central. You'll also be staying close to the affordable bars and restaurants of Calle La Calzada. This accommodation has outstanding lodging facilities that'll make you feel like a VIP in a luxury hotel in Granada, Nicaragua.
As one of the best hotels in Granada, Hotel Plaza Colon has a magnificent courtyard that oozes tranquility. To help guests unwind, this Granada luxury hotel has an outdoor pool and broad balconies. The hotel's cafe, Café de Flores, is open for Nicaraguan coffee and lunch snacks. If you want a drink, you can select from the varieties on the on-site bar's menu.
The guest rooms at this Granada boutique hotel have classic decor and are equipped with comfy beds and air conditioners to ensure a perfect night's sleep. Free internet and breakfast come as standard. The price to stay at this Granada, Nicaragua Luxury accommodation starts from $105.
Granada Luxury Vacation Rentals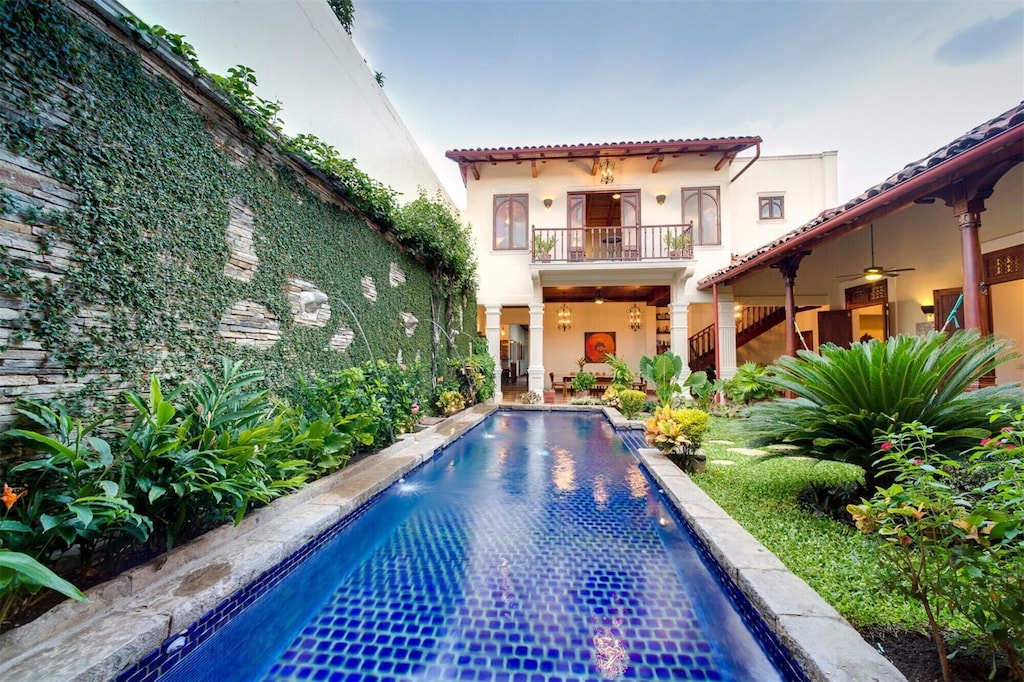 If you have been searching for the best vacation rentals in Granada, Nicaragua, this villa is undoubtedly one of the best. Suitably located at the Calle La Calzada, a few steps from the Granada's cathedral and lively central park.
There are five bedrooms at the villa, including a master bedroom with a king-sized bed, two double bedrooms with queen-sized beds and private bathrooms, one twin bedroom (doubles as a TV room), and a ground-floor bedroom for a maid or nanny. The indoor pool and the courtyard are great for relaxation. Also, there are seating areas around the courtyard corridors for spending quality time with the family. You can even cook a feast with the gas barbecue grill in the courtyard.
Each room has a ceiling fan, TV, DVD player, WiFI, and safe. All rooms have an air conditioner except the maid's room. What's more, laundry facilities and solar-powered water heaters are available at the accommodation. This villa can sleep 11 people, and a night at this wonderful Granada luxury vacation rental costs $213.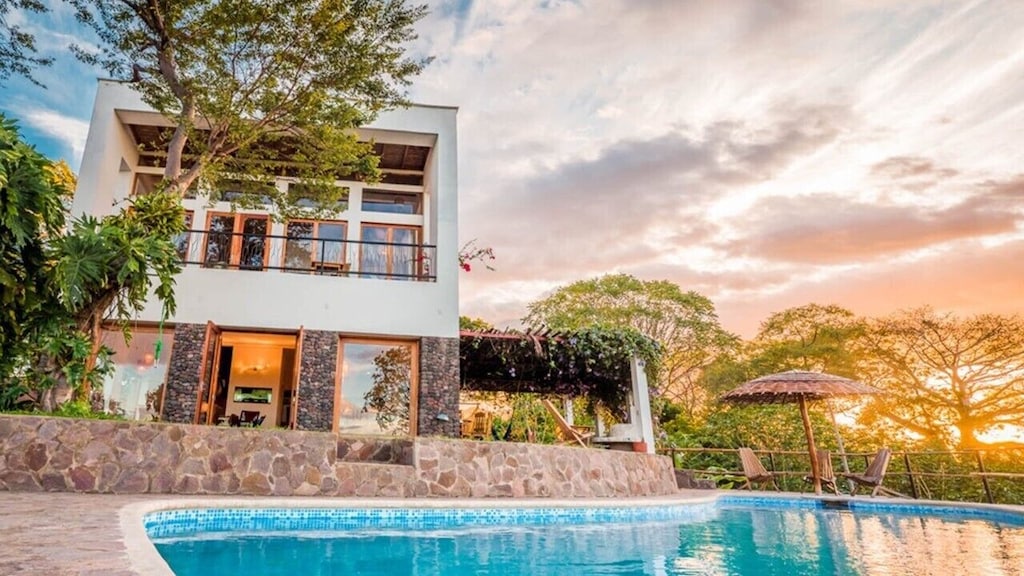 This four-bedroom Granada luxury vacation rental is absolutely magnificent. Located close to Lake Nicaragua, you'll be welcomed by nature, including beautiful birds and howler monkeys. You can also explore eco-trails and the island around the property. The environment is peaceful, and downtown Granada is a few minutes' drive away.
With its location and amenities, this accommodation is one of the best vacation rentals in Granada, Nicaragua. You can take a dip at the large swimming pool at the property. And relax on the patio and balcony, which offers a picturesque view of nature. Cooking dinner is a breeze with the well-equipped kitchen at the vacation rental. Afterward, dine with the family in the dining room with classy furniture.
The four bedrooms are well furnished with desks, chairs, and beds with linens. The master bedroom has a king-size bed, while the other rooms have queen-size beds. There are three bathrooms at the property, and the host provides toiletries regularly. You'll also have access to free internet and a washing machine. The price of this Granada luxury vacation rental, which sleeps six, is $150 per night.