This post may contain affiliate links where we earn from qualifying purchases. As an amazon associate, we earn from qualifying purchases. Find out more in our disclosure.
Planning a family camping trip is a great way to enjoy the outdoors and create lifelong memories. It doesn't have to be hard or expensive to take your first trip, either! There are lots of great ways to save money on camping with kids if you know where to look. One of the best places to shop for budget camping gear is Walmart.
I know, many people cringe at the idea of buying CAMPING GEAR at Walmart. Truthfully, their Ozark Trail brand and several other budget camping brands from Walmart have been great quality, and have helped us have more money in our budget to splurge on things like nice sleeping bags.
When shopping for budget camping gear, you want to avoid compromising quality for cost. This is your ultimate guide to discount camping gear that won't put a damper on your trip. Camping gear from Walmart will give you the cost savings you're looking for while providing the durability to withstand years of adventure (another budget-friendly move!).
Camping Gear To Avoid From Walmart
While we absolutely believe that there are some pieces of camping gear that you can get a great deal on at Walmart, there are others that aren't worth the money. Here are the pieces of camping gear that we DO NOT RECOMMEND purchasing from Walmart:
When buying camping gear from Walmart, opt for the best quality that they have. Since you'll already be buying budget camping gear from Walmart, even their more expensive equipment is still a bargain.
Best Walmart Camping Tents
While not all tents from Walmart are great quality, there are a few that are. These two Walmart tents featured below have some great qualities that may make them the perfect budget camping tent for your family. For other options, check out our reviews of the best 6 person tents and the best 8 person tents.
If you believe comfort and convenience is king when it comes to camping, then this tent was made for you! There are seven mesh windows that combine fresh airflow with amazing surrounding views. The tent will comfortably fit two queen air mattresses, which can sleep 9 people — perfect for the whole family (and even the dog!). One of the best features of this tent is the integrated string lights that will make bedtimes so easy, you might even forget you're in a tent. On top of this, the tent boasts a 90-inch center height. This means that there are no more cranked backs and horizontal clothing changes in your camping future.
Features
It can be hard to decide what to pack for a camping trip, but this issue is solved by the home-style built-in closet. Keeping organized while camping just got easier! The closet comes with shelves and a hanger bar for quick and easy access. Speaking of quick – this tent was specially designed with an ultra-fast pitching system. You'll be able to fit 8 people and rest assured that everyone will stay dry. There is a Weather Tec system that ensures waterproof and durable material. On top of it all, there is an optional divider to create privacy within the tent.
Features
Best Walmart Camping Chairs and Tables
I always look at Walmart for camping chairs and tables for our adventures. It's the best place to buy affordable camping chairs that we've ever found!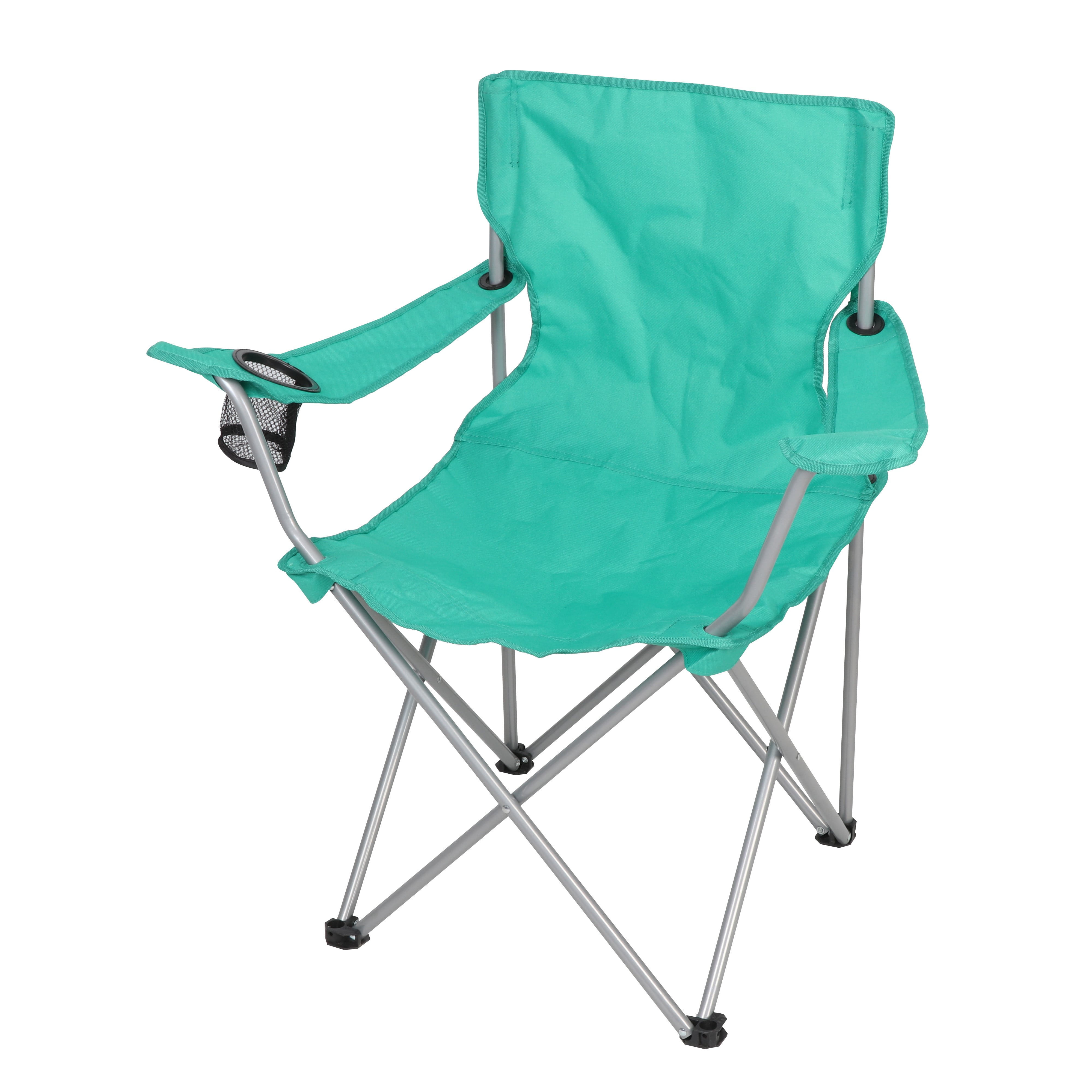 Ozark Trail Basic Quad Folding Camp Chair with Cup Holder, Teal, Outdoor – Walmart.com
The essence of a great camping trip is the stories and memories built around the campfire. This camping chair will keep you comfy cozy as you roast marshmallows and watch the flames crackle. It's also easy to store and transport because it folds down and fits inside a bag. The construction is from steel and durable polyester, so it will last you for years to come. Oh! Don't forget the built-in cup holder for your delicious beverage.
Features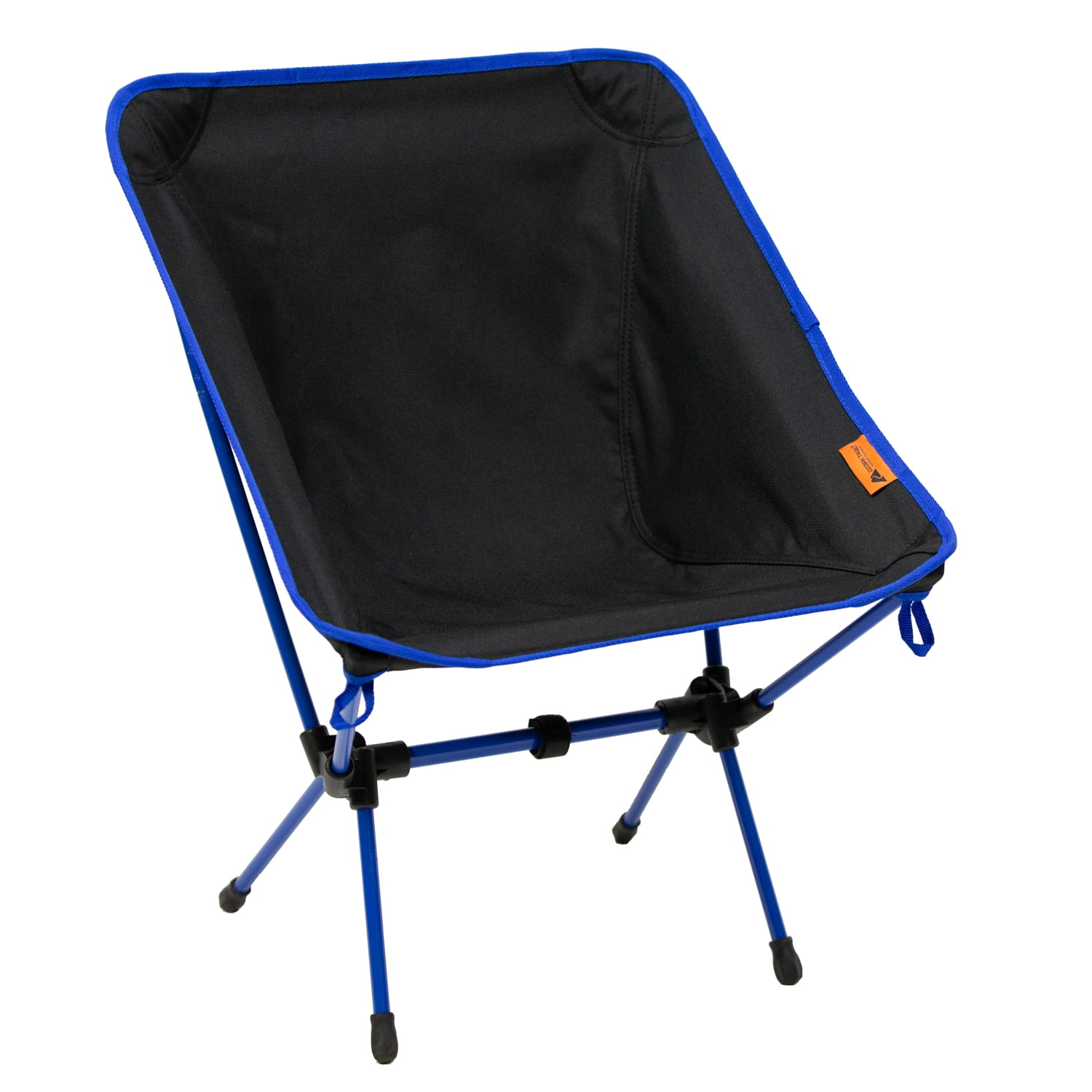 Ozark Trail Outdoor Compact Backpacking Chair, Black – Walmart.com
An often overlooked but necessary item on backpacking and camping trips! This is an ultra-light camping chair that will let you kick your feet up and relax at the end of full days exploring. The chair has a comfortable deep seat and a special design that lets you set up in seconds. The materials are durable and sure to last for years of adventure through the woods. For storage and packing, it comes with a polyester carry bag (that is so small you'll be surprised!). This Walmart camping chair matches competitor products, but with major cost savings. An ideal Walmart purchase!
Features
The Summer Pop N Sit booster seat is one of our favorite baby camping chairs, and we love that it's easy to get at Walmart to make camping with a baby so much easier. The tray is easily wipable and the actual seat folds up like a regular adult camping chair. Having a baby camping chair can be a true sanity saver when camping with an infant or a toddler. We also love that as your baby gets older, this can be used as just a kids camping chair without the tray.
Features:
We have a roll top table, and we use it every single time that we camp – it's my favorite piece of budget camping gear. You will appreciate a camping table to prepare and eat dinners on, play card games, or store important supplies off the ground. This table is lightweight, yet sturdy. It is made with a steel frame and aluminum tabletop, so it is resistant to damage while camping. It also folds flat, so it's easy to pack in the car or store between trips.
Features
Best Camping Stoves and Cookware From Walmart
If you need to get started on building a budget camp kitchen, Walmart is a great place to start. They have some great affordable camping stoves, and their affordable camp cookware is pretty great as well and is perfect for making a camping dinner the whole family will love. We have a pretty hefty stash of roasting sticks from Walmart and have had an excellent Walmart camping griddle for over 10 years. For more options, check out our review of the best large camping stoves and the best camp cookware.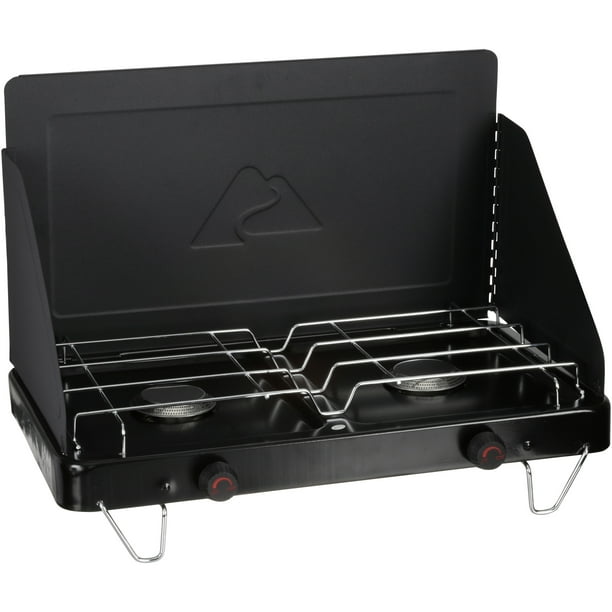 Everyone knows that the proper fuel for adventure is a hardy, hot camping meal! Coming together for dinner doesn't have to be a tiring experience, though. With this 2-burner budget camp stove from Walmart, you can create the same great meals you're used. The stove is cleverly designed with wind guards that protect the flames, so you can eat even in bad weather! This stove is compact and uses only two propane cylinders for fuel, which makes it ideal for camping and hiking trips.
Features
Are you finding it difficult to pack lightly for your camping trips? Would you like the chance to take your camping excursions on a backpacking trip one day? If you answered "yes" to either of these, then this single butane stove is for you! You can safely fit a 6-inch pan on this compact budget camping stove, so your meals will still be easy to cook. This stove will also help you cook your meals fast. One litre of water will boil in just over three minutes! This stove will give you a consistent source of heat (even in stormy weather), and will use less fuel to get the job done! That's two ways you can lighten your pack – a small stove and less propane. A win-win!
Features
This budget tabletop camping stove from Walmart is a portable and effective solution for your camp kitchen needs. This is a great option for trailer or tent campers. It comes with a built-in push-button ignition, so you don't need to worry about the matches you forgot at home! You can cook with a large, 10-inch pan that will easily feed the entire family. It's also coated with enamelled, which makes clean up faster and easier, leaving you more time to enjoy the campfire!
Features
One of the best parts of camping is making use of the bonfire for warm dinners, gatherings, and memories. This durable cast iron cooker from Walmart can toast sandwiches, grill meats, and cook delicious desserts right over the fire. This is easy to use and clean thanks to the wooden handles and two-hinge system that clamps shut. For you cast iron lovers, this cooker comes pre-seasoned to ensure proper flavour, cooking, and non-stick!
Features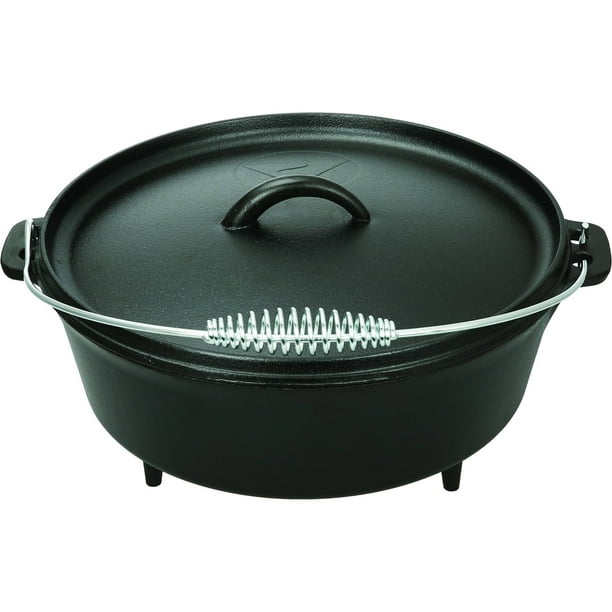 You can create an unforgettable meal using this budget cast iron dutch oven. This cheap dutch oven from Walmart will elevate your campsite meals into the kinds of healthy comfort food you're used to from home. The oven comes pre-seasoned to ensure hearty flavour and even heat distribution. Dinner can be an event as you gather around the campfire and come together over an incredible meal. You're family will be so excited!
Features
Can you taste it already? There's nothing better than open campfire roasted or sausages to fill bellies around the campsite. This long cooking fork will help you roast anything from marshmallows to hotdogs. It's a 41" long with a stay-cool wooden handle, which means that the kids can safely roast without getting too close to the fire, which will give you a lot of piece of mind. You can also get the best position for cooking. Buying this discount camping item from Walmart is a great way to avoid overspending on the exact same product when camping with kids.
Features
No more fighting over the roasting stick! You get 10 high-quality budget roasting sticks in each pack. The forks are 45" long, so they will keep everyone at a safe distance from the fire. The forks are constructed from quality stainless steel and a non-slip stay-cool rubber handle. My favorite feature about these is that they telescope down to be really compact so they're easy to store and transport on your next family camping trip.
Features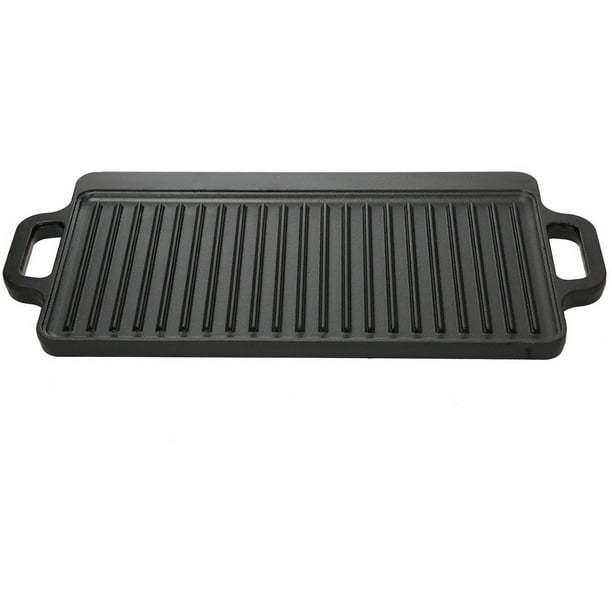 From eggs and bacon in at breakfast to hamburgers at dinner, an affordable camping griddle is one of the most versatile kitchen tools for families that camp. This budget camping griddle from Walmart is reversible, so you can choose between a ribbed or flat surface. It's flat design makes it easy to clean, travel with, and store at home or at the campsite. You can upgrade your flavours with this affordable kitchen aid!
Features
Best Camping Kitchen Supplies From Walmart
If you want to put together a budget camp kitchen, Walmart is the place to go. This is where I stock up on things like serving spoons, ladles, can opener, and hot pads. If you're shopping in store, they also often have durable plastic plates, cups, and bowls for $0.50 each in the spring and summer (in the dishes section, but they're amazing for camping, and I never have to stress if on gets lost or ruined).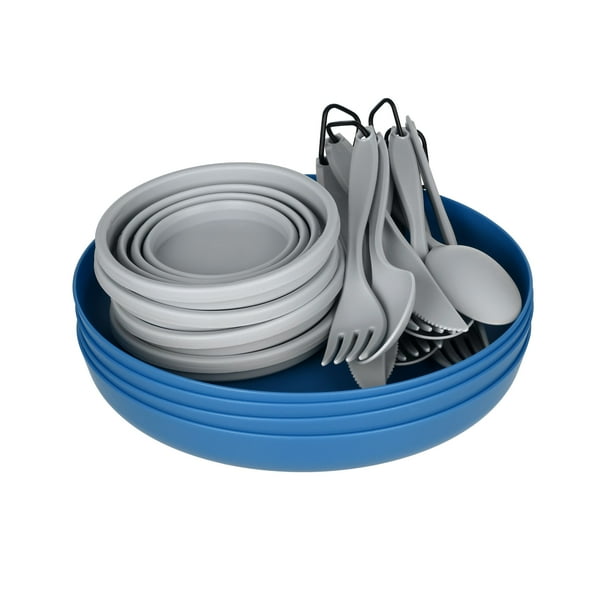 Lightweight and easy to wash dinnerware is essential for campsite dinners. When you prepare for a camping trip with the family, your work is done for you when your table set comes in the complete package. Each affordable camping dishes set contains four BPA-free and reusable plates, cups, forks, knives, and spoons. All you'll need to worry about over dinner is sharing stories from your daily adventures. You can be confident that your savings are getting you a useful and long-lasting product from Walmart.
Features
This is hands down my most loved piece of camp kitchen equipment. I know that it's not incredibly fancy, but it works SO WELL and keeps all my spices neat and organized. It's also so handy because I often forget to pack spices when I'm meal planning, but this Walmart spice organizer solves that (I've popped the top off and traded some of the standard spices for others that we use more).
Who says camping meals can't be delicious? This multi-spice container is a little trade secret that takes dinner from boring to gourmet! There are six popular spices included in this single container, so you won't be missing anything for your recipes, though over the years, we've traded out which spices we keep in there (you can pry the lid off to refill. It's incredibly affordable and is the best camping spice shaker we've ever found!
Features
Best Camping Coolers and Jugs From Walmart
A good cooler is a must have on any camping trip to keep your food cool and safe to eat. Walmart has several budget coolers that are subpar, but below we're sharing some of the high quality coolers from Walmart that are also really affordable. Check out our review of the best high quality budget coolers.
Whether you're serving snacks, water and juice packs or cold beer and cocktails, this affordable high performance cooler from Walmart will make sure your food and beverages stay refreshing! This cooler is specially designed to keep ice retention for up to nine days. Its thoughtful design is durable and includes wheels and handles that make transporting it simple. You'll be surprised by how light it is! This is a great budget cooler from Walmart — and you can use this at home or at the park too.
Features
For your camp cooking and hydration needs, you can use this collapsible large water container from Walmart. This container is an ideal size (5 gal) for families. There is a convenient handle to easily carry it to the site, and an on/off spout that's so easy to use — even the kids can do it! Its extremely durable construction will let you reuse it for many years of camping trips. I will admit that it can be difficult to pour from because it doesn't have a rigid shape, but being able to fold it flat when we're not using it, more than makes up for any inconvenience the flexible sides create. This budget water container for camping is best used in areas where you have to bring in your own water (we often use it to refill the cooler we mention next).
Features
From action-packed day trips to relaxing at the campsite, this large affordable water cooler from Walmart will make sure your family stays hydrated. Not only will you stay hydrated, but your water will also stay refreshingly cool. My favorite feature of this water cooler is that it's easy to pour so that kids can get their own water without making a major mess. This cooler has a convenient spout to refill reusable bottles — no more yucky water, plus no more single-use plastic!
Features
Best Camping Safety Gear From Walmart
We always take at least one of these with us when we're camping with kids, and if there's bad weather in the forecast, we'll bring 2 or 3 (they're so affordable, it would be silly not to).
We often use one for a footprint for our large family camping tent and others are for protection from the sun and rain. Setting up this large tarp will ensure you have a shady spot on sunny days and a dry spot on rainy ones. You will have a dry area to cook dinner in and can make sure everything stays dry. The pros would agree — every camper can weather the storm under this tarp.
Features
If you're going to be in bear country, this is a must have. They're perfect to put on your backpack (or your kids), so that bears can hear your coming, so you don't unexpectedly surprise and startle a bear. Trust me, bears are one thing that you don't want to have to bother with when you're camping with kids, and this is the simplest way to warn them away. Of course, we always recommend carrying bear spray when you're in bear country as well (we give everyone a bear bell and just the adults bear spray).
Features
There are so many reasons to carry a folding shovel with you on your next camping trip with kids. Shovels are a great tool, whether you need it for emergency situations or around the site to set up camp, build a fire, or whatever else may come up! This is a compact shovel that folds down small, but can also do a big job, so it's perfect if you're primitive camping and need to dig a pit toilet or bury food scraps away from animals. You can also adjust the handle to configure in shapes that help you with any digging needs. The blade is made from from tempered forged steel, so it's durable enough to get you through any rocky situation!
Features
Best Camping Lanterns and Headlamps From Walmart
Lanterns and headlamps seem to be in constant rotation in our family camping gear. My kids love them and they get used HARD. We buy a lot of our camping lights at Walmart since I know that they're often lost by kids, so getting a budget camping light saves us a lot of money in the long run. For more options, check out our review of the best camping headlamps and flashlights.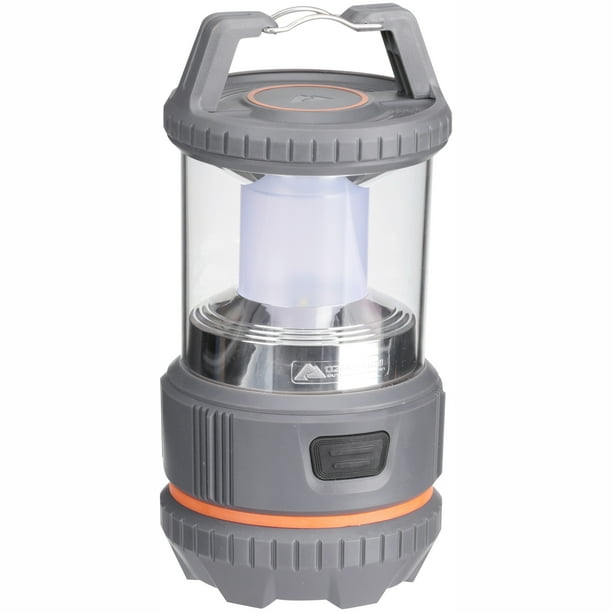 We use our camping lantern on every single camping trip we take. We use it in the evening as we're cleaning up dinner, when the kids are getting dressed in the dark tent, and our favorite time to use our family camping lantern is around the picnic table playing card games at night. This is a 400 lumen LED electric lantern that will help you light any areas farther from the campfire. Whether you're getting access to evening snacks or getting ready for bedtime, this lantern will help you get it done! A great value camping item from Walmart.
Features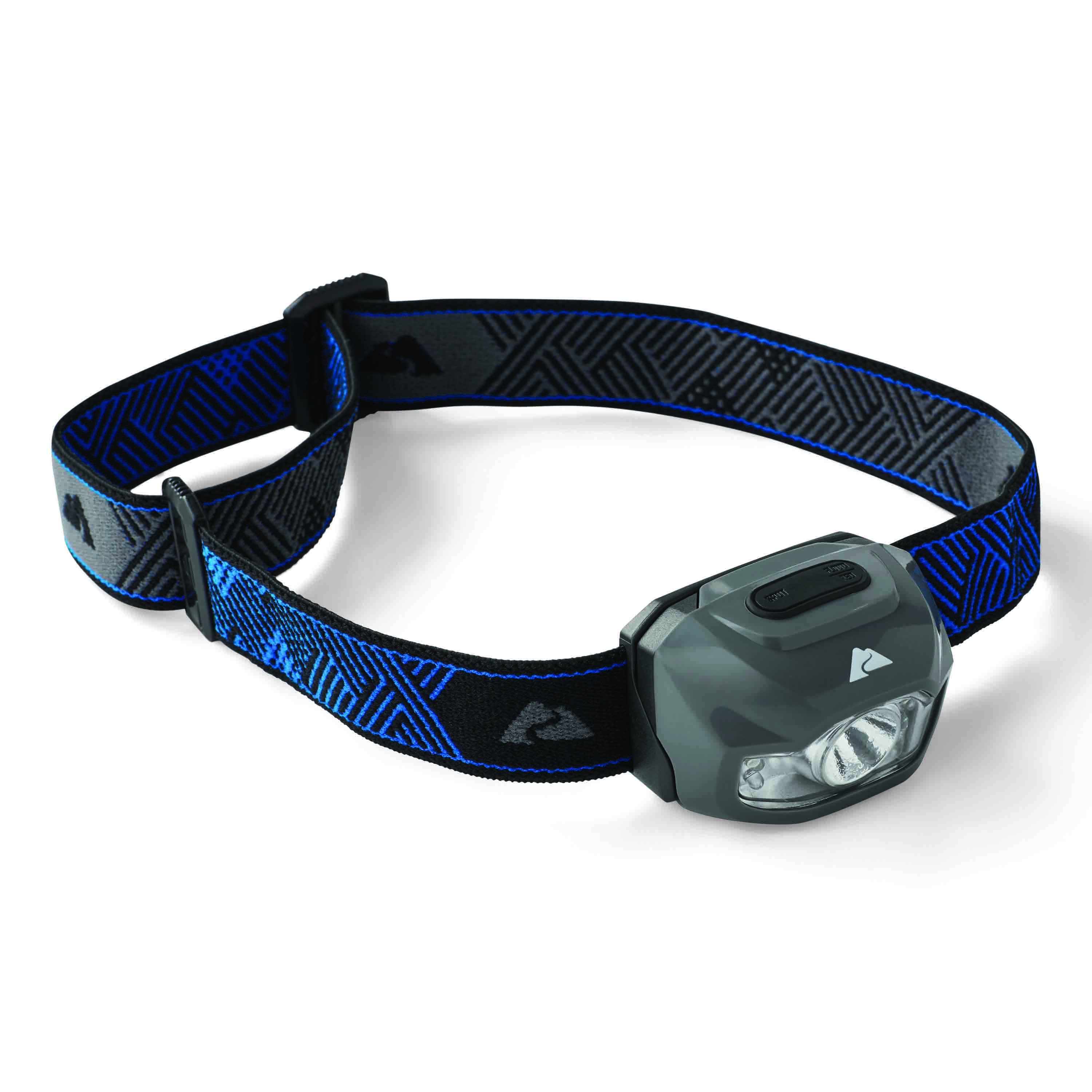 Headlamps are my kids absolut FAVORITE, and we always use them on camping trips and at home for nighttime play in the summer. As you can guess, between our 5 kids, that also means that we lose several headlamps each year, so I really appreciate this affordable headlamp from Walmart. This lamp has four light settings (high spot, low spot, flood, and red) for you to adjust to suit your needs.
Features
Best Camping Backpacks From Walmart
Not all camping backpacks from Walmart are good quality, but we personally use these backpacks with our kids and have been pretty impressed.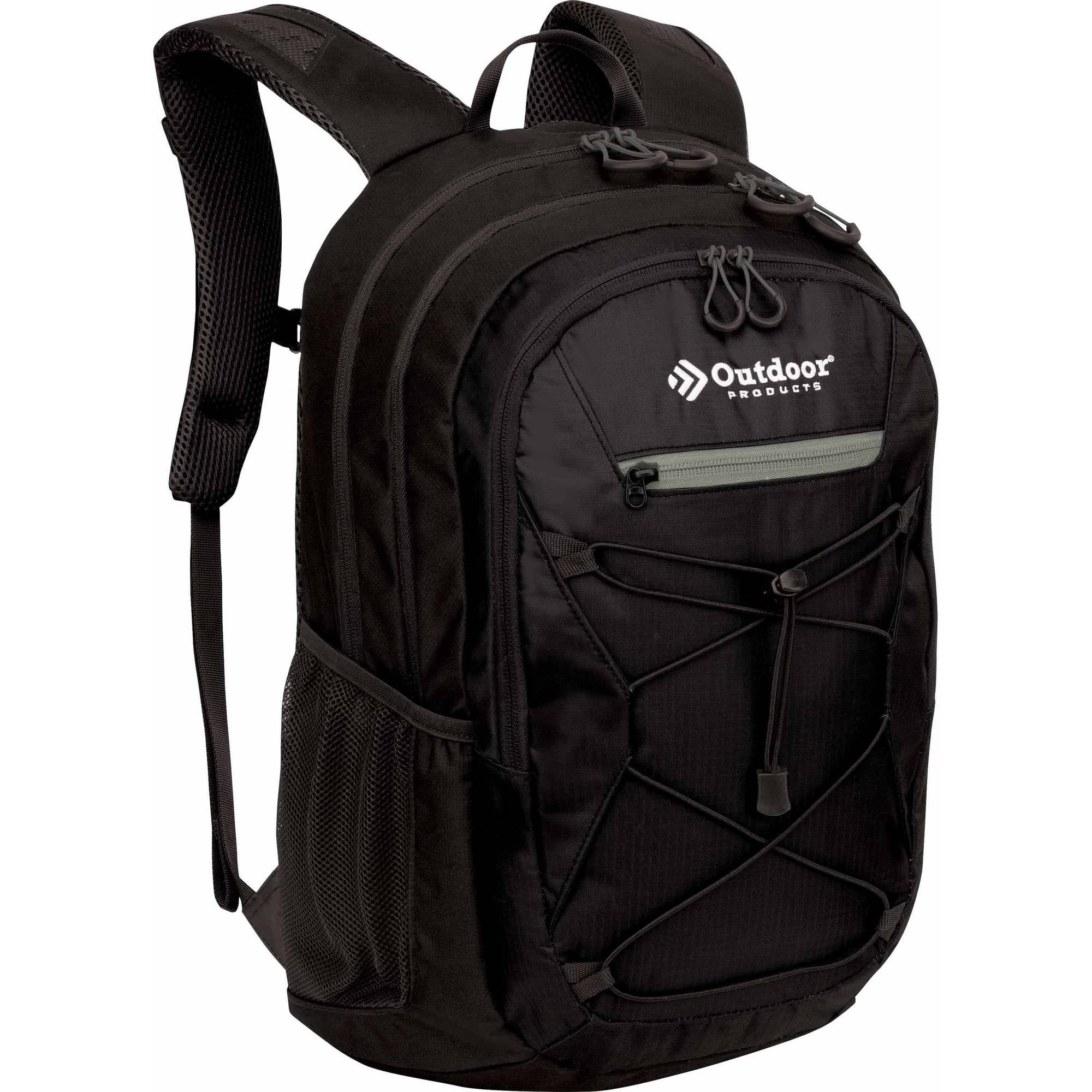 Camping trips with family means packing snacks and drinks, some safety supplies, bug spray, sunscreen, and the list goes on! This budget camping backpack from Walmart will help you carry everything you need for a fun and memorable day of adventure. Made from highly durable fabric, this pack offers convenient pockets to keep all your supplies organized and easy to access. This Walmart backpack was made to hit the trails — it is even hydration bladder compatible!
Features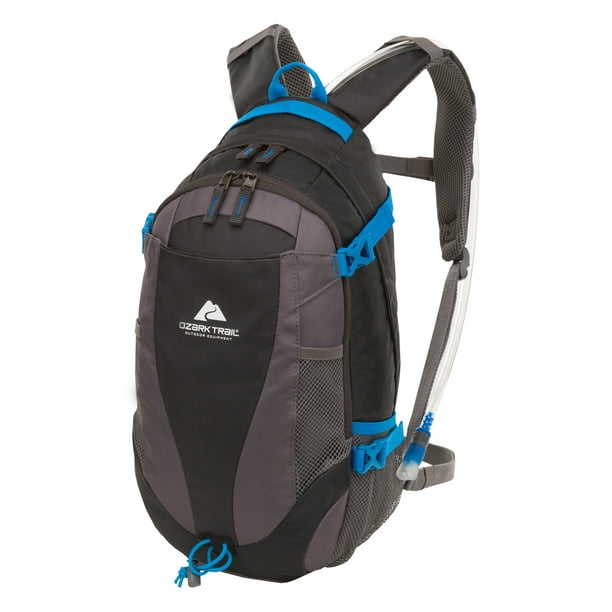 If you're looking for a good way to make sure that your family stays hydrated while camping and hiking, a hydration pack is the way to go. Everyone in our family drinks about 2x's as much water when they use a hydration pack vs a water bottle, and staying hydrated helps keep everyone happier and healthier. This backpack comes with a 2-litre hydration bladder and a medium-size cargo area. This pack is a smaller sized and lighter weight design, which is just enough to carry the essentials. It's a great option for older kids to use and carry their supplies! For an inexpensive backpack, there is a lot of tech and design. A good piece of camping gear to purchase from Walmart.
Features
If you're looking to save some money on family camping gear, Walmart is one of the best places to look to save money when camping on a budget. While we don't recommend getting technical camping gear or sleeping bags here, there are many other items where you can get pretty good quality camping gear from Walmart on a budget.