This post may contain affiliate links where we earn from qualifying purchases. As an amazon associate, we earn from qualifying purchases. Find out more in our disclosure.
Did your kid inherit your love and passion for nature and adventure? Regardless of their age, introducing them to spending time in a tent from an early age is a great idea, and our recommendations for the best kids tents are the perfect place to start!
Child's tents are super fun, primarily because they allow kids to get excited about the outdoors and to use their creativity in new ways. Plus, what kid doesn't love having a cool place to hide and play??
However, the variety of kids tents is HUGE, so we're going to break down the different types so you can find the perfect tent for your child.
Why Get A Kids Tent?
Believe it or not, children's play tents are arguably the most innovative and terrific toys available. They trigger a child's imagination and help get them excited about and connected to the outdoors. Play tents are one of the best ways to get kids excited about camping and spending time out in nature.
Another reason to get a kids tent is for extra space while camping. Our family often sets up 2 tents, one that's for mom and dad and the younger kids, and another tent that's just a kids tent where everyone can play during the day, and the older kids sleep there at night. This simplifies things for us so we don't always have to bring a giant 6 person or 8 person tent on each campout, and the kids have a blast with it too!
Types of Kids Tents
There are a couple of types of kids tents, depending on what purpose you're looking for. The first are tents that are designed for play. These are things like play TeePees for kids, bed tents, or other tents that aren't designed for much outdoor use. Play tents for kids often don't have floors, or have wooden or plastic tent poles.
The other type of tent for kids are camping tents for kids. Unlike a large 6 person or 8 person tent, kids camping tents are primarily designed for kids to camp in and are generally pretty small. Most kids camping tents sleep 2-4 people, and are great for backyard camping or camping when they weather is good. Kids tents for camping are usually not as sturdy or waterproof as a traditional family tent, but they can be an absolute BLAST, so it's worth getting one if you have a kid who likes camping. Often, when we camp, we have one family tent and another smaller kids tent that a couple of them sleep in and that all the kids can play in throughout the day.
Best Kids Camping Tents
These camping tents are arguably the best tents for kids, since they're all GREAT camping tents, but are smaller so they're the perfect tent to designate as the "kid tent" on your next family campout. These tents all have excellent features that make them able to withstand bad weather and if you take care of them, they'll last for years and years.
Although they're more expensive than play tents, they last longer and are more reliable, so we think they're absolutely worth the money. We invest in good waterproof tents that last, just like we invest in good sleeping bags for kids and a camping pad to keep them warm and comfrotable. A tent is one of the best investments you can make for keeping kids warm and dry while camping!
The Kelty 4 Tent is a perfect kid's tent for serious campers. If your kid is a Scout planning to go on a camping trip, this Discovery tent by Kelty is a really good affordable tent with basic features. The mesh top is great for extra ventilation, but we love that the lower section of the tent is made of polyester for increased durability.
The rainfly attaches easily making it a great tent in bad wather. With only 2 poles, this tent is incredibly easy to set up (even for kids), so it's a great beginner kids tent. We also love that this tent sleeps 4, so there's plenty of room to go inside and play games or tell stories on your next campout.
The Coleman Skydome is a super durable tent, making it great to use as a kids tent. The best feature about it is the tub tarp floor, which makes it super durable. It's perfect for kids who play rough in the tent, or often forget to take their shoes off since it doesn't tear easily. We also love that it has a tub like floor to keep water out on wet days, and to prevent leaking in from the seams during rain.
The tent comes with a wide entrance and pre-attached poles, making it a breeze to set it up with sleeping pads and bags. This way, kids can start playing games sooner and enjoy sitting by the fire.
This spacious tent is ideal for three seasons and can sleep up to 4 people.
Looking for a reliable kids camping tent to withstand a wide variety of climates and weather? Choose the Alps Koda 4 tent! No matter what, this camping tent can keep your kid comfy from fall to spring.
Its three-season versatility comes with a rugged rainfly with mesh canopy windows for which are both great for ventilation in hot weather. The rain fly is extra durable with taped seams and a waterproof coating to help keep kids warm and dry when the weather turns bad.
This tent can sleep four, and we love that it has 2 doors and vestibules on each side to stash gear and keep shoes dry.
Best Backpacking Tent For Kids
If you're looking for an all-in-one tent for your kids to take backpacking, we love that this lightweight tent only weighs 3 pounds and can still sleep 4 people.
It comes with a one-pole easy design which means there's less to carry, and the mesh sides keep mosquitos out, it lets cool breezes pass smoothly, providing kids with sweat-free and bite-free slumber.
It also has a fully-sealed tub floor that prevents water from getting in. This is the best lightweight backpacking tent for kids!
If you're looking for a lightweight backpacking tent for kids, this tent from Alps mountaineering is a fanatsic option. It's super lightweight so kids can carry it on their own without weighing down their backpack. This tent set up is incredibly easy, since you just stake out the edges and then adjust the trekking pole to hold up the center.
This tent has great ventilation, and super esay construction so it's a great first tent for kids or a simple backpacking tent for kids. It's one of the most lightweight kids backpacking tents, so it's perfect for kids who are new to hitting the trail! This is a great 3 season tent and comfortably sleeps 2 people or 3 kids.
Best Backyard Tents For Kids
Backyard kids camping tents should be more rugged and durable than child's play tents; however, they don't have to be tough enough to withstand extreme weather.
They're more affordable than kids camping tents and provide an experience like none other and are a great way to get kids connected to the outdoors, even when you can't go on a family camping trip. Here are the three best backyard tents for kids:
This is one of our favorite backyard tents for kids, since it's packed full of features that make kids feel like they've got their own high tech tent.
Parents will love that this tent has a pop up design, so it's incredibly easy to set up and can easily be done with one person. The walls of the tent are light blocking, making it easier to get kids to bed early on light summer nights and to hopefully get them to sleep in a little bit more as well.
Kids will absolutely go crazy for the USB string lights inside the tent! With plenty of doors and windows, kids can easily have some pretend camping time all day long in this tent. With pockets inside the tent for easy book or toy storage and a mesh tray to hold a fan, this is the perfect place for kids to play all summer.
Unlike many indoor child's tents, the KidzAdventure 2-in-1 play tent is designed for both indoor and outdoor use. This tent is big enough for two kids to sleep in, making it perfect for backyard sleepovers.
We love that this tent has the look of a regular camping tent, with its dome shaped design, but still has some fun kid flare with the pattern on the outside of the tent. While this tent does have a rainfly, it's really only good enough for light rain (or maybe if the sprinlers come on in the backyard, and not suitable for bigger camping trips.
Best Play Tents For Kids
If you want a tent that your kids can use inside the house, we've found some pretty awesome little play tents. We love that these can be used year round and are even great when the weather outside is bad. Here are the best play tents for kids:
This Pacific play tent provides plenty of room for children to play, be silly, and wiggle. It has enough space to accommodate more than two kids, kid-sized furniture, and toys. The bright polyester fabric is perfect for inspiring creative play and getting kids imagination going.
The "Me Too" Dome play tent is meant to last longer, primarily because it's supported with durable and robust Super Poles to prevent shattering or splintering, similar to what you'd find in a traditional camping tent. This kids play tene is 48″x48″, so it's great for play, but on the small side for sleeping in. Kids will also especially love that there's a hole on one side where you can attach a tunnel to the side of the tent, creating a "secret entrance".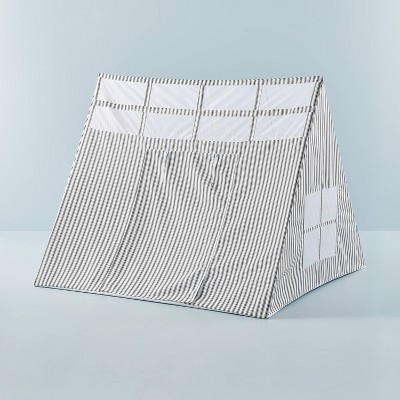 Looking to bring fun and unlimited excitement to your kid's playtime? Look no further than this super cute A Frame kids tent from Target. The cute star pattern all over this tent is absolutely adorable!
Mounted on a fiberglass frame, the tent is made of a fabric covering with see-through rectangular cutouts on one corner and back for lighting. It has a solid base that provides kids a smooth and comfortable spot to play, read, and sit.
Perfect for kids aged three and above this A Frame kids tent makes an excellent indoor kids tent.
Make your child's playtime fun and exciting with a 52 x 35 x 51-inch play tent. This extra large child's tent has ample space and can easily fit three kids at the same time and leaving plenty of room for play.
The triangular frame of the tent makes it more stable, though not quite sturdy enough for outdoor use. We love that this tent is taller than most other tents so kids can stand and play more, giving it more of a "tiny house" sort of a feel. This tent has a Boho style, but really could be used for just about anything from a play tent, to an explorers cabin, or even a cozy reading nook for kids.
Made of polyester and cotton linear fabrics, you can easily wash this tent, making it super kid friendly.
Conclusion
Child's tents can be a remarkable piece of gear for outdoor loving kids. Whether you're looking for something in the backyard, the bedroom, or in the backcountry, there is a kid tent that's perfect for what your kids need!