This post may contain affiliate links where we earn from qualifying purchases. As an amazon associate, we earn from qualifying purchases. Find out more in our disclosure.
How To Choose The Best Kids Binoculars
If your kid loves exploring, a pair of binoculars might be the best gift you can get for them. You're going to give them hours of entertainment outdoors, letting their imagination run wild. Choosing the best kids binoculars will make their adventures easy and simple so that nothing slows them down!
While choosing a pair of binoculars seems pretty straightforward, there are some features you need to consider so you get the best pair for your childs age and interests. Kids binoculars are a little different from adult ones, so there are some things you need to keep in mind before settling on one.
Features To Consider Before Buying Kids Binoculars
Binocular Size and Weight
Standard-sized binoculars might be too big or too heavy for your kids to hold or view through correctly. You want to opt for appropriately sized binoculars that your children can comfortably hold in their hands and easily lift up to their face steadily.
It's recommended to opt for pocket-sized binoculars for kids if you're shopping from an adult range. If you're looking at binoculars designed for kids, make sure the interpupillary distance (how far apart the eye pieces is) of the lenses is appropriate for your kids to view. If the lenses are too far apart, kids can't really use the binoculars at all.
Durability for Kids Binoculars
Durability is one of the most important factors when buying kids binoculars. THEY WILL GET DROPPED. In fact, they'll probably get dropped more times than you can imagine. While rarely intentional, when kids are out adventuring, accidents happen, and that's part of the magic of exploring!
Make sure to get children's binoculars with a strap so they can wear them around their neck. We also recommend getting a pair that's got extra durability. Most kids' binoculars have extra tough plastic or even rubber bumpers on the outsides to help make the kids binoculars more durable.
Budget
There are plenty of kids binoculars that you can get for under $15, or you can spend up to $50 for a pair. Truthfully, some of the best kids binoculars are some of the least expensive as well. We recommend choosing a pair that's got a good blend of durability and budget in mind. That way they'll likely last longer, but if a bigger accident or fall happens, you won't be devastated if you have to replace them.
Field of View
Field of view refers to the width of the image you can see via your binocular lens. When buying binoculars for your child, it's better to opt for ones that have a wider field of view.
This gives them a wider frame to look at and makes it easier for them to follow objects such as birds or planes while looking at them. Remember that the magnification is usually inversely proportional to the field of view.
The more zoomed-in your image is, the smaller the field of view will be. So opt for binoculars with a magnification of up to 6-7x so it has a good field of view.
Interpupillary Distance
The interpupillary distance is the distance between the two lens eyepieces. Ideally, it should be adjustable so you can adjust it according to your child's face. But if you're getting one with a fixed distance, aim for an IPD of 5.1cm-5.3cm. This is the most important reason to get child sized binoculars. If the interpupillary distance is too big, teh kids won't be able to see anything through the binoculars making them worthless to them.
Additional Features
Sometimes you might want to look out for a few additional features with your kid's binoculars. Make sure that your kid's binoculars always have a strap or they have the option to attach a strap. They should ideally come with a case but if they don't come with a case, buy a case to prevent the lenses from getting dirty and scratched
Buying The Best Kids Binoculars
If you're looking for recommendations for the best kids binoculars, we're here for you. Whether you're looking for true birding binoculars, or just a pair of affordable binoculars that kids can use in the backyard, we've got you covered!
Best Binoculars For Toddlers and Preschoolers
Weight: 4.8 oz
Strap and/or Cover: Neck strap included
Magnification: 2x
These kids binoculars are perfect for toddlers since there's very little to adjust. They're ideal as a first pair of binoculars for kids since the wide eye area makes it easy for them to look through.
The magnification is 2x which is pretty good for toddlers since they can still explore without any complex focus settings to worry about. The green and blue exterior make it attractive for kids, encouraging them to explore the outdoors.
These are extra durable and we love that the chunky design makes it easier for kids to hold and carry with them.
We also love that it comes wth a neck strap, so your child can easily carry it around with them without getting tired, though it's important to know that it's a very thin strap, so not very comfortable or durable. They're also not waterproof so you got to be a little careful if your kid is using them around lakes or rivers. The other downside of these is that you can't make any adjustments to them, which makes them perfect for toddlers, but not as great for older kids who want to be able to see and explore more.
Most Durable Kids Binoculars
Weight: 8.8oz
Strap and/or Cover: Both Included
Magnification: 8x
If you want to get the best kid's binoculars for your child, these are our top pick. They're super durable and have lot of features that other binoculars don't include.
From a kid's perspective, they'll love that these binoculars can represent their personal style with 6 fun colors to choose from.
Parents will love that these have fantastic image quality that's much better than most kids binoculars. These are binoculars that your kid will love into their teen years and beyond because they just work SO WELL! Top that with 8x magnification and these kids binoculars are very impressive!
Here are some of the best features that these binoculars have:
Best Budget Binoculars For Kids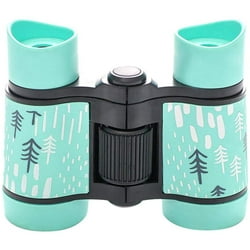 Weight: 5.3 oz
Strap and/or Cover: Not Included
Magnification: 4x
The Vive Comb binoculars are our top choice for budget binoculars for kids. They are lightweight, durable and perfect for outdoor exploration. They have 4x magnifications which is more than adequate for kids to observe distant objects in detail. The design is simple with soft eye cups and a center focusing wheel that makes it easy for kids to use these binoculars without any assistance.
These are great pocket binoculars for kids, but the main drawback is that there is no neck strap. Because of that, we mostly recommend getting these for kids who are a little older and more careful, so probably age 8+.
Plus, they look super cute in the turquoise-blue exterior design!
Best Wildlife Viewing Binoculars For Kids
If you are getting your kids binoculars for wildlife viewing, you'll need higher quality binoculars than the typicl kids binoculars. In fact, most of the pairs that we recommend are smaller adult pairs because kids binoculars usually aren't good enough quality to view wildlife and birds.
Weight: 12 oz
Strap and/or Cover: Both Included
Magnification: 8x
For the best wildlife viewing experience, these Nikon Trailblazer Binoculars are the most reasonably priced pair you can find! It has a tough-armored body made with rubber and is nitrogen-filled. These features make it waterproof and fog-proof so your child can have the best experience without any disturbances!
The lens is lead and arsenic-free, plus it has BAK4 Roof Prisms that are high index for super-high-resolution images. The lens is also multi-coated to maximize light transmission so your child can view images in the brightest, most vibrant colors.
It comes with a carrying case, a standard strap, and a lens cover to keep your pair safe and clean throughout your travels. It also folds for easy carrying.
However, this pair has a very short eye relief and may not be ideal for eyeglass wearers. Also, the exit pupil might seem a little too small for some people. This means you need to hold the binoculars pretty steadily for a clear view. This might be a problem with kids who aren't as patient.
Best Birding Binoculars For Kids and Teens
Birding binoculars are notoriously expensive but also a necessary piece of equipment to be able to identify birds well. Check our our favorite pair of birding binoculars for kids and teens.
Weight: 1 lb. 3.9 oz.
Strap and/or Cover: Cover with belt loop included
Magnification: 8x
Nikon Prostaff 3S 8×42 binoculars are great for slightly older kids that want to get into birdwatching. They are built with excellent quality materials which make them waterproof, fog proof, and durable. The binoculars are very lightweight, ideal to carry in your travel bag, and bring with you on all your adventures! They has a wide field of view along with a long eye relief design that makes it easy for your kids to view things far away without any eye strain.
These birding binoculars for kids come with a carrying case that helps keep them safe and clean. The case also has a belt loop which makes them easy to carry as well.
However, since these binoculars are not particularly made for kids, the interpupillary distance might be too wide for young kids. The lens cover also wasn't incredible, but if you use the lense covers and the case together, you should be fine.
Overall if you want a good pair of binoculars with a clear view and sturdy quality, these will serve you well.
Best Toy Binoculars For Kids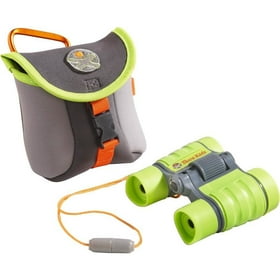 Weight: 0.75lbs
Strap and/or Cover: Both Included
Magnification: 4x
If you're looking for toy binoculars that still allow your little explorer to experiment outdoors, the Haba Terra Kids Binoculars might be a great choice.
These binoculars are designed to make sure they're easy for your kids to use. It has a sturdy plastic build which makes it lightweight and easy to carry, while the eye guards are covered with rubber to protect your child's face against injury.
The eyepiece is adjustable to allow for a comfortable viewing experience. It allows for up to 4x magnification so your child can appease their curiosity while still having a wide field of view to follow their object of interest.
The binoculars come with a cute carrying case with a matching belt loop so they can always carry their binoculars with them. We also want to point out that the image quality wasn't as clear on this pair of binoculars for kids, though, if your kids are young, it may not make much of a difference to them.
Best Multi-Use Kids Binoculars
Weight: 5.3oz
Strap and/or Cover: Both Included
Magnification: 4x
If your kid has a newfound interest in carrying a pair of binoculars everywhere he goes, these Scotmalone kids' binoculars might just be what they need! They can take them out on camping trips, for sports events, on car trips, for watching birds, and really anything that piques their interest.
These are made from non-toxic rubber which prevents them from breaking and makes them lightweight. The rubber surrounding the eyepiece provides additional protection from facial injuries, and makes them more comfortable for kids to use.
The lens has a magnification of 4x which allows your child to see things up close while still having a wide field of view so they can continue exploring!
These binoculars come with a cleaning cloth, a carrying canvas bag, and a neck strap that is not too stiff or bulky. The complete package makes it all the more convenient for your kid to carry his binoculars everywhere he goes.
Best Compact Binoculars For Kids
Weight: 6.7 oz
Strap and/or Cover: Both Included
Magnification: 12x
When getting binoculars for your kids, you don't always want them to be bulky or heavy since that can make it difficult for them to carry easily. That is why the POLDR 12×25 Pocket binoculars are perfect for your kids!
They fold into a super compact size, measuring a mere 2.2inches when folded. So your child can easily slip them into their pocket/backpack without worrying about the weight! They come with a neck strap, a cleaning cloth, and a carrying bag to make them easy to carry
The compactness does not compromise the viewing experience. It has a wide (126ft) field of view along with a 12x magnification and 25mm objective lens diameter which allows you to view a wide area of image with clarity. The lens has BAK4 prisms that reflect most of the light for a comfortable viewing experience.
However, if you want professional-level image clarity these binoculars might not be the ideal choice. The focus controls are a little flimsy and it's not easy to sync the right and left eyes. It's also a little inconvenient that you can't remove the neck strap if you want to.
Wrapping Up
That's a wrap on how to choose the best binoculars for your kids and some of the best product options we could find on the market for you! We hope you find something that your kid loves and that it fuels their passion for exploring the outdoors with just as much zeal and interest!