This post may contain affiliate links where we earn from qualifying purchases. As an amazon associate, we earn from qualifying purchases. Find out more in our disclosure.
Do you have a large family, or maybe you love going on big group campouts? Well, chances are, you probably need to purchase a large tent so that everyone will be comfortable and happy. Selecting the best 8-person tent for your camping trip can be difficult, so it's important to make sure you purchase the right one.
Not all 8-man tents are created equal, so you're going to want to do your homework. Some of the aspects you need to consider when you are purchasing your 8-person tent are the weather of where you plan to camp, the tent layeout, and the difficulty of the set-up process of the tent. You will also need to evaluate your family's sleep needs and determine your tent budget. Just know that a high-quality tent can easily last you a decade or more, while a budget tent may only last a couple of seasons, so going for a high-quality tent can have great pay offs.
Large Tent Buying Basics
Best 8 Person Tent Design
When you shop for 8-person tents, you will come across several two-pole design tents. Although these are often cheaper than those tents which have more poles, purchasing these tents is risky because they offer no stability and are liable to collapse in adverse weather.   Trust me, I've been there with a flimsy tent blowing flat on top of my family in the middle of the night – it's miserable.  It's better to spend a little more money and buy a high-quality 8-person tent which is significantly more stable, since a good tent can last your family for up to ten years.
Don't need a GIANT TENT? Check out our recommendations for slightly smaller 6-person tents.
How Many People Can An 8-Person Tent Sleep?
The number of people who will be able to sleep comfortably in a tent widely varies depending on how you sleep and the make-up of your family. Generally, an 8-person tent can sleep six adults plus gear. Of course, if you have a lot of young children who can share sleeping bags and sleeping pads, you can likely fit more people.
Just know that if the people in your family like using bulkier air mattresses or cots to sleep, you may not be able to even sleep 6 people in the tent.   Our family of 7 easily fits in this 8 man tent that we absolutely love.  There is a lot of variety in how big an 8-man tent is, so we're including the area of each tent below so you can make the most educated decision possible.
How Big Does My Family Tent Need To Be?
Besides just considering how everyone likes to sleep, also consider any gear you will be bringing with you. If you have a lot of gear, you will probably need a slightly larger tent or one with a vestibule that is enclosed to keep all of your gear dry. You will also want to consider the height of your tent, and if you expect to stand up in it while you are inside. Sometimes, if your family is large, two smaller 4-person tents may be a better fit (and possibly cheaper than one giant tent).
Does A Camping Tent Need To Be Weatherproof?
Do not buy any tent which is not waterproof. Although this may seem like a better deal, tents that are not weatherproof will not last. This is especially important when shopping for large family tents because children often get cold much easier than full-grown adults, so staying dry and warm is a high priority for family camping. Make sure that your family tent has taped seams, good rain protection and a rain fly as well.  Read all about our favorite waterproof tents of all sizes.
Large Tent Set-Up Tips
When you purchase a tent for 8 people, you can expect it to be a bit bulky. But you also don't want it to be too heavy to be convenient. Before you purchase your tent, inquire about the weight and set-up process, that way you won't have to start your family vacation with frustration when you find you can't set up your tent. Before you leave home, practice setting up the tent in the backyard, so you're already familiar with the process.
Consider Where You Will Be Camping
The last thing to consider when looking for the best 8 person tent for family camping is where you will be camping the most. If you plan to camp somewhere with sand, you may need to purchase a tent with some additional features as you may not have good places to secure your tent. Also, if you purchase a tent with ropes, know you will have to have a plan as to where you will secure those ropes (like to trees or stakes).
The Best 8-Person Tents On The Market
Are you ready to shop for your perfect 8-person tent? Below are some 8-person tent reviews of some of the best 8 person tents on the market.
Weight 31 lbs
Floor Area: 130 Square Feet
The Eureka Copper Canyon LX tent is one of the best family tents available. This is the tent that we chose for sleeping a big family and we absolutely love it.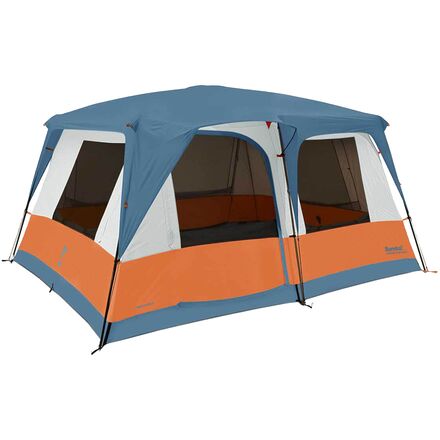 It is a 3-season tent which can sleep 8 people. Its tall design stands at almost 7 feet so even your tallest family member will be able to stand within. If you want more privacy, a divider can be zipped to create a 2-room family tent, with exit doors to the outside available in each room. This tent is designed to be set up quickly and easily with two people, but do note it weighs 31 pounds and is not the most lightweight design available, and is probably better suited for those camping trips where the campsite is accessible via car. Yes, it's really heavy and quite bulky, but the design and price both make up for that. The built-in rainfly will easily keep you and your family dry, and you can store your gear in one of the two gear lofts to keep it safe from the rain as well. If you're looking for the best 8 person tent for the money, this is our top recommendation.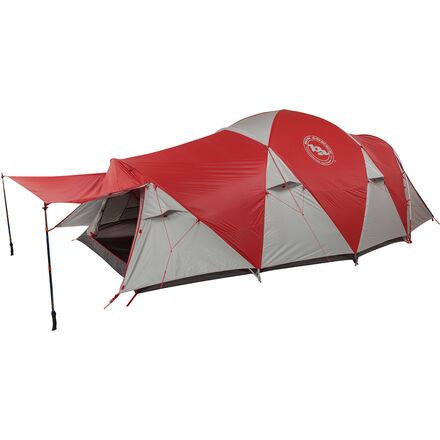 Weight 22 lbs
Floor Area: 124 Square Feet
If you're looking to take your family camping year-round, the Big Agnes Mad House 8 Tent is the tent for you. It has built-in weather protection to withstand any weather you may encounter in any of the 4 seasons, even if it gets cold and snowy. Not only is it an excellent tent for a large family, but it is also a great tent for camping with kids as it has a divider that can be used to create two rooms. This tent could even be the perfect 8 person backpacking tent thanks to its lightweight design which weighs only 22lbs and is the largest 8 person backpacking tent currently available (make sure to split up the parts of the tent so one person doesn't have to carry the whole weight).
Weight 31 lbs
Floor Area: 126 Square Feet
This extra-large family camping tent is the best cabin tent for 8 people. With two completely separate rooms, the kids will love having their own space or you can remove the divider and all sleep in one large room. The setup of the Core 9 Person Instant Cabin Tent is, well, instant, and only takes 60 seconds, making it the perfect 8-person tent for camping with children. There is plenty of room for storage inside, and a rain fly to make sure you and your belongings stay dry even on those rainy days.
Weight 25 lbs
Floor Area: 104 Square Feet
The REI co-op Kingdom 8 person camping tent is the perfect large tent for family camping thanks to its high ceilings and vertical walls which allow you the maximum amount of space inside. This REI 8 person tent can easily be divided into two rooms thanks to a center divider which can easily be adjusted to change the size of the rooms. This 3 season 8-person tent is also built to withstand a number of adverse weather conditions thanks to its seam-sealed weatherproof design. The REI Co-op Kingdom 8 is also a lightweight 8-person tent, weighing in at only 25 pounds.
Weight 30 lbs
Floor Area: 125 Square Feet
The NEMO 8 Wagontop 8 Tent is the best dome tent for family camping. This tent is an 8-person camping tent with a vestibule to help you store all your gear without taking up valuable sleeping room inside. It also contains a large number of pockets and loops inside for storing everyone's small gear. The screened windows open and close easily, and they are also weatherproof, making this tent one of the best 8 person tents for rain.
Weight 25 lbs
Floor Area: 112 Square Feet
This spacious 8-man tent has plenty of room inside to hold up to three queen size air mattresses, so no one will have to sleep on the ground! The Coleman 8-Person Tent For Camping also has extendable awnings to help keep your gear dry in the rain. The set-up of this 8-person family tent is simple and won't take more than a few minutes thanks to the snag-free continuous pole sleeves. Your family will also love the lightweight design of this 8-man tent as it only weighs 24lbs and can easily be moved from place to place.
Weight 29 lbs
Floor Area: 140 Square Feet
This Ozark tent is an oversized 2 room tent which makes it the best cabin tent for family camping. Each room can easily fit a queen air mattress, or it can fit up to 10 campers sleeping on the floor. Your tall family members won't have to worry about hunching over thanks to its high ceilings and vertical walls. This tent is also waterproof, with an inside loft for your gear so it will also stay dry in wet conditions. And if you are looking for the best 8-person value tent around, this tent only costs $150 and won't bust your budget!
Final Thoughts On Buying A Large Family Tent for Camping
Although it may be tempting to purchase the cheapest 8 person tent you can find, there are several aspects you need to consider when investing in a tent. Hopefully these 8 person tent reviews help you to find the best tenst for your family camping with kids adventures. When you've decided how your family would like to sleep, the space you need for gear, and the locations you believe you will be camping in, only then can you select the 8-person tent which is right for you. Consider investing a little bit more money in a tent that is larger, waterproof, and will suit your family for years to come. After all, if you take care of your tent, it could last you the next ten years!