This post may contain affiliate links where we earn from qualifying purchases. As an amazon associate, we earn from qualifying purchases. Find out more in our disclosure.
Have you been thinking about taking the entire family on a camping vacation, but don't have a tent that is large enough? The good news is, there are plenty of large tents for family camping on the market which can sleep your entire family. We're sharing the best 6 person tents so you have plenty of space on your next family camping trip!
It's really all about selecting the tent that's right for you.
There are some important things to consider when you are looking to buy a new 6 person tent, and size is just one of these aspects. You also need to consider the weatherproofing, tent weight, and ease of set-up once you have reached your campsite. Finding a tent that has everything you're looking for can be HARD, so here are a few tips to help you on your tent selection journey.
In addition to helping you decide which tent features you need, we'll share some of the best 6 person family camping tents on the market. These are all tents that have proven themselves over and over again and are likely to last your family 10 years or more if properly stored and cared for.
Need more family camping gear tips?
Read: Best Sleeping Pads for Kids
Read: Best Kids Sleeping Bags
Read: Best Camping Beds For Baby
Read: Best Baby and Toddler Sleeping Bags
Tent Buying Basics
Best 6 Man Tent Designs
Many of the 6-person tents you will come across will only have a two-pole design. DO NOT BUY one of these tents. While they look great in the showroom, and are usually a great deal, even small winds or bad weather is going to have this tent lying FLAT! Get at tent with a minimum of 4 poles, though more poles will give you more stability. Note: there are a few exceptions to this tent pole rule, and we're sharing those below.
How Many People Can A 6 Man Tent Sleep?
How many people a 6 man tent can sleep widely depends on both the makeup of your family and how you like to sleep. Generally, a 6-Person tent can sleep four adults plus a generous amount of camping gear.
Of course, you may be able to sleep more than four people in your tent if you have small children who will share sleeping pads and/or sleeping bags. If you and your family members like to sleep on air mattresses, cots, or you have a special baby bed, these will take up more room than average and may lower the number of people who can fit comfortably in the tent even further.
Our family had a slightly oversized 6 man tent that we've used for years, but now that our older kids are getting older, we just upgraded to an 8 person family camping tent. We camp pretty minimally, with just 2 duffle bags that we share between all of us, and each kid has their own color coordinated packing cube with all of their own gear and clothes inside of it. Even with minimal camping gear, our family of 7, could not comfortably sleep in an oversized 6 person tent.
How Big Does My Tent Need To Be?
WHen in doubt, get a bigger tent! WHile it seems like a good idea to go smaller, the fact is, that if you need a 6 person tent, you either have a lot of people, a lot of camping gear, or both. With all of that, you want space to be able to more around comfortably without always stepping on people or things.
If you are planning to sleep on a tall air mattress or cots, you also need to consider the height of the ceiling of your tent as you shop. While most 6 man tents are tall enough to stand in, not all are.
If you find a smaller tent, ask if there's an option to add a covered vestibule to the tent to allow more room for gear storage.
Does My Tent Need To Be Waterproof and Windproof?
Absolutely. No matter where you are planning to camp, you need to invest in a good waterproof tent as the weather can often be unpredictable. Make sure that you have good tent waterproofing so that you're prepared regardless of the weather forecast. Make sure that your tent not only is made of waterproof material, but that all teh seams are taped, since this is where water is most likely to seep in.
We also recommend getting a waterproof tent footprint to prevent water from seeping up from underneath the tent.
READ: 9 Hacks for Camping In The Rain With Kids
6 Person Family Tent Set-Up Tips
The last thing you want to do is purchase a tent and then discover it is too difficult for you to set up comfortably. Ask the sales team if you can set up the tent in the store, or set it up inside your house when you first get it to see if it's the tent is too difficult to set up. If it is, RETURN IT! When you look to purchase a tent, check the weight and make sure it is something you can easily carry. Some 6 person tents can weigh as much as 35 pounds while others are less than 15 pound 6 person tents. The easiest family tent to set up is the Caddis Rapid Tent (review below).
Best Tents For Specific Camping Areas
Before you purchase your tent, you also need to consider all the places you will be camping. Some tents need ropes to help hold them up, while others can stand on their own with no extra support. If you camp in sandy areas frequently, you may need to look into purchasing special sand stakes as traditional tent stakes will pull right out of the sand. If you camp on rock, you'll need to have another way to anchor your tent since you can't stake it down. Consider all of these things when purchasing your tent and when choosing your family campsites.
Our family camps in a huge variety of places, so we look for a tent that CAN be freestanding, but that also has the option of stakes and guy-lines to make it extra secure when the weather gets bad.
The Best Tents To Buy For Family Camping
Now that you know what to look for while tent shopping, below are 6-person tent reviews that can be referenced as you shop for that perfect tent for your family whether you're camping with a baby or on a campout with teens.  All of these tents are great quality tents. Keep in mind that a tent that's well taken care of can easily last 10 years or more, so invest in a family tent that you're really going to love.
REI Co-op Kingdom 6 Tent | REI Co-op
REI CO-OP KINGDOM 6 TENT REVIEW
Weight 21 lbs
Floor Area: 83.3 square feet

This 6-person family tent has vertical walls as well as a rectangle design to maximize the space—so if you and your family like to sleep on cots or air mattresses, this would be a good tent for you. There is also a center divider that can be zipped to create a 2-room tent. This tent for camping with kids is freestanding and doesn't require any additional ropes for stability, which make it perfect for camping in the desert sand, or for quick tent set up. This is a relatively lightweight 6-person family tent design, with a package weight of only 21lbs.
NEMO Wagontop 6 Tent | REI Co-op
Nemo Wagontop 6 Tent Review
Weight 27 LBS
Floor Area: 97.3 square feet

This 3 season 6-person tent is the perfect family tent with its tall and unique design which allows everyone to stand up inside and easily walk out the door, even if you're really tall. This tent for tall people, has a maximum ceiling height of 80 inches, so practically everyone can stand up inside this tall tent. The NEMO Wagontop is also a 6-person tent with vestibule space to store all of your camping gear while allowing maximum sleeping space inside the tent. With its freestanding design, this tent will stay stable, and keep you dry no matter what weather you may encounter!
Caddis Rapid 6 Tent | REI Co-op
CADDIS RAPID SET UP REVIEW 6 PERSON TENT
Weight: 25 lbs
Floor Area: 100 square Feet

The Caddis Rapid 6 Tent is a 6-person camping tent that is known for its quick and easy setup thanks to its special frame system. It is a freestanding tent with a domed top and comes with additional rain gear to keep you and your family dry. This is one of the best tents for camping with kids as it has an extra storage area giving you and your family more room to sleep while keeping all your possessions dry.
COLEMAN CABIN 6 PERSON INSTANT TENT
Weight: 25 lbs
Floor Area: 90 square feet

The Coleman Camping tent is the perfect large tent for families who like to camp. Not only is it completely weatherproof, but it also has an easy 60 second setup and can easily be collapsed when you are ready to leave. If your family likes to sleep on air mattresses, this tent can fit two queen size air mattresses to keep everyone comfy. Additionally, this tent is extremely affordable as it is the best tent for under $150. So, if you are on a budget, but still want a safe tent that will withstand the weather, the Coleman camping tent is truly the best 6-person tent.
REI Co-op Base Camp 6 Tent | REI Co-op
REI CO-OP BASE CAMP 6 TENT REVIEW
The REI Co-op Base Camp 6 Tent is truly a 6-man luxury tent for families. Its dome design makes it more stable than most other 6-man tents, while also maximizing the living space. This is also one of the best 4 season 6 person tents, thanks to its adjustable vents, mesh ventilation, and water resistance. There are areas both inside and outside to store gear, maximizing your storage while also allowing the maximum number of people to sleep in the tent. This is also a lightweight six-man tent, as it only weighs 20lbs.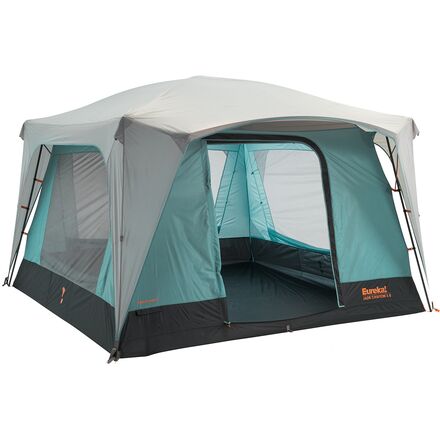 Jade Canyon 6 Tent: 6-Person 3-Season
EUREKA JADE CANYON TENT REVIEW 6 PERSON
Weight: 20 lbs
Floor Area: 83 Square Feet
The Eureka Jade Canyon 6 Person 3 Season Tent for families is one of the best family tents on the market and is the perfect tent for large families. This tent is 7 feet high which means even your tallest family member will be able to comfortably stand inside. It can keep your family cool with its mesh roof in the warmer seasons, but also comes with a rain cover to keep you dry during those rainy days. And the best part is, all the seams are sealed to keep you dry from any water entering from below.
Marmot Guest House 6P Tent | REI Co-op
MARMOT GUEST HOUSE 6 TENT REVIEW
Weight: 20 lbs
Floor Area: 129 Square Feet
The Marmot Guest House 6P Tent is one of the best 6-person cabin tents for families on the market. In addition to being able to be divided into separate rooms, it also has a screened front porch which can let you relax unaffected by the weather. This is also one of the best 6 person tents for camping with kids in the rain as it is completely waterproofed, all the seams are taped, and the mesh panels all have water-tight covers. This tent also has 4 doors, allowing easy access for everyone to head outside without waking the other campers who may be sleeping.
MSR Habitude 6 Tent | REI Co-op
MSR HABITUDE 6 TENT REVIEW
Weight: 14 Lbs
Floor Area: 83 Square Feet
This 3 season 6-person tent is the perfect kids camping tent as it can easily be set up by one adult with a small helper. It is made of durable fabric to keep out the rain, and stainless-steel zippers which can endure rough use by small hands. This 6-person family tent can work for any environment you may want to camp in, even sand. And at only 14 pounds, this is truly the best 6 person backpacking tent as it can easily be carried in and out of the wilderness without much struggle.
Big Agnes Dog House 6 Tent | REI Co-op
BIG AGNES DOG HOUSE 6 TENT REVIEW
Weight: 13 lbs
Floor Area: 83 square feet
Another good 3 season tent for 6 persons is the Big Agnes Dog House 6 Tent which can easily be carried for a backpacking trip thanks to the fact that it only weighs 13 pounds. This 6 man backpacking tent for families has an oversize back window which can be zipped open for ventilation, as well as 2 vents to help increase airflow on those warmer camping trips. Although this tent is only a two-pole design, which is generally discouraged, the bent pole design on this tent makes it better than your average 6 people tent and the lightweight design makes it a great 6 man tent for backpacking.
REI Co-op Grand Hut 6 Tent | REI Co-op
REI CO-OP GRAND HUT 6 TENT REVIEW
Weight: 16 lbs
Floor Area: 83 square feet

This family camping tent is one of the best SIMPLE 6 person camping tents for families with its high ceilings and rectangular floor design to allow the maximum amount of sleeping room. You also won't have to worry about the elements as this 6-person tent for camping with kids has a waterproof rainfly and external vestibules to keep all your gear dry. Like the Big Agnes Dog House Tent, this 6-person tent for camping with kids is also better than most two pole 6 person tents thanks to its bent pole design.
Conclusion
Overall, when it comes to selecting your family's tent for your next camping outing, it can be difficult, and expensive to find the right tent for everyone. Although it may seem like buying a cheaper tent is better, remember that cutting corners could cause you to have issues with weather and stability. Instead, go for one of the nicer tents listed here as they will last longer, withstand the weather better, and keep you and your family much happier.
How can I make my tent last longer?
The best way to make a tent last longer is to store it properly. Always make sure that the tent is clean and dry when it is put away, and make sure that it is smoothly rolled.
Can I re-waterproof my tent?
Absolutely! Nikwax has several products that will add waterproofing to your tent fabric.
How many people does a 6 man tent sleep?
While designed for 6 men, the rating for a 6 person tent doesn't include gear. If you are camping with your own gear, a 6 person tent often only sleeps four adults. If you have small children, you may be able to sleep 6 in a 6 person tent. Keep in mind that air mattresses, cots, and baby beds, all take up extra space.
What size tent do I need to sleep 6 people?
You will likely need an 8 man tent to sleep 6 people comfortably.
What is the largest 6 person tent?
The largest 6 person tent is the Marmot Guest house 6p tent. This tent has a floor area of 129 square feet, making it over 50% larger than some other 6 person tents!
What is the most lightweight 6 person tent?
The Big Agnes Dog House 6 tent is the most lightweight 6-man tent weighing only 13 pounds!