Do you like to "move it, move it"?

We sure do!  Okay I just couldn't resist putting up that clip.  I think this movie's prettt annoying, but whenever that song comes on and Mason and Chloe jump off the couch and start shaking it, I can't help but bust up!
Although it can sometimes be difficult, keeping our families active is one of the most important things we can do.  As easy as it is in theory, it can easily become a losing battle to the TV, computer, and video games.  Luckily, April 30th – May 6th is Screen Free Week.  It's an awesome excuse to unplug the TV and enjoy some awesome time with your family (or if you're me, go to bed earlier…sorry Andrew).  So, to help you have a fantastic week next week if you unplug (and always), we're sharing 5 awesome tips to keep your family active.
1.  Do it together:  Don't just send your kids out to play…go out with them.  Kids are much more likely to enjoy their time outside, if they feel like you're invested in it too.  Chances are, if they see you surfing the net every time they head outside, soon they'll be wanting to do the same and play on the computer.
2.  Develop interests together:  Find something that your family really enjoys doing together.  It doesn't really matter what it is, as long as you can find something that everyone enjoys. It may take a while to find an activity that suits everyone, but once you do, it will be much easier to get everyone out and motivated to play together!  Here are a few ideas: running, bike riding, sports, hiking, fishing, swimming, kite flying, dancing, roller blading, climbing.  As I was growing up, our family all loved to raft, jet ski, and ski so most of our family activities revolved around those things and we all usually had a blast!
3.  Keep it simple:  Don't wait for a family trip to get out and do something active with your family.  A walk around the block, a trip to the park, or a quick bike ride are all great ways to be active together that require no preparation.
4.  Get out regularly:  Make sure that our family is active on a regular basis, daily whenever possible.  Once you get in the habit of living a more active life, it's much easier to continue doing it.  The Us Department of Health and Human Services recommends that children and adolescents get at least one hour of exercise a day (much less than Canada's recommendations talked about here).  This exercise can be anything from walking the dog, to playing a game of basketball.
5.  Set goals:  Talk with your family about what they would like to accomplish while being active together and have a reward for when they accomplish it.  If your family likes to bike together, set a goal of achieving a set activity level and then go on a big ride together when everyone can do it.  If your family likes to play at the park, set a goal to go for a certain # of days without missing and then reward everyone with a fun treat.  Whatever you do, talk about it as a family and continue to discuss it as you progress towards your goal.
Remember that being active is different for everyone, so try not to compare your family.  While some families may enjoy running together, others may enjoy gardening, and still others will enjoy swimming.  It doesn't matter what you do as long as you do it regularly and hopefully can find something you enjoy.  JUST DO IT!  Also, while we LOVE it when families are active together, we completely understand the need to do things on our own, like we talked about here.  I really enjoy running, but HATE doing it with my kids (ie. pushing them in the stroller).  For me, it's my time for me and that's fine, as long as I do other things to stay active with my family.  A challenge…YES…but totally worth it.  Active kids turn into active adults and that is one of the best lifestyle choices we can help out kids achieve!
Check out these other posts today on staying active with your families:
 A Little Campy: 9 Ways to Get Your Child Outdoors and Active
Remember, screen free week is NEXT WEEK!  Will we be participating?  Honestly, I'm going to try.  Not that we think screens are bad, just that every now and then it's good for everyone to unplug and simplify.  Sadly, I'm running a little short on patience and energy lately so it will be a real challenge to give up our afternoon hour of cartoons quiet time where I know that I can take a little nap…you know, without the kids trying to poke each others eyes out with sticks!  We'll update you after next week and let you know how it goes!
Tales Of A Mountain Mama is hosting some great interactions online throughout this week called Gearing Up Families To Go Screen-Free.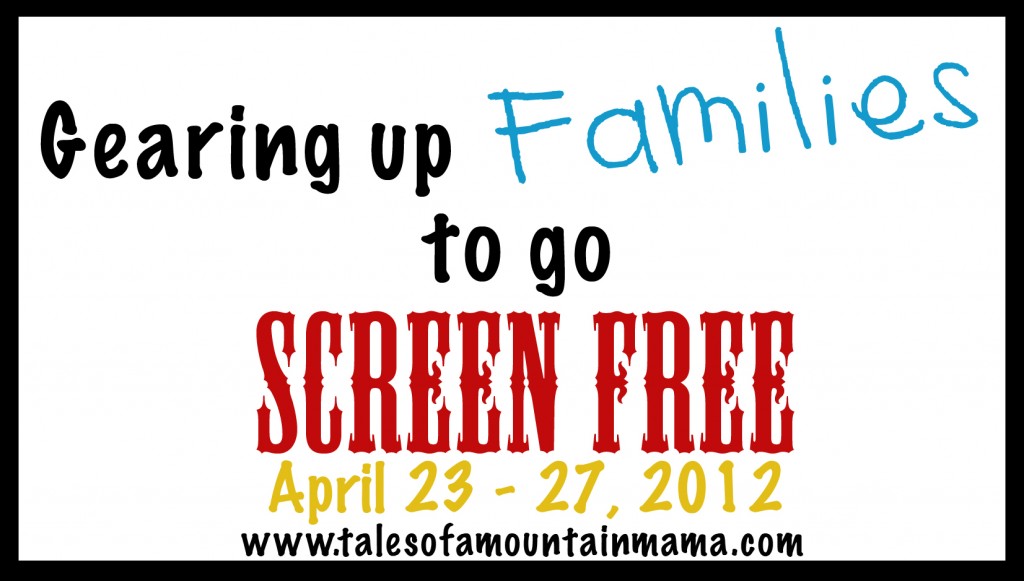 There will be lots of outdoor gear giveaways and lots of information and advice. So go check her out along with these other great outdoor bloggers: